Share this page!
Custom Search
"Best Of" Photo Gallery
On this page you will find several of my favorite images spanning the last decade. I have taken thousands of photos over the course of the last 10 years, and while most, if not all of these photos can be found scattered throughout my web site in the "Photo Gallery" section, I felt it was time to display the images that I truly felt were my best on one dedicated page. I also wanted to post them at a much higher resolution than I had before, along with giving a full description of where and when each picture was taken. So, here you go! I hope you enjoy.
This shot, titled "Heaven's Lights" was taken on June 26th, 1999 near the town of Oberlin, KS. This was my first year of storm chasing out on the plains, and while we were en route to our target area, the sun had dipped behind this cloud, shooting off rays in every direction! This display only lasted but a few seconds, but I had enough time to get my camera out and take this shot. I won an award for this picture a year later, and it was published in a coffee table book!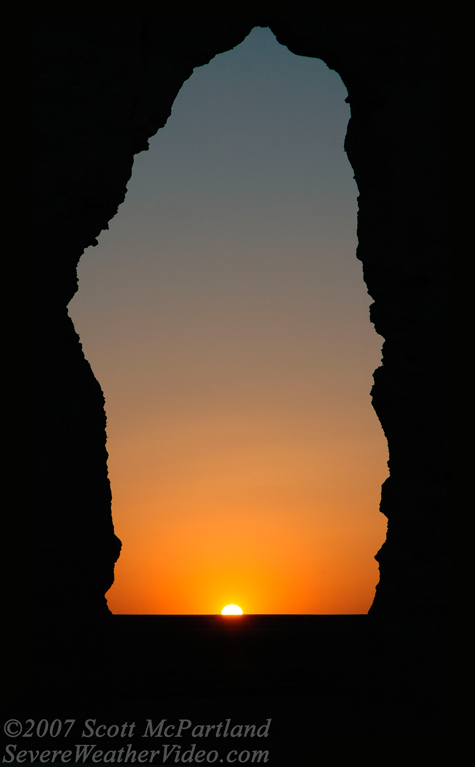 The picture above was taken at Monument Rocks in western Kansas in June of 2007. Monument Rocks is located outside the small town of Oakley, KS. We arrived there shortly before sunset and I set up my camera in a way that I would be looking straight through one of the limestone keyholes and took this picture right as the sun was setting.
This picture is one of my all time favorite lightning shots, taken near McCook, NE in June 2007. And it's not just because of the lightning itself. Look closely! There are two horses grazing in the field just to the right of the lightning strike. It was pitch black out at the time I took this picture. I ran a 20 second exposure and as luck would have it, the lightning hit right about 15 seconds into the exposure! I had no idea the horses were even there until later that evening when I viewed the photo back on my laptop.
This day was a total surprise, as was this picture! We had some pop up storms hit the NYC area right around sundown, and what followed was one of the most amazing Mammatus Cloud displays I have ever seen here in New York City. I took this photograph right in front of my house in July 2009. I'm just happy that I was at home, with my still camera on hand!
I have to admit, this isn't a still photo per say. It's a still image taken from video that I shot on May 12th, 2004 near the town of Attica, KS. This F2 tornado (click here to see my video from this day) struck a single home on the east side of town, tearing the roof off and hurling it through the air. Thankfully, the two occupants in the home at the time were unharmed. They were both taking shelter in their concrete reinforced basement at the time the tornado hit. This will be a chase day that I will never forget.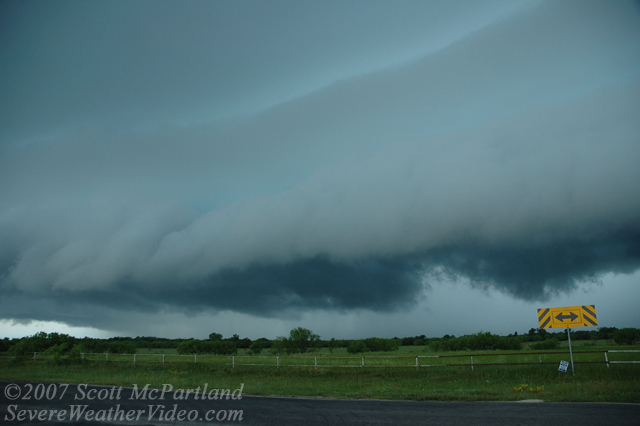 Taken in May 2007 near Abilene, TX. This shelf cloud signified the leading edge of strong winds and heavy rains that were about to hit our location. I snapped this picture right before heading back to our car for shelter.
This is a true color shot if you can believe it! One of the main reasons I love traveling to the mid west during spring storm season, you always know that you will be treated to some spectacular photo opportunities! This shot was taken in June 2007 near the town of McCook, NE. Dave Lewison and I were wrapping up our quick spot chase to the plains when this storm formed. We were staying in McCook later that evening anyway, so this storm (which would later hit McCook) was a great surprise. And the fact that we didn't have to travel far from our hotel room to get it was an extra bonus too!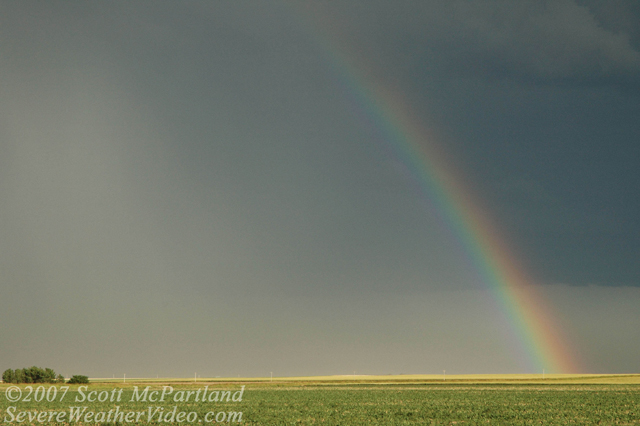 Somewhere in Nebraska, June 2007..lol! For the life of me I can't recall exactly where in Nebraska this photo was taken, but I know it was during our whirlwind spot storm chase adventure. Definitely one of my favorites.
A truly horrible day for the residents of Greensburg, KS. As many of you know, Greensburg was hit by an EF5 tornado on May 4th, 2007. Dave Lewison and I were only a few miles east of town when this tornado hit, we had just begun our storm chase vacation, and literally got out to the plains (after driving all the way straight from New York City) just a few hours before that storm took shape. A few days later, we were granted access to the town due to the fact that we had come across several cases of food lying on a dirt road south of town. It turns out that these boxes of food fell off a supply truck which was heading for the town. We loaded the boxes in my Nissan Xterra and delivered them to the check point in town. We spent about two hours there and were completely speechless at the amount of devastation. This shot in particular sticks out as in my opinion, it shows the true power of this tornado. Note the windshield which was sand blasted by rocks and sand. Not to mention the fact that the vehicle is now upright and leaning against a building! We got word that the owner of this vehicle was not in it at the time the tornado struck. I just visited Greensburg back in June 2009, over two years after the tornado, and it was great to see the progress they have made! They've certainly come a long way in the last two years, and I'm excited to see the progress they've made when I get back out to the plains in spring 2010!
This shot was taken during a light snow event here in New York City back in February 2006. On this day, I grabbed my still camera, and headed into Manhattan. Central Park I knew would look amazing, so that's where I headed! I think what I like so much about this photo is that as crowded as Central Park, or New York City in general can be, on this day it was almost completely empty. But, those footprints in the snow were a reminder to me that I should enjoy the quiet while it lasted, it wouldn't be long before the crowds returned.
Ahh yes. I took this photograph during the Valentine's Day snow, ice and sleet storm back in 2007 right here in New York City. What a nasty day this was! Taken on 5th Avenue, you can see the misery on that guys face, lol....and you know that lady with the inside out umbrella wasn't feeling much better either!
I took this photo on the first day that we arrived on the plains for our 2009 storm chase adventure! The date was June 5th, and this supercell storm was near the town of Dalton, NE. Dave and I had driven all the way from Topeka, KS that morning to this storm in Nebraska. We missed the La Grange, WY tornado by only 30 minutes, but were treated to this amazing storm. So, the day ended on a high note for us regardless.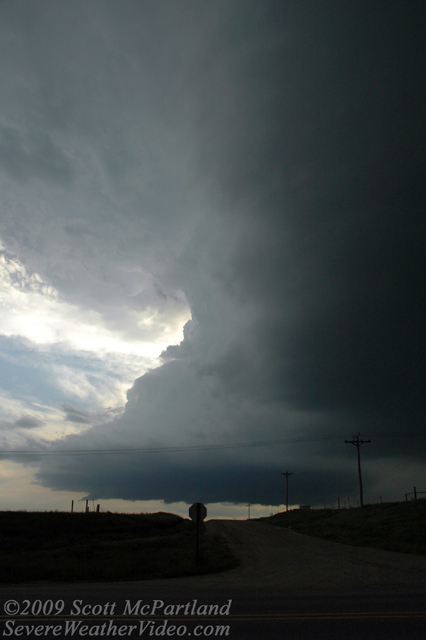 Another of my favorite photographs, taken on the same day as the one above. June 5th, 2009 near Dalton, NE. These beautiful striated bell shaped updrafts never cease to amaze me. Truly an amazing site!
Looks other worldly doesn't it? Another amazing example of the beauty in storms that take shape out on the plains. This storm was near the town of Ulysses, KS on June 14th, 2009. It had just produced a beautiful tornado just minutes before.
Taken on May 5th, 2007 in western Oklahoma near the town of Shattuck. This beautiful shelf cloud preceeded some strong winds and heavy rains!
Another beautiful striated bell shaped updraft, this one near Dodge City, KS on June 15th, 2009. This storm was actually in the process of dying at the time. But what a way to go out!
Taken on the same day as the picture above. Yep, that's me holding the large hail stones that had just fallen from the sky minutes before, lol. Needless to say, we waited until the hail stopped BEFORE getting out of the car.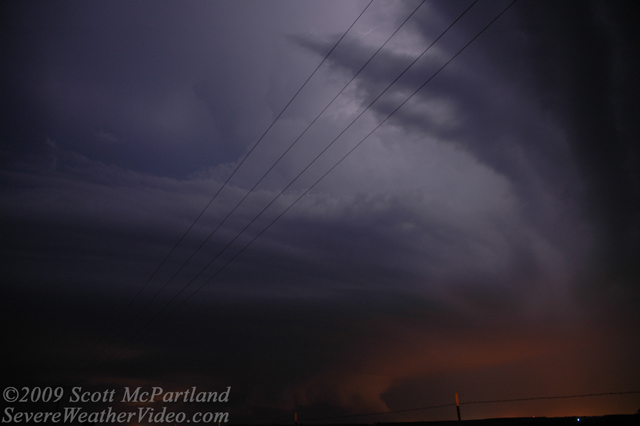 I took this time exposed shot near Wichita, KS on the evening of June 13th, 2009. Lightning has always amazed me, and in this picture you can actually see the striated updraft base of this supercell thunderstorm being lit up by the lightning.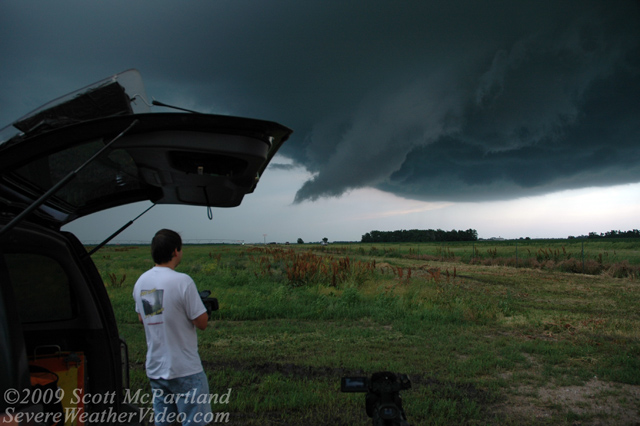 That's Dave, my storm chase partner keeping a close eye on a rapidly forming wall cloud near Alda, NE on June 17th, 2009. This storm was amazing, and did in fact produce a very large tornado (click here to see my video from this day) just minutes after this photograph was taken near the town of Aurora, NE! What an amazing day this was.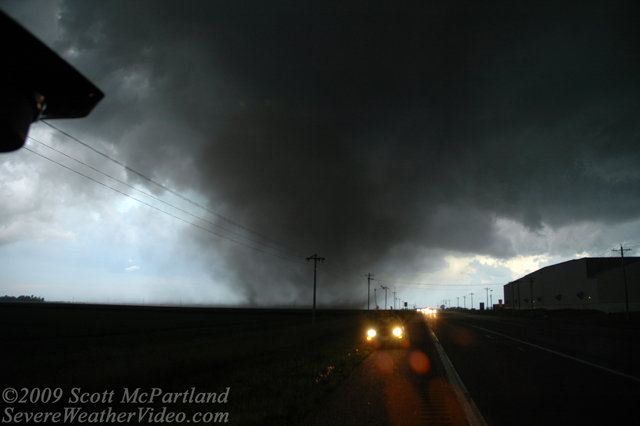 And here is the large tornado that I just mentioned. Taken near Aurora, NE on June 17th, 2009. At the time I took this shot, the tornado was in the process of weakening, but shortly after it once again gained strength, and stayed on the ground for about 15 minutes! See that building on the right? That's the Iams Dog Food Plant that was side swiped by this tornado. The building itself did sustain some pretty serious damage, but thankfully all the workers who were inside at the time were unharmed.
privacy policy