Share this page!
Custom Search
NYC Weather & Storm Blog 2004
Click here to select another year
July 13th, 2004---: Yesterday was a dreary day here in the NYC area. Temps hovered in the upper 60's with rain throughout most of the day. Last night we saw the heaviest of the rains and clocked in with 1.68 inches of rain total here in Queens, NY. That was nothing compared to the foot of rain that parts of southern New Jersey received! Flood watches were out for the entire area and several homes had to be condemned in parts of Jersey. Eastern Pennsylvania received rain amounts around 5 inches as well. Looks like we lucked out as far as the flooding rains are concerned but I'm looking forward to getting back to more summer like conditions as soon as possible.
July 14th, 2004---: Strong thunderstorms hit NYC late this afternoon with torrential rains, flooding & lightning. Total rainfall here in central Queens where I live measured .50 inches (and we'll probably add to that later tonight). Lightning wise the storms were below my standards for what I like to see out of a good summer storm here in NYC, but there was one bolt that hit about a block from my location, just out of view of the camera. The thunder that followed was super loud though!
July 22nd, 2004---: The hazy, warm & humid conditions of the last few days have yielded some great sunrises here in NYC! Our next chance of rain will come this Friday as a front approaches the area. I took the shot below this morning in Queens, NY (You can see the massive sunspots with the naked eye). For a close up shot, Click Here And to check out a really amazing shot of the massive sunspots taken on July 27th, Click Here! (this image is from the spaceweather.com website)
July 28th, 2004---: NYC got hit once again with thunderstorms that dropped torrential rains to the tune of 1.58 inches! That was nothing compared to some of the totals that New Jersey recorded. Burlington County, NJ. not only received more flooding, but an F1 tornado touched down around 5pm yesterday causing damage to some trees and buildings!
August 8th, 2004---: The past two days here in NYC have been well below normal temperature wise. Lows yesterday morning we're close to the 60 degree mark, and this morning wasn't much better. I had a video shoot to do this morning at sunrise and actually had to wear a jacket...is this August!!?? Hurricane Alex has come and gone, but I decided that he wasn't worth chasing since the storm only grazed the outer banks. There's still plenty of time and over the next two months I'm sure we'll see more storms forming out in the Atlantic. Today, temps should recover to the upper 70's here in New York City and I'll be heading into Manhattan this afternoon to check out the street festival on Madison Avenue.
August 11th, 2004---: Our best thunderstorms of the year hit the NYC area during the mid afternoon. Queens, NY received about 1.10 inches of rain in 30 minutes. Below is a radar image of the storms as they were moving through my area.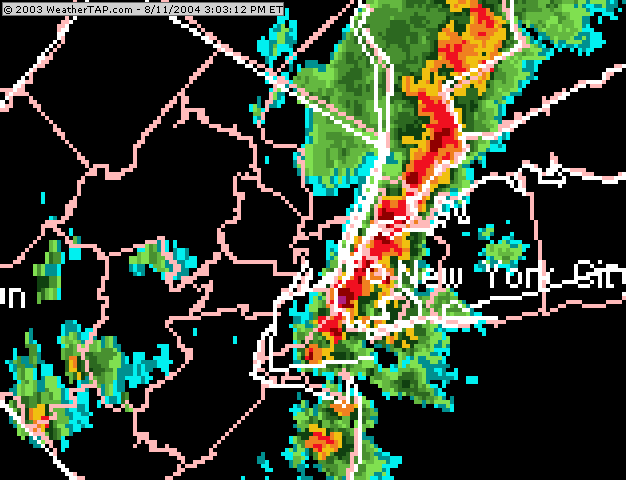 August 19th, 2004---: Today, NYC is experiencing typical mid August weather, warm and muggy!. There is the chance of severe weather, but there's a much better chance north and west of NYC (which is usually the case). Tomorrow we'll be even warmer with temps approaching 90 degrees and humidity levels through the roof! Something that we haven't seen here in quite a while.

Something else that took place today was my interview for an upcoming episode of Storm Stories on The Weather Channel. The episode will be focusing on the events of May 12th in Attica, Ks. We covered topics like storm spotting, chaser safety, and of course the events of that day. This episode will also have interviews with the Robbins Family who were in the house at the time it was hit by the tornado, someone from Harper County Emergency Management, and other chasers who were in the area that day. It should be interesting. The episode is scheduled to air sometime in December. Below is a picture taken during my interview.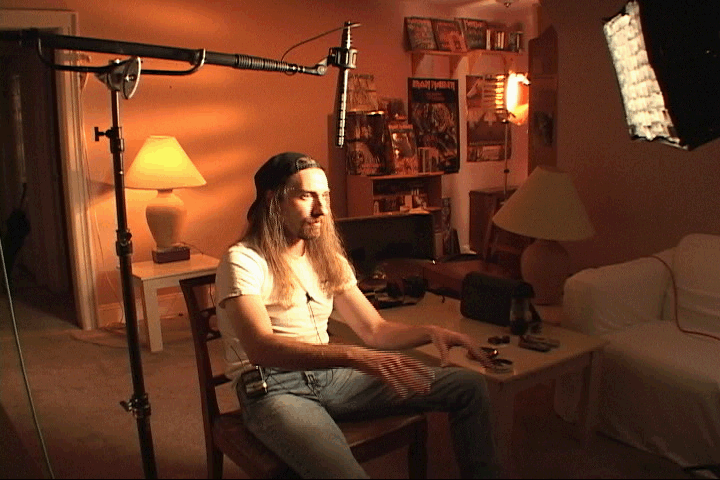 August 21st, 2004---: Manhattan got hit today with torrential rains and flooding. I was just getting off the subway at 42nd Street in front of Bryant Park when the storms began moving through. Not much lightning, but the skies went pitch black and the rains were relentless!
September 19th, 2004---: I haven't felt cool weather like this since April! And I'm not liking it at all!! This is a reminder that fall is on it's way, actually it feels like it's already here with temps bottoming out last night in the low 50's and high's today only reaching the mid 60's!. Tonight is going to be another cool one with temps once again falling into the low 50's here in NYC. But the good news is that this cool down won't last long. By mid week temperatures will rebound into the 70's and 80's!!!
September 29th, 2004---: The remnants of Hurricane Jeanne brought torrential rains and flooding to parts of the area yesterday and last night. My rain gauge here in Queens, NY registered just about 4 inches of rain total!! Highways and streets were flooded everywhere! The forecast called for the rains to taper off yesterday evening, but that did not happen. Heavy rains fell through most of the night and even now, we're still getting on and off showers. Once Jeanne is out of the picture, we'll experience pleasant conditions for the next few days. Today however is forecast to be cool and breezy as Jeanne pulls away from our area.
October 5th, 2004---: Well, the Summer couldn't last forever I guess. The first blast of fall air moved into the NYC area last night. When I woke up this morning, temps were in the upper 40's....not fun at all!!! Temps only rebounded into the low 60's this afternoon despite sunny skies. Tomorrow things will moderate a bit with high temps in the mid 60's and by weeks end we should be back up around the 70 degree mark. On October 18th I'll be taking a trip out to Los Angeles to visit my friend Jeff, the weather out there I'm sure will be much nicer than here. But the only downside is that when I return on the 25th, I'm going to have to get used to the cool fall air all over again! I'm hoping that the coming winter won't be nearly as brutal as last winter was here in the northeast. Time will tell....
October 10th, 2004---: Mild weather has been the norm in NYC the past week but I'm sure that will change soon. Temperatures this upcoming week are forecast to be average for this time of year and that's fine with me, as long as there are no cold snaps forecast I'm a happy person. Fall colors are also starting to appear around the area and I'll post some photos shortly on our "New Photos" page.
October 17th, 2004---: Temps here in NYC today barely reached the low 50's under mostly cloudy conditions. I was in Manhattan this afternoon and you could definitely tell that Fall has arrived. This coming week is forecast to be unsettled with on and off showers throughout the week. Monday night some heavier rain is expected in the area. I will be on vacation in Los Angeles this upcoming week so it will be nice to experience some warm temperatures!
October 26th, 2004---: My trip to Los Angeles to visit my friend was great! But the temps there weren't much warmer than here in NYC. I was hoping for temps in the upper 70's, but instead we were greeted with rainy weather (for the first few days) and the temperatures in the upper 60's and low 70's. The warmest day was this past Saturday when temps reached the mid 70's under sunny skies. No complaints though overall since I won some money during a quick trip to Vegas. Now that I'm back in NYC, it's time to get ready for winter. I stopped by Central Park today where the fall colors were in full swing. The weather this week is forecast to be at or above normal temperature wise with a chance of showers towards the end of the week. Not bad for late October!
November 1st, 2004---: Yesterday in NYC the weather was perfect! Temps in the lower 70's under sunny skies, definitely a nice Halloween day. Today however, we're back to more seasonal levels with temps topping out around 60 degrees. Tomorrow there is the chance of rain, but overall the temperatures will be right within a few degrees of normal for this time of year. My motto is, the warmer....the better! With winter just around the corner, all we can hope for is above normal temperatures and no snow. It's happened in winter's past, but most likely (at least if you go by the current long range forecast) we're in for below average temps here in the northeast over the coming months. Hopefully they'll be wrong. On another note, The Weather Channel will be airing an episode of Storm Stories concerning the May 12th, 2004 Harper, Ks. tornadoes. No specific air date is set as of yet, but from what we understand it will be airing sometime around the middle of December. I'll post the exact air date once it becomes available. The episode will have interviews with the Robbins Family (who were in the house that was hit by the Attica, Ks. tornado) as well as interviews with myself, John Davies & several other chasers in the area that day.
November 8th, 2004---: Well, it had to happen I guess. Our first shot of cold air is moving into the NYC area. Temps this morning dipped into the low 40's, but that's nothing compared to what we're going to experience over the next two days. Tomorrow's low's are expected to be around the freezing mark, and Wednesday's morning low's are forecast to drop to around 30 degrees! We should moderate a bit by the end of the week, but now that we're into November....it's all downhill from here until next spring.
November 9th, 2004---: Well, our first shot of true cold air has settled into the area. This morning temps dropped to around 35 degrees, and tonight promises to be even colder!
November 18th, 2004---: Temps the past few days have been a bit above normal for this time of year, which is just fine by me! Tuesday and Wednesday's highs were around 60 degrees with plenty of sun. Today we have more cloud cover here in NYC, but temps will still remain a bit above average with highs once again around 60. There is the chance of rain over the weekend, but the forecast is a bit uncertain right now. On another note, I watched that CBS mini series "Category 6- Day Of Destruction", it did have some entertainment value...but overall the plot was a bit ridiculous. Randy Quaid was pretty funny as "Tornado Tommy", he was the highlight of the whole thing in my opinion.
November 22nd, 2004---: Today was a bit on the raw side with temps in the lower 50's and plenty of clouds around. Tomorrow morning I have an early morning shoot for The Weather Channel and at dawn all the showers that are currently moving through the area as I write this should be out of here. The rest of the day will be on the cloudy side like today but no rain is forecast. Wednesday seems to be the day that the rain will move into our area and will most likely stick around until late Wednesday night. Thanksgiving is shaping up to be partly cloudy with temps in the 50's.
November 25th, 2004---: This is one of the warmer Thanksgivings in recent memory for us here in NYC. Temps here this morning are already around the 60 degree mark but this won't last long. A cold front is moving through the area and we're even under a severe thunderstorm watch until 2pm!!! I can't remember the last time we had a severe wx watch in late November! Nothing is heading for us right now, and I don't think we'll see much in the way of severe weather, at least here in NYC. There is a pretty impressive line of storms just north of us and Philly is under a severe thunderstorm warning right now. The weekend is looking to be below normal temperature wise, I knew this couldn't last...Happy Thanksgiving to everyone!
November 30th, 2004---: We managed to get through all of November without a really bad cold spell! While we did have a few days (or nights I should say) that dipped to around the freezing mark, overall it wasn't too bad temperature wise this month. As for December, who knows...we have another bout of rain headed our way tonight and tomorrow to start off December. Right now it looks like the heaviest rain will fall during the morning hours and then taper off during the afternoon.
December 6th, 2004---: So far, so good....we've managed to make it through the first week of December, and still no artic outbreak. I remember a year ago today filming a blizzard that was hitting the NYC area. I was down on Central Park South in Manhattan freezing my "you know what" off. Today, while it was chilly and rainy...we're still in the 40's. The rest of the week is looking a bit unsettled, tomorrow being the worst with an all day rain expected. Still, temps are forecast to be in the 50's for most of the week, and may even top out near 60 on Wednesday! I have no problem with this at all! I'm sure we'll eventually get a big artic outbreak, we still have a long way to go until spring. But, every week we stay relatively mild, is one week closer to spring in my eyes.
December 12th, 2004---: I guess it couldn't last forever...the relatively mild weather of the past few weeks that is. It looks like we're in store for our first real cold snap of the season. Temps this upcoming week will average below normal, with Tuesday and Wednesday looking to be the coldest as it stands right now. At least we made it through all of November and half of December without any snow or really cold weather.
December 17th, 2004---: For a while it was looking like we could experience a significant snowfall on Monday, now it's looking like we'll only see light accumulations (at least for now). The low pressure system should stay far enough off the coast that we'll only see some fringe affects in NYC. Hopefully this holds true... On the temperature side of things, that's another story. Temps Sunday night/Monday morning will drop to around 20 degrees! And on Monday, they most likely will not rise out of the 20's. The artic blast is forecast to be short lived with temperatures rebounding into the 40's by the middle of the week.
December 20th, 2004---: I almost couldn't believe it when I woke up this morning and saw the temperature....11 degrees! This is our first true artic blast of the winter season, and the season doesn't officially begin until tomorrow! The cold weather will be short lived however, with temps recovering into the 30's tomorrow, and into the 50's by Wednesday and Thursday! Along with the warmer temperatures comes the threat of rain on Thursday. That's all right with me though, anything is better than what we experienced here today. We didn't receive much in the way of snow last night, basically around an inch area wide. But I had to really bundle up when I walked out the door, the fact that the winds were in the 20 to 30mph range didn't help matters any.
December 21st, 2004---: Today was a virtual heatwave compared to yesterday. Temps made it into the mid 30's under partly cloudy skies, and tomorrow we'll approach the 50 degree mark! I was down around the Rockefeller Center area this afternoon and walked into a wall of tourists in town for the holidays. Below is a pic taken this afternoon of the ice skating rink at Rock Center. Thursday we're expecting rain with temps in the mid 50's! I'll take the rain and mild temps over the cold and snow anyday.
December 23rd, 2004---: High winds and rains hit the NYC area today with frequent gust over 50mph! I was down on 42nd street in Manhattan this afternoon shooting some video for The Weather Channel and witnessed many people struggling in the winds with their umbrellas. Needless to say, most people ended up tossing their umbrellas in the garbage. The picture below was taken on 42nd street & 6th avenue around 3pm this afternoon.