Share this page!
Custom Search
NYC Weather & Storm Blog 2009
Click here to select another year
January 9th, 2009---: Our first truly significant snowstorm of the winter season appears to be in the making. Right now the forecast calls for between 5-7 inches of snow for the New York City area but depending on which forecast model you believe, it could be more or less. The GFS is calling for a faster moving system, while the ETA/NAM is calling for a slower scenario. Both show possible mixing of sleet and freezing rain overnight tomorrow but we'll just have to wait and see. Right now it looks like the snows will begin in my area early in the afternoon tomorrow (Saturday) and continue on right through tomorrow night. Stay tuned for more updates!
January 12th, 2009---: Well so much for the "significant snowstorm"! lol. Nothing much ever materialized and we ended up getting only an inch or two of snow. A lot of hype with no return! Oh well, guess we'll just have to wait a little longer. But with this being almost mid January, it shouldn't be long before we get nailed with a significant winter storm. The other big story this week will be the bitterly cold temperatures towards the end of the week. This will be some of the coldest air we've experienced in several years. Temps early Thursday and Friday mornings are forecast to be in the single digits with highs never getting out of the teens. Ughhh.
February 24th, 2009---: So far this winter we have not seem much in the way of snow. Well overall I think we've received around 18 inches total, but that amount has been spaced out over several events. We have not seen that one big one. All of the coastal systems that took shape this season were either too far south to give us any effects, or were too far north and in turn pulled in the warmer ocean air giving us a mainly rain event. There is still time of course as this is only late February, but my attention is beginning to turn towards the spring! Just another two months and Dave and I will get gearing up to hit the road!!
March 2nd, 2009---: Today we were hit with our biggest snowfall of the winter! Actually, it was the biggest snowfall we've seen in almost 2 years! Rego Park, Queens where I live clocked in with almost 10 inches of snow, and Central Park, Manhattan recorded 8 inches total. I was up before the crack of dawn this morning and was in Manhattan by 7am, right as there was a lull in the snow. The lull didn't last long however and by 8:30 we had another busrt of heavy snows move through. Then came the winds! And wow were they strong!! Strong enough to tear some siding off the side of my house. Now that we've had our one good snowfall, I think I'm ready for Spring now, lol. But, with temperatures as I type this in the teens, Spring feels a long time away!
April 14th, 2009---: Here we are in mid April already but you sure as heck wouldn't know it! We've been well below average temperature wise for several weeks now and have yet to crack the 70 degree mark. Actually, it still feels a lot like winter and I'm still having to wear my hat during the morning hours. Yesterday we awoke to temperatures still in the 30s. Finally though things are starting to look up and if get lucky, we may break the 70 degree mark for the first time this Spring on Friday. Starting on Thursday of this week temps will begin to climb and right now it's looking like we may have a nice string of days before another huge trough digs it's heels into the east. At least the trees are starting to bloom, however, another few cold nights and the plants and flowers that have begun to bloom will be doomed. Got lots to do over the coming two weeks as well with our annual storm chasing trip rapidly approaching! You can read more about that in my storm chase blog section.
April 21st, 2009---: Talk about torrential rains! For the most part, all day yesterday was horrible. Raw, rainy & windy conditions prevailed but that was nothing compared to the deluge we received between 9pm and 11pm last night. A batch of heavy thunderstorms moved through the tri state area and my rain gage recorded over 1.75 inches of rain in just 90 minutes! Lots of lightning was to be had as well which was really nice! So, our first good round of storms occured last night and hopefully there's more where that came from over the coming weeks/months. In other news, the trees are blooming in full force, spring is here! All though you wouldn't really know it by today's weather which is still raw and rainy. But, by this weekend it's looking like we'll be back in the upper 70s once again! Can't wait for that. This Saturday I'll be heading up to Dave's place near Poughkeepsie, NY for the last phase of our driver/passenger hail guards. We'll also be installing the windshield guard once again. More about that coming in our chase blog section.
May 11th, 2009---: Talk about a NASTY May so far! After breaking record highs at the end of April, May so far has bee anything but beautiful. I think it rained almost every day this month with the exception of yesterday and today. Ughhh, talk about dreary weather. Last week, it started raining, and it just didn't stop. And on top of that, we've been below normal temperature wise as well. Today was partly sunny with temps in the low 60s, still below normal for this time of year, but I'll take it over the rain of last week. Needless to say the trees and flowers just exploded with all the rain of late. At least this week we'll have plenty of sun, so for now, we'll have a break. Tomorrow I gotta get out and mow the law, weed & trim. I haven't been able to tend to a lot of that stuff due to all the rain. I'd prefer not to mow wet grass, cleaning the lawn mower afterward is a pain in the butt!
July 3rd, 2009---: It's been a few weeks since my last post about our NYC weather and wow is there a LOT to talk about!! Over 9 inches of rain fell here in the city since June 1st! This was our second wettest June on record, and we missed the all time wettest June by only 1/4 of an inch! I was away for a good chunk of the month, well.....2 1/2 weeks of the month anyway, so I missed a lot of the soaking rain events, but I heard plenty of stories from my family and friends upon my return. And the pattern is continuing into July. Yesterday we saw more soaking rains, and even a pop up severe thunderstorm rolled through my area around 7pm last night downing trees and powerlines all over the neighborhood. Tomorrow however is looking to be bright and sunny, thank god!! I'm hosting a 4th of July BBQ and was keeping my fingers crossed that the weather was going to work out for the better. A good time will be had by all I'm sure. Happy Independence Day to all who are reading this. Hope your 4th of July festivities go off without a hitch! Below is a radar screenshot of the pop up severe storms that rolled through Rego Park, Queens where I live yesterday evening. Radar screenshot courtesy of WeatherTap HD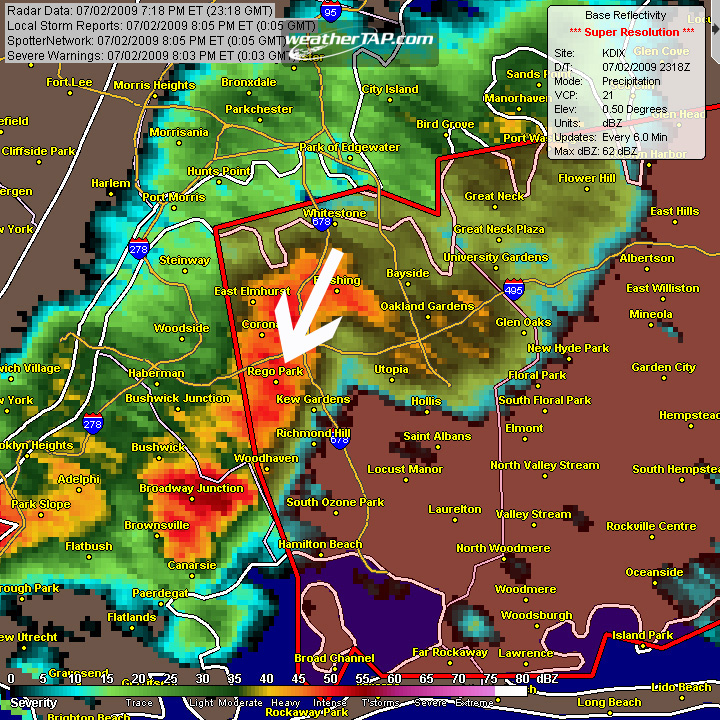 July 8th, 2009---: What a surprise last night was! Even though we really didn't get much in the way of anything exciting here in Rego Park, Queens....area's just a few miles to the north and to the east saw some wild weather. I was awoken around midnight last night by the howling winds outside my window. I could see the trees swaying big time and I knew that a big storm had to be close by. Lightning flashed and that was all it took for me to get up to see what was going on. When I went to bed, everything was quiet as I figured all the storms were done for the day, wrong! I never even checked the radar or I would have seen a supercell storm headed for my neck of the woods. This storm dumped nickel to quarter size hail in Yonkers, NY (just to my north), and it also prompted a tornado warning for Nassau County, NY (just to my east). All we got here was a great lightning display and a few drops of rain. The high winds I was experiencing were the storms outflow. Below is the official warning that went out for Nassau County. A damage survey was conducted this morning and it was determined that the damage that occured in parts of the area was in fact straight line winds, and not a tornado. Still though, I hope Summer 2009 has more exciting weather in store for my area over the next two months!

945 WFUS51 KOKX 080351 TOROKX NYC059-080415-
/O.NEW.KOKX.TO.W.0006.090708T0351Z-090708T0415Z/
BULLETIN - EAS ACTIVATION REQUESTED
TORNADO WARNING
NATIONAL WEATHER SERVICE NEW YORK NY
1151 PM EDT TUE JUL 7 2009
THE NATIONAL WEATHER SERVICE IN UPTON NY HAS ISSUED A * TORNADO WARNING FOR... NORTHERN NASSAU COUNTY IN SOUTHEAST NEW YORK...
* UNTIL 1215 AM EDT...

* AT 1150 PM EDT...NATIONAL WEATHER SERVICE DOPPLER RADAR INDICATED A SEVERE THUNDERSTORM CAPABLE OF PRODUCING A TORNADO NEAR GLEN COVE...MOVING EAST AT 25 MPH.
THIS STORM HAS A HISTORY OF DAMAGING WINDS...AND A POSSIBLE SIGHTING OF TORNADO ON THE GROUND.
* THE TORNADO WILL BE NEAR... GLEN COVE BY 1155 PM...BAYVILLE BY MIDNIGHT...OYSTER BAY AND BROOKVILLE BY 1205 AM...SYOSSET AND HICKSVILLE BY 1210 AM...

PRECAUTIONARY/PREPAREDNESS ACTIONS...
THE SAFEST PLACE TO BE DURING A TORNADO IS IN A BASEMENT. GET UNDER A WORKBENCH OR OTHER PIECE OF STURDY FURNITURE. IF NO BASEMENT IS AVAILABLE...SEEK SHELTER ON THE LOWEST FLOOR OF THE BUILDING IN AN INTERIOR HALLWAY OR ROOM SUCH AS A CLOSET. USE BLANKETS OR PILLOWS TO COVER YOUR BODY AND ALWAYS STAY AWAY FROM WINDOWS.
IF IN MOBILE HOMES OR VEHICLES...EVACUATE THEM AND GET INSIDE A SUBSTANTIAL SHELTER. IF NO SHELTER IS AVAILABLE...LIE FLAT IN THE NEAREST DITCH OR OTHER LOW SPOT AND COVER YOUR HEAD WITH YOUR HANDS.
SMITH

AFFECTED COUNTIES:
IN NEW YORK: NASSAU.
July 28th, 2009---: Here we are at the end of July and we STILL haven't hit 90 degrees here in NYC!! That hasn't happened since 1996. But, this below normal pattern we've been in isn't all bad. The persistant trough in the east has been bringing us some good thunderstorm days, the latest round was just this past Sunday. And tomorrow is looking to be another potentially active day. SPC already has NYC in a slight risk for severe weather tomorrow, and I'll be keeping an eye to the sky for sure!
July 29th, 2009---: Several rounds of storms hit my area this afternoon and evening bringing more heavy rains and lightning to the area! There was even a report of a tornado in Sussex County, NJ. The NWS is currently investigating this as I type. Actually, storms are still ongoing right now and from the looks of the current radar, things will remain active until around midnight, possibly later! Humid conditions will persist through the rest of this week and possibly into this weekend. We may not have hit 90 degrees yet here in NYC, but these humid conditions sure make it feel summer like! Below is a radar screen cap taken earlier this afternoon as storms rolled into my area. Radar screenshot courtesy of WeatherTap HD
September 14th, 2009---: Well it's been a while since this page has been updated. This is due to the fact that nothing much has been going on! We did finally see our 90 degree heat here in New York City during the month of August, but overall it was a very blahhh type summer overall. Yeah there were a few good thunderstorm events, but overall nothing much to write home about. As we slowly transition into Fall over the coming weeks, the leaves will start to change color again, and we'll have another long winter to deal with. But to be honest, I like the seasons so I'm kind of looking forward to it. Without the cold winter months, I don't think I'd enjoy the warmer months as much.
September 30th, 2009---: Fall has begun! WOW, where did the time go? We didn't really have much of a summer overall, and I now it's time to start focusing on the fall nor'easters, as well as the upcoming winter season. How much snow will we get, will it be a cold winter? All questions that remain to be answered. The weather chilled down big time this morning with low's in the upper 50s. Tomorrow morning will be even chillier with lows dipping into the low 50s. That's nothing compared to what we'll see over the coming months, but it is a stark reminded that Fall is here!
October 7th, 2009---: After some light rain and drizzle here this morning, we're in for some really gusty winds behind the cold front this afternoon! Right now as I type it's rather calm outside, but that won't last for long as strong winds are forecast to hit my area later on this afternoon. The leaves are beginning to change color as well, sure signs that Fall is here!
October 22nd, 2009---: Yesterday was beautiful here in NYC, and today is even better with temperatures in the low 70s!! But, this is summers last breath as more typical fall like weather will return to our area tomorrow, and through the weekend. Saturday is looking downright miserable too with rain and wind, but with temps in the low 60s, at least it won't be freezing to boot! The fall colors are beginning to show up on the trees in my area, and it won't be long before we're talking about snow!
October 23rd, 2009---: Fall is once again in full swing here in the New York City area. Temperatures yesterday reached the mid 70s, but I have the feeling that this will be the last time we see temps that warm until next spring. This morning, we have dropped back into the low 50s, much more typical of this time of year. The trees are reaching their peak colors, and I would expect that over the next week we'll see the best of the fall colors here in the city! That is, unless the rain and wind of tonight and tomorrow don't blow all the leaves off the trees! lol. There is a major system heading for our area this evening and the rain will pick up in intensity overnight and into tomorrow. On top of the heavy rains, there is a slight chance that we could see a narrow line of severe storms roll through the area with the cold front tomorrow evening! I will be in Manhattan for the big photo expo at the Javitz Center tomorrow and will have my camera with me. Photos will be posted over the next couple of days showing the fall colors here in the city, along with anything else exciting I capture tomorrow when the nasty weather arrives. Be sure to check back for updates and postings. Below is a national radar image taken just a little while ago showing the storm system heading towards the east coast. Image Courtesy of: WeatherTap.com


October 26th, 2009---: Saturday was a blast, at least for most of the day that is. I met up with Dave Lewison and Bill Hark (both fellow chasers) and we attended the big Photo Expo at the Javitz Center in Manhattan. A great time was had, but the weather certainly did not want to cooperate, lol. When we left the expo, we decided to met up with some other friends and ate dinner at this joint on 8th Ave near Madison Square Garden. We had a great dinner, but by the time we all left, which was around 6:30pm, the heavy rains had moved in and it was coming down in buckets! I had to wade my way up 34th street to catch the F Train back to Queens. The E from 8th Ave, which was where we were, was NOT running due to track maintenence. Do they tell you this though, no....of course not. I ended up standing in the 8th Ave subway station for 30 minutes before I figured this out for myself. So out into the rain it was and I managed to make it to the 6th Ave station rather quick, all things considering. That's when my cell phone died for no reason. Great. So, I made it back to Queens and as luck would have it, the Verizon store was open so I ran in and they swapped out my phone, for a few one. Now, I'm only parked a few blocks from this particular Verizon store in Forest Hills, Queens so why did it take me 20 minutes to walk back to my car? lol....because every single road and sidewalk leading back to my car was flooded big time!! I had never seen anything like it. You would have thought we received like 10 inches of rain, what gives!? I literally had to walk a few blocks over and then proceeded to jump as best I could over the ankle, to in some cases, knee deep water that was covering the roads and sidewalks. Thankfully though, I made it home, soaked...but fine, and that ended that experience. No big deal overall as I am used to inclement weather. Just wasn't expecting it to this magnitude that day. I'll be posting some pictures of our time at the Expo in the Photo Gallery under the "New York" heading. Be sure to check back!
October 28th, 2009---: Lately here in NYC it seems like all it does is rain! We had a bout of heavy rain and flooding that moved through my area with storm #1 this past weekend, and today just 4 days later, we're getting it again! The rains started yesterday morning, tapered off during the afternoon and evening, and then picked back up in intensity last night. This morning I woke just before sunrise and the streets were once again flooded in spots. It's looking however like the worst of it is over with as we are in between two rain shields at this time. The Yankees have the first game of the World's Series here in NY tonight and it's looking like they may get that game in without any problems. Not much of a sports fan myself though (I know that sounds unholy for a guy to say, lol...but it is what it is) Below are a few pictures showing the rains coming down here this morning, as seen from my driveway, along with a regional radar shot taken just a little while ago showing us in between the two areas of moderate to heavy rains.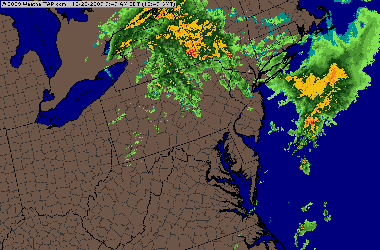 November 1st, 2009---: Last night marked the official end to daylight savings time. A sure sign that fall is here! And wow does it feel like it outside today. Actually, yesterday was rather nice with temperatures in the mid 60s for most of the day. But the showers, with some embedded heavy rains moved in around 8pm, just in time for the big Halloween Parade down in Greenwich Village. Today temps are struggling to get out of the low 50s with cloudy skies dominating. I'll be spending this upcoming week preparing for my radio interview on Thursday! That's right, I'll be a guest on the Barometer Bob show this Thursday night (Nov 5th) at 8pm. Full details will be posted by tomorrow morning on my main page, so be sure to check back. It's an internet radio program so anyone, anywhere can listen in to the live broadcast!
November 10th, 2009---: How great has the weather been here in NYC the past few days? Ok, well if you don't live here, then you don't know how great it's been, lol. The answer is AWESOME! 67 degrees yesterday, about 70 degrees the day before..you can't ask for better than that for this time of year. Today however, well, it's definitely on the cloudy side, but with temps still forecast to be in the low 60s, I won't complain too much. The party is just about over however as light rain will move in later tonight with the approach of a cold front. And Wednesday temps are forecast to fall back into the low 50s, more typical for this time of year. The rest of the week will feature temperatures about average for this time of year, so all in all, not bad at all I say! Looks like I still will be able to take some more outdoor runs in my neighborhood before the real cold weather settles in, and then it'll be back to the treadmill in the gym for me!
November 12th, 2009---: The remnants of what was once Hurricane Ida are slamming the mid Atlantic states this afternoon with, in some cases, even stronger winds and rains than when Ida initially came ashore! At first it seemed like the New York City area would escape this storm, as it was originally thought that the rain shield would stay to our south. But, this appears unlikely now, and the forecast for tomorrow is looking pretty bleak with winds and rains moving into my area. We're already seeing scattered showers today, with temperatures in the upper 40s, but tomorrow is looking way worse than today. There is also a tight pressure gradient between a high pressure ridge to our north, and low pressure associated with Ida's remnants to our south. Who's in between? We are! So as the day wears on, our winds will increase and by tonight, we could be looking at gusts up to 40mph. The storm will depart the coast by tomorrow night, and for now at least the weekend is looking relatively dry. I'll post another update tomorrow. Below is an animated regional radar image showing Ida's remnants slowly making their way up the coast. Image courtesy of WeatherTap.
November 13th, 2009---: What a nasty day it's turning out to be here in NYC! All morning we have been buffeted by strong wind gusts, and it's only going to get worse as the day wears on! My weather station recorded a peak wind gust here at my place to 41mph. This is all thanks to what was once Hurricane Ida. She is responsible for our first nor'easter of the season. While I don't think we'll see the kind of damage that was witnessed in Virginia yesterday, I do think that many of the coastal locations in my area, mainly on the north shore of Long Island Sound, will sustain some damage from this storm. I'm expecting some trees down in the area, and if I come across any damage, photos will be posted tomorrow! Below is an animated regional radar showing the rains moving into my area from the Atlantic. Image courtesy of WeatherTap.
November 17th, 2009---: After our recent nor'easter we're in for some tranquil weather here in NYC the next few days. Temperatures will remain at, or slightly above normal this week, with very little rain in sight. We do have a shot at some rain Thursday and into Friday, but the forecast is still being fine tuned regarding that. All in all, we're experiencing some pretty nice conditions considering it's mid November! Nothing much else to report at this time.
November 20th, 2009---: We had one heck of a wake up call last night about 4am! One VERY loud crack of thunder, followed by several booms and bangs, literally window rattlers! Following the explosions the heavy rains moved in with force. All of this didn't last too long however and by 7am, skies were already clearing and what a day it turned out to be! Temperatures in the mid 60s under partly sunny skies, it doesn't get better than that for late November. This will not last however as temps the next several days are forecast to fall back into the mid 50s. Still though, that's about average if not a little above average for this time of year so we're doing pretty good so far. We'll have to deal with some on and off rain throughout Thanksgiving week however, but oh well. Sunday night and Monday will feature some possible heavy rains moving into the area and yet another coastal storm takes shape and affects the area.
November 23rd, 2009---: It's starting to look like we could be in for another nor'easter later in the week, possibly taking shape on Thanksgiving Day! In the short term however, things look wet this evening with rain heading up the I-95 corridor and into the NYC area after 6pm tonight. After a short break during the latter half of the day tomorrow, and on Wednesday, another storm now centered over Colorado could be the catalyst for another nor'easter in the making. Right now things are still very sketchy, and many details still have to be ironed out, but it could get interesting. Not in terms of snow, still a little too early for that, but in terms of rain and more importantly, high winds for Thanksgiving night and into Friday. Stay tuned for more details as we get closer to this event. I'm starting to get the feeling that we could be in for one heck of a winter here in NYC! Time will tell.
November 27th, 2009---: Another nor'easter is currently affecting our area, but this one doesn't have much rain associated with it. Most, if not all of the rain has been well to the north and east of my area, but the winds...that's a different story! The winds started picking up earlier this afternoon and will only get worse as we continue into the overnight hours. Temperatures aren't really that cold, but with the wind, it feels like it's in the 30s outside right now. We have a wind advisory in effect until noon tomorrow, and we are expecting some scattered showers throughout the night time hours. However, judging by the current radar trends, I wouldn't be surprised if we didn't see any rain out of this system at all. However, with the close proximity of the low, a pop up shower could occur at any time. Below is a regional radar animation showing where the storm is currently. Note the rains which are well north and east of the NYC area.
December 2nd, 2009---: It's literally like a broken record these days, lol. Yet ANOTHER powerful nor'easter is racing up the east coast and the rains have already begun here in the NYC area. But, things are set to get a lot worse during the overnight hours. Right now the winds are still relatively calm, but they will rapidly increase as the night wears on. We could see scattered power outages around the area, along with downed tree brances and limbs. If this general pattern holds for the rest of the winter, look out! All we're missing right now is the polar high to the north of us, get that into place and we'll be talking major snows! Below is an excerpt from the official NWS discussion released earlier this afternoon regarding this latest event.

CONDITIONS WILL RAPIDLY DETERIORATE THIS EVENING...WITH WINDS RAPIDLY INCREASING...REACHING WIND ADVISORY CRITERIA OVER LONG ISLAND/NEW YORK CITY/COASTAL CT/INTERIOR SE CT AFTER MIDNIGHT. DID NOT POST A WIND ADVISORY OVER THE LOWER HUDSON VALLEY/NE NJ/INTERIOR SW CT AS CORE OF LOW LEVEL JET IS FORECAST TO TRACK OVER/JUST EAST OF THE TWIN FORK WITH A FAIRLY SHARP DIMINISHING OF WIND SPEED TO THE WEST OF THE CORE. DUE TO EXPECTED DEVELOPMENT OF FAIRLY SHARP LOW LEVEL INVERSION DO NOT HAVE NEEDED 80 PERCENT CONFIDENCE TO GO WITH A HIGH WIND WARNING OVER EASTERN LONG ISLAND AND COASTAL SE CT...BUT COULD END UP CLOSE TO CRITERIA...ESPECIALLY SUSTAINED WIND OVER THE TWIN FORKS. WINDS WILL BE AT THERE STRONGEST A COUPLE OF HOURS ON EITHER SIDE OF SUNRISE AS THIS IS WHEN THE LOW LEVEL JET WILL CROSS/PASS JUST EAST OF THE FAR EASTERN PORTION OF THE CWA.

Check out the super impressive national radar animation below showing this classic looking storm heading up the coast!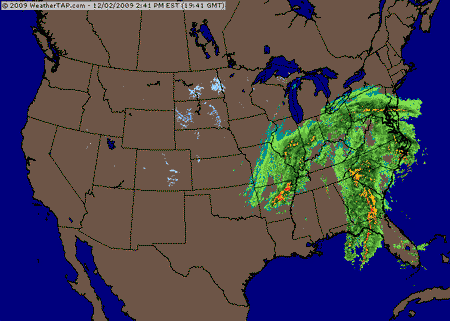 December 5th, 2009---: This is unreal! Yet ANOTHER in a series of nor'easters is heading up the coast yet again, literally on the heels of the one we had just three days ago. But this one is set to bring us our first snowfall of the season. It won't be anything to write home about, but we could see anywhere from a dusting, to an inch or two of slushy accumulation. The storm we experienced the other day brought with it high winds that knocked out power to parts of the tri-state area. My area was affected as well. Our power never went out, but we lost our cable TV and internet for a few hours on Thursday morning. The rains have begun here and I'll be sure to take some pictures when the rains change over to snow later this evening! Photos will be posted tomorrow. Below are two radar animations courtesy of WeatherTap showing a wide view, and regional view of this latest storm which is racing up the east coast. Note the rain/snow line which is currently still west of NYC. The snow line will inch it's way towards the coast later today as the winds shift around, and colder air gets pulled on in to my area.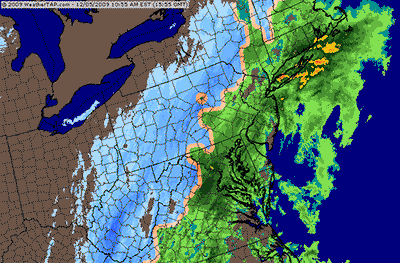 December 5th, 2009---: Just a quick update.....the snows are coming to an end here in NYC and it wasn't much to write home about. But, we did see our first snows of the year! Maybe a slushy inch of accumulation on the grassy areas, and on the cars but that was about it. Check out the two pictures below. The first one is of my Xterra (yep...those white blobs are snow flakes), and the second picture I took out in front. As you can see, it's not much..but it's official. Winter 2009 is here!
December 8th, 2009---: Here we go again!! Another 72 hours has gone by, and here comes the next storm. This one is really packing a whollop! As I type this (6:30pm) parts of Iowa and Minnesota are experiencing blizzard conditions, with parts of the south under tornado watches. This latest storm has a little bit of everything. As far as what we can expect, rain...and a soaking one at that. The rains are expected to begin a few hours before sunrise, and will peak during the morning rush hour. We will remain on the warm side of this system, so no snow for us this time around. The low pressure will pass to our west, so our winds will be from the southeast. Check out the national radar winter mosaic! What a beast! As you can see, the rains are not far away from us here in NYC. This will be another quick moving system, so by tomorrow afternoon, we may even see a few breaks in the clouds. There's already talk of another possible storm this weekend, but details are pretty sketchy right now.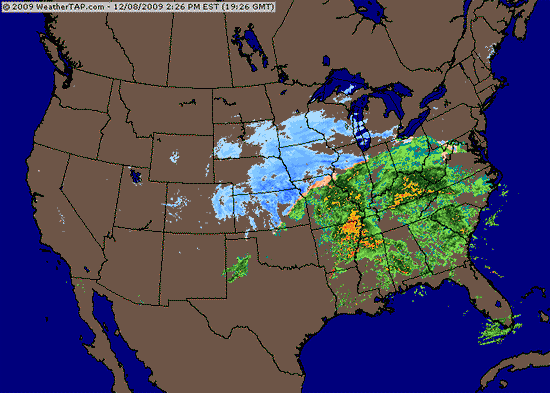 December 13th, 2009---: Talk about an active weather pattern! Another fast moving system is moving through the east, and as I type, the NYC area is getting hit with some heavy rains! Since this morning my rain gage has recorded .56 inches of rain. With this latest bout moving through, I wouldn't be surprised if we topped the inch mark by later this evening. However, as with all of the systems of the past few weeks, this is another fast mover and by midnight tonight, we should be clearing out. This is good as the Geminid Meteor Showers peak tonight! I'm hoping to catch a glimpse of a few of them. The peak should be around midnight, so if we can clear out by then, we'll be in good shape. I'll keep you posted on how things turn out. Back to NYC weather news, after a relatively warm start to the week, we'll really cool down once again and by late week, our high temperatures will only make it to the mid 30s. Below is a regional radar animation courtesy of WeatherTap showing the heavy rains moving through the east. Notice the snows are confined to the extreme northern portions of NY State and Vermont.
December 17th, 2009---: A storm system getting it's act together over the southern states at this time is poised to move up the coast this weekend, bringing with it the possibility of snow for the NYC Metro area. Right now it's not looking like a significant storm at all, more of a glancing blow...but the track of the storm is still in question. Anything can happen. Stay tuned for more updates as they become available.
December 19th, 2009---: So much for a "glancing blow"! lol....This storm is really getting it's act together, and is taking the perfect track to bring us significant snows here in NYC! The snow line is heading north but as I type (9am) it's still fighting a lot of dry air up this way. This will be overcome by afternoon when the flakes will begin to fly. By evening we could already be looking at 2 to 4 inches on the ground, and conditions will only get worse as the evening wears on. All in all we could see almost a foot of snow from this storm! And that would certainly make this storm the worst storm we've seen in several years. And it's only December! I had a feeling that with all these coastal storms of the past few weeks, it was only a matter of time before things lined up and we got nailed. It's looking like now is the time. All we were missing was an artic high pressure to the north of us, now we have that. Check out the national radar animation below (Courtesy of WeatherTap). It's coming!! More updates to follow. I'll try to update later this evening, but it may have to wait until tomorrow morning as I will be out filming for most of tonight.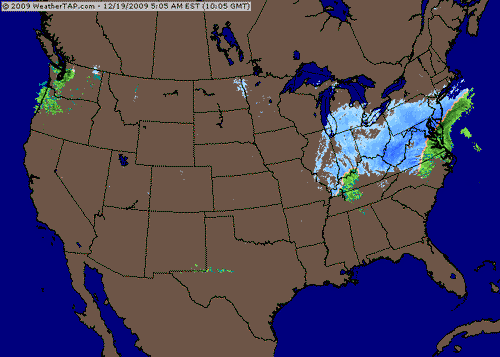 December 21st, 2009---: This is unreal! Winter literally starts today and we already have a major snow storm under our belt, lol. The Blizzard we experienced on the 19th brought high winds and heavy snow to the NYC area, as well as much of the east coast! Washington, DC had historic snow fall totals, and even Upton, NY which is out on eastern Long Island experienced it's biggest snow fall ever with over 26 inches reported at the observation station. Here where I live in Queens our official totals ranged between 8.8 inches, and 14 inches. Quite a wide swath depending on whether you were in southern Queens, or northern Queens. Here at my place in central Queens I measured 11 inches. Manhattan came in with 10.9 inches. I've posted some video of this event on my YouTube Channel. Check it out! The link to my channel can be found at the bottom of my home page. Below are some official snow fall totals from this major winter storm.

...NEW YORK COUNTY...
NYC/CENTRAL PARK 10.9 700 AM 12/20 CENTRAL PARK ZOO
MANHATTAN 9.5 210 AM 12/20 SKYWARN SPOTTER

...ORANGE COUNTY...
TUXEDO PARK 6.0 545 AM 12/20 SKYWARN SPOTTER
WESTTOWN 3.8 830 AM 12/20 SKYWARN SPOTTER

...QUEENS COUNTY...
NYC/JFK ARPT 14.2 700 AM 12/20 FAA CONTRACT OBSERVER
NYC/LA GUARDIA 8.8 700 AM 12/20 FAA CONTRACT OBSERVER

...ROCKLAND COUNTY...
NEW CITY 5.0 940 AM 12/20 SKYWARN SPOTTER
STONY POINT 4.0 927 AM 12/20 SKYWARN SPOTTER

...SUFFOLK COUNTY...
HOLTSVILLE 25.0 900 AM 12/20 SKYWARN SPOTTER
UPTON 24.9 700 AM 12/20 NWS OFFICE
BRIDGEHAMPTON 24.0 800 AM 12/20 SKYWARN SPOTTER
MOUNT SINAI 24.0 945 AM 12/20 SKYWARN SPOTTER
SOUTHAMPTON 23.0 900 AM 12/20 NWS EMPLOYEE
RIVERHEAD 21.0 930 AM 12/20 SKYWARN SPOTTER
RONKONKOMA 20.5 949 AM 12/20 NWS EMPLOYEE
ISLIP 20.3 700 AM 12/20 FAA CONTRACT OBSERVER
SAG HARBOR 20.0 730 AM 12/20 SKYWARN SPOTTER
SAYVILLE 19.8 700 AM 12/20 NWS EMPLOYEE
LINDENHURST 19.5 915 AM 12/20 SKYWARN SPOTTER
PATCHOGUE 19.0 1047 AM 12/20 NWS EMPLOYEE
HOLBROOK 18.5 310 AM 12/20 PUBLIC
COMMACK 18.2 500 AM 12/20 SKYWARN SPOTTER
MEDFORD 18.0 330 AM 12/20 SKYWARN SPOTTER
PORT JEFFERSON 18.0 900 AM 12/20 SKYWARN SPOTTER
December 22nd, 2009---: We're still digging out from our early season blizzard here in NYC and after three days, I'm STILL not done digging out the driveways! The pitched roofs on my block wreak havoc when it comes to snow storms. All the snow not only piles up in the driveway, it also gets funneled down from the roofs and we always end up with 4 to 5 feet of hard packed snow in the driveway. I'm almost done though chipping away at it and should have it all cleared out by tomorrow afternoon. My Xterra is parked at the top of the driveway since there is still some snow that has not yet fallen from the roof, and I can do without broken glass from falling ice chunks, lol. I've also posted some video that I shot in Manhattan during the height of the blizzard on my "latest video uploads" page! This same video can also be found on my YouTube Channel as well. Bounce on over to either one and check it out! Anyways, we are expecting another storm to hit Christmas Day, but this time around, it should be all rain for NYC. Great, the rain on top of the snow that's still everywhere should ensure a good flooding event. Stay tuned for news about that, and in the meantime.....Happy Holidays everyone!
December 24th, 2009---: The digging out is finally done after our recent major winter storm. Now it's time to relax and enjoy the holidays! Merry Christmas everyone, stay safe and enjoy! I'm really looking forward to 2010! We have a lot of things coming up in the new year and it's sure to be an exciting one!
December 30th, 2009---: I can't believe that another decade has gone by. I remember like it was literally yesterday celebrating Y2K. And now here we are, on the verge of 2010! The last ten years certainly had it's up's and down's for me. It wasn't the easiest decade for me, but I accomplished and learned many things during it, and I can only hope that the next ten years are filled with fun, excitement and amazing storms!! All the best to everyone, and Happy New Year!
privacy policy