Share this page!
Custom Search
NYC Weather & Storm Blog 2012
Click here to select another year
December 28th, 2012---: Looks like our first significant snow event of the season will take shape tomorrow! If the forecast pans out, this will put down more snow than we saw ALL last winter. But with that said, this is not expected to be a crippling snow storm by any means. While many of the computer models take this storm over, or close to the 70/40 benchmark, it's not forecast to be all that strong. So a general 2-4 inch snow fall is forecast for the NYC/NJ Metro, Long Island and Southern Connecticut. However, if the storm strengthens more than currently forecast, then snow fall totals would have to be bumped upwards. And this is entirely possible, so stay tuned. As it stands right now, the higher snow totals could be across Nassau and Suffolk Counties on Long Island. The far eastern end of LI could see a mix of rain at times which if this happens, would hold down the snow totals a bit there. I will be live streaming from my place in Queens, NY beginning tomorrow late morning as the snow begins to fall. Be sure to check back tomorrow and click on the "Live Streaming" tab!

Image below: Latest snow fall totals forecast issued by the National Weather Service.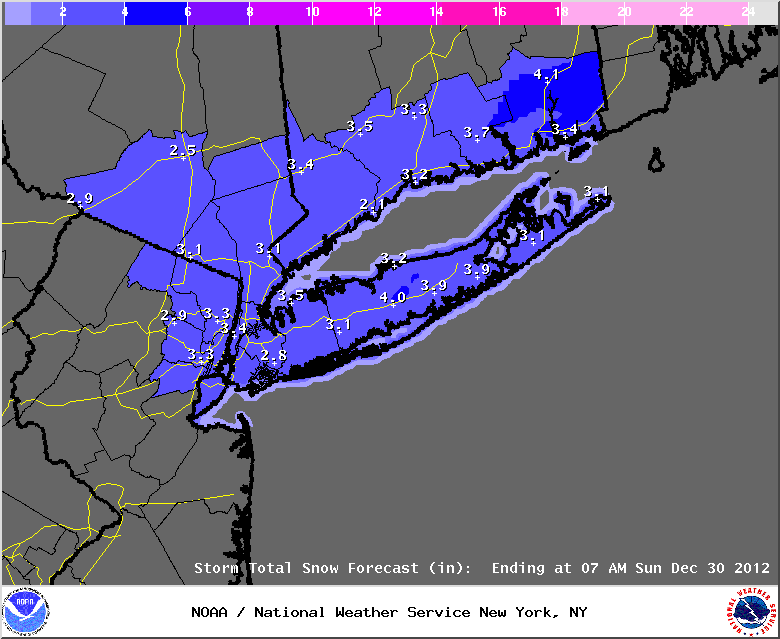 December 15th, 2012---: As it stands right now we have several storm systems that are lining up, one after the other that will affect the northeast next week. As it stands right now it's looking like mostly rain for the coastal sections, with some snows well inland. Nothing major though. However, even though we aren't anticipating any big snows here in NYC at this time, this does appear to be a sign that we're about to experience a pattern change. The storm track has shifted and in my opinion, it won't be long now until we're facing our first major winter storm of the season. Just have to get that cold air locked in place which up until now, has not happened.

December 12th, 2012---: Things are beginning to look interesting for early to mid next week here in NYC. We could be on the verge of a pattern change that would usher in more winter like weather for the northeast as we head into late December and January. However, first things first. Right now both the GFS and ECMWF models are showing a potential coastal storm/nor'easter for the early/mid part of next week. The ECMWF is actually showing back to back nor'easters, the first one affecting the area on Monday, and the second on Wednesday. The GFS shows this first storm too, but has it much weaker. What both models are agreeing on (for the time being) is the second coastal storm, which looks to be the stronger of the two. The GFS bombs this low down to 972mb southeast of Long Island by Wednesday evening, very close to the 70/40 benchmark. In terms of weather impacts. Assuming this all comes to fruition, for now it's looking like rain and winds here at the coast, with heavy snows inland, north and west of NYC. This could change rapidly if more cold air is introduced, and as is always the case with winter storms, the exact track is critical in all of this. For now, I'm in the watch and wait mode. We're still several days out from all of this and much can and will change over the coming days. But the chances are increasing for a coastal storm, or storms to impact the northeast next week. I'll have another update either later on this afternoon or tomorrow.

Top Image: Latest 00z ECMWF showing the first of two coastal storms on Monday, Dec 17th
Middle Image: Latest 00z ECMWF showing the second, stronger coastal storm affecting the northeast on Wednesday, Dec 19th
Bottom Image: The latest 00z GFS model showing a strong 972mb nor'easter southeast of Long Island on Wednesday, Dec 19th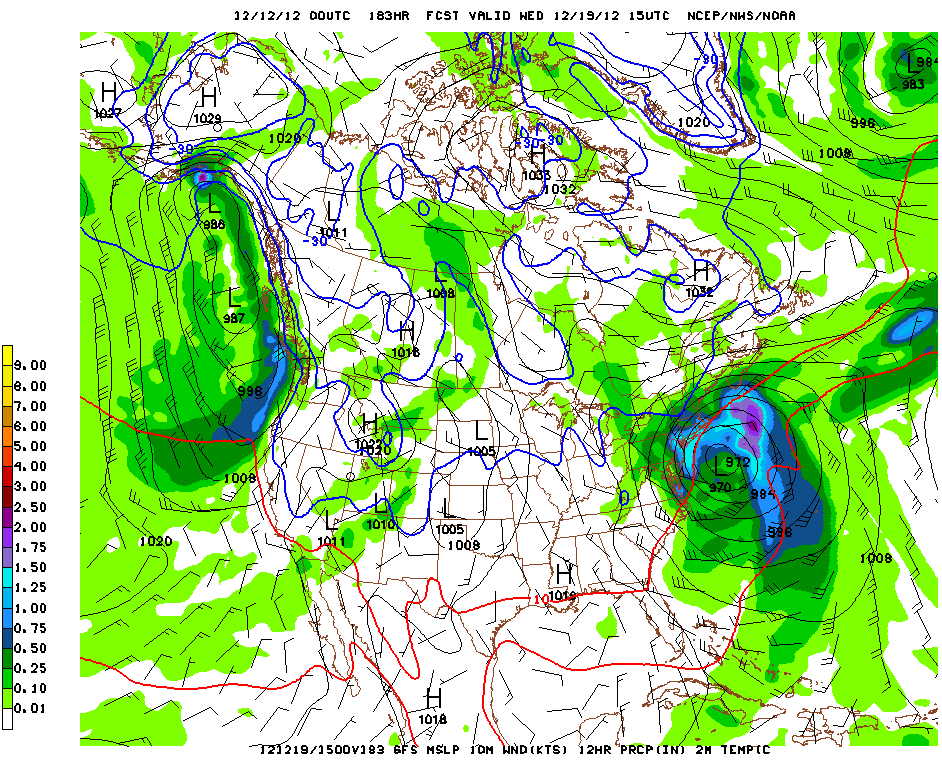 November 25th, 2012---: Winter is off to a good start, and it's not even winter yet! Our second coastal storm is on the horizon, but this one isn't (for now) looking to be as intense as the last storm that affected the area shortly after Hurricane Sandy made land fall. While the models are forecasting phasing of both the northern and southern stream jet energy, the phasing appears to happen too late in the game to generate a very deep and slow moving coastal storm. Still though, the upcoming coastal storm could bring several inches of accumulating snows to areas north and west of NYC, and we could even see a few inches here at the coast. All will depend on the exact track and strength of the storm. The official forecast is calling for about 2 inches of snow here in NYC, with heavier amounts to the north and west. By tomorrow things should come into focus so I'll have another update then. Image Below: Latest snow fall totals forecast from the National Weather Service for the period Tues-Wed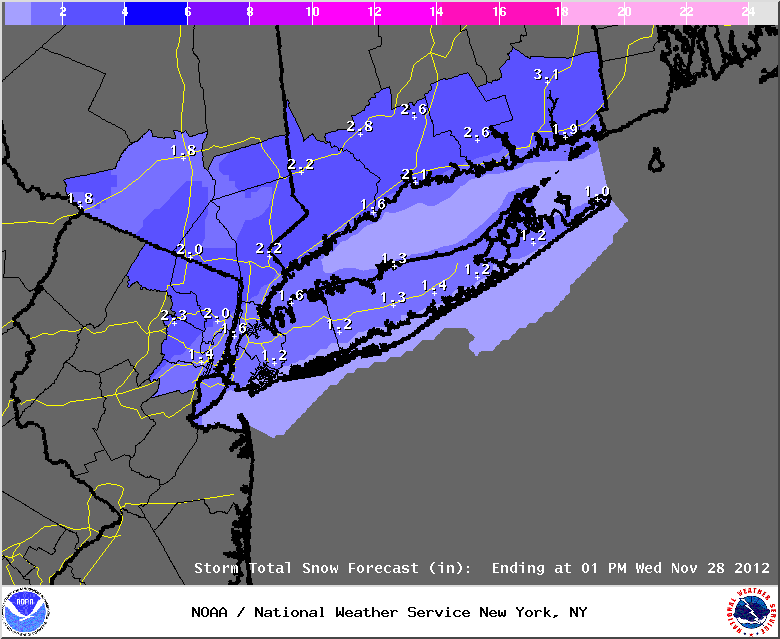 November 21st, 2012---: The last few weeks have been VERY eventful here in NYC! First we had Hurricane Sandy, and then a snow storm a week or so later. The snow storm brought several inches to the NYC area and many more trees came down due to two main factors. The first being so many trees were already weakened by Sandy, and the second being heavy snow piling up on tree branches that still had foliage on them. The past several days have been quiet however, and I have to say, I'm happy that we're getting a break here. So many have lost so much over the last few weeks, a nice quiet period is very welcomed as folks try to get their lives back together. I was very lucky in that only minor damage was sustained here at my house. Only a few roof tiles missing and some siding, that's it. We did lost tv and internet for 5 days, but never lost power thankfully. So, I have nothing to complain about at all. In other news, I worked on several different television shows about Hurricane Sandy and one of those shows (NOVA- "Inside The Megastorm") airs tonight on PBS at 9pm ET! I'll be appearing on camera talking about my experience chasing the storm here in the NYC area. If you miss the show, search YouTube for the program. I've noticed that many of these shows end up on YouTube after they initially air. It's not exactly legal to do that haha, but it does make it convienent to catch shows that you've missed. Happy Thanksgiving everyone!

November 6th, 2012---: The past week has been a blur, literally! So much has happened since Hurricane Sandy made land fall. I won't bother rehashing the aftermath as by now, most if not all of you are aware of all the devastation Sandy caused. I am currently working on several documentaries about Sandy that are set to air in the next few weeks on PBS and Discovery so be sure to look out for those! In the meantime, I have two videos posted on my "storm chasing videos" page of the Sandy preps the day before the storm, and of the land fall in Bayside and Rockaway, Queens. Check them out! In other news, as if the northeast hasn't had enough, another powerful nor'easter is on the way for tomorrow! While no where near as intense as Sandy, strong winds and heavy rains are likely for many of the same areas affected by Sandy. Because of this, any trees or power poles that are in a weakened state will come down in the strong winds forecast for tomorrow and tomorrow night. Be on the lookout, and stay alert! I will be live streaming once again from my home in Queens as conditions deteriorate tomorrow.

October 27th, 2012---: The latest model guidance is becoming nicely clustered around the New Jersey coast. The 00z NAM model has just come in as well and continues this trend with a land fall around Asbury Park, NJ. Keep in mind though, the exact point of land fall is not very important in this case. While the exact point of land fall, and the angle of approach will ultimately determine which areas see the worst conditions in terms of wind damage and flooding, Sandy is an enormous storm and her effects will be very far reaching. Be sure to heed all your local watches and warnings.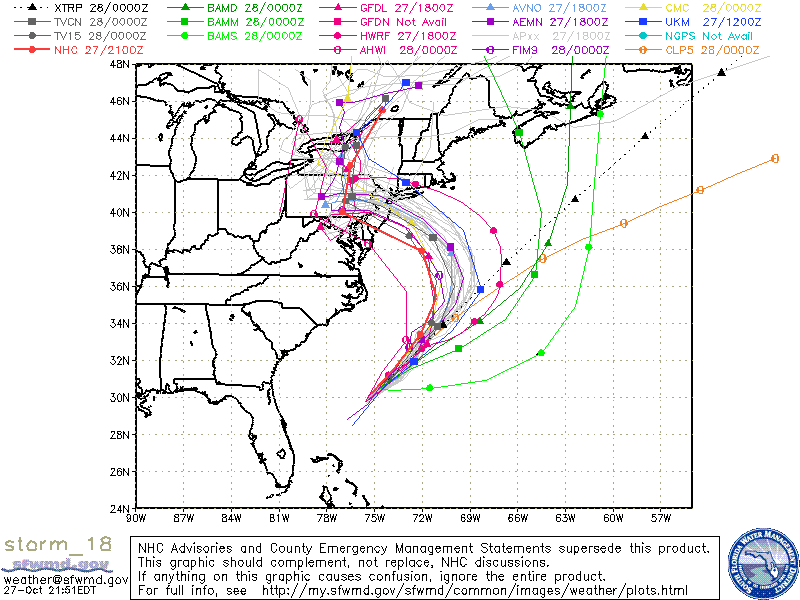 October 27th, 2012---: The NYC/NJ and Long Island area is still on target to take the brunt of Sandy beginning tomorrow, peaking late Monday and Monday night (as it stands right now) and lasting into the day on Tuesday. This will be a very long duration event with many hours of strong winds, flooding rains, and coastal flooding. From this point foward I won't have much time to update this blog so be sure to follow along on Twitter as I will be updating there much more often throughout the weekend and into early next week. I also plan to live stream from my place here in Queens, NY beginning on Monday so be sure to check back for that. For the latest information on Sandy be sure to check out the National Hurricane Center website and keep it tuned to your local news and radio outlets. Image Below: The official NHC propabilities forecast for tropical storm force winds (39mph and higher). Chances are increasing for the NY Tri-State area.


October 26th, 2012---: The 12z models are in and the GFS is sticking with it's story of a NYC/LI/CT land fall on Tuesday morning. However, this particular run shows a strange loop of sorts as the center passes over NJ. The center of circulation then does an about face and passes near, or over NYC again and then off to the northeast. The 12z ECMWF has shifted it's track a bit further to the north on this run (as compared to the 00z run last night) and has a land fall Tuesday morning on the southern New Jersey coast. It also shows Sandy or her remnants doing a strange loop as well and then heading off to the northeast. What this indicates is that these two models are forecasting the steering currents to break down and then shift shortly after land fall. If this were to materialize it would mean an extended period of gale force winds, coastal flooding and flooding rains for the entire area. Keep in mind, don't focus on the exact point of land fall. I've heard a lot of people say things like, "Oh, it's coming in over southern NJ most likely, we'll be fine here in NYC". Not necessarily. This storm is huge and tropical storm force winds are forecast to spread out over 300 miles from the center. This will be a high impact event for much of the Mid Atlantic and Northeast, regardless of the final land fall point. Sandy will also be pushing a ton of water along with her and the exact angle of approach to the coast, will determine which areas see the worst coastal flooding. The angle of approach will determine the wind direction. For us here in NYC a worst case scenario of sorts would be for Sandy to approach us from the southeast and make land fall over the central Jersey coast. Southeast winds would pile up water on the coast from the Rockaways to the Battery in Manhattan.

I'm anticipating the models converging on a more focused solution over the next 24 hours. The closer to the actual event, the clearer things usually become. But by no means will this be an easy forecast. As it stands right now Sandy has lost some of her structure due to high wind shear, but the official National Hurricane Center forecast calls for re strengthening in a day or two due to a complex interaction with the deepening trough approaching the east coast. This will be key in how strong this storm ultimately becomes, and right now, it's impossible to tell just how much Sandy will strengthen due to this complex interaction. But, all signs are pointing towards a very powerful coastal storm so preparations should be made for an extended period of high winds at times approaching hurricane force, likely power outages, and flooding rains. It can't hurt to stock up on some canned food, water, batteries and flashlights. If you live along the coast, please heed any evacuation orders. I understand that it sucks to contemplate getting out of your home, but it really is better to be safe than sorry. The storm surge potential with this storm is very high, and the potential is there for it to be worse than Irene last year. Many people look for guarantees but there are none. After all is said and done your area might be just fine, where as another area is completely under water. This is why it's best to prepare for the worst, and then hope for the best. If all this works out better than expected, awesome! But, if it gets really bad, you'll be prepared. Just look at it that way. Again, I'm not one for hype and I continue to refuse to hype this situation by comparing it to past storms. It's not any of those storms, it's Sandy 2012. With that said this storm does have the potential to be truly historic, no doubt there. Back to the models for a moment, I'm continuing to have a hard time buying the extreme, pretty much unheard of low pressures that many of the models are forecasting. I still think they are overdoing that, but again, time will tell. For more details about why the central pressure of these storms is important refer to my posts from yesterday. So to sum up, keep it tuned to your local media outlets for up to date info and as always, you can refer to the official National Hurricane Center website for the most accurate and up to date information about Sandy. I'll post another update tomorrow afternoon when I have time. You can also follow me on Twitter.

Image below: The latest 8pm track from the NHC showing a land fall in southern NJ/northern MD. I wouldn't be surprised to see this track nudged a little further north at 11pm due to a shift north by some of the models, but that remains to be seen. Again, you can expect the forecast to bounce around a bit for the next day or so until things come into focus.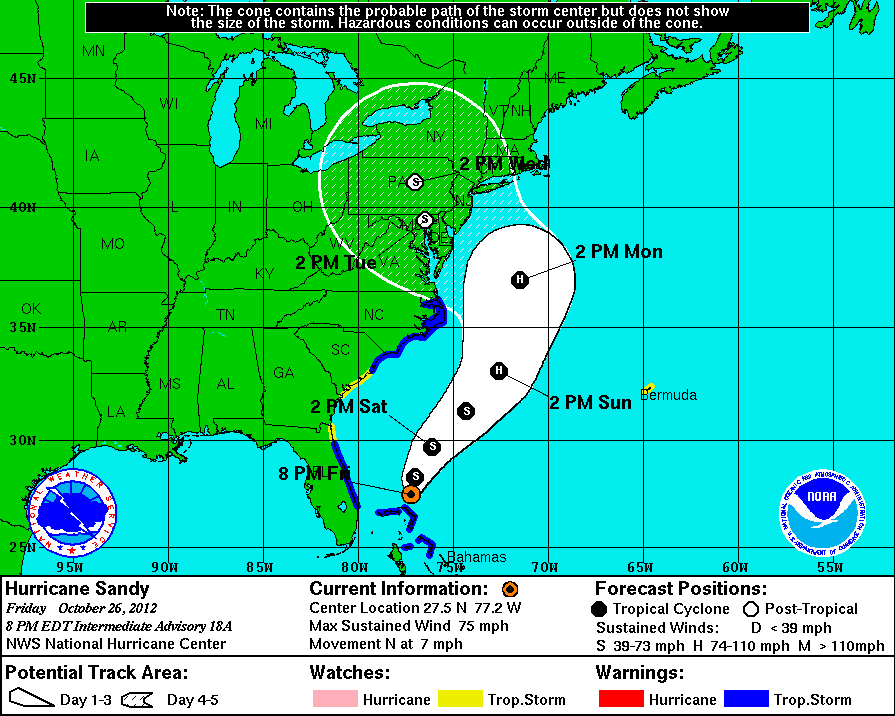 October 25th, 2012---: The 12z models are in. Let's start with the GFS first. The 12z Operational run has made a dramatic shift west on this run and now is in line with the CMC and NoGaps models in bringing Sandy into the NYC/Long Island area this Tuesday as a very powerful 940mb-950mb storm. The latest 12z GFDL Tropical Model is also in and shows a New Jersey land fall with a pressure of 925mb. I do not think it will be that low by the way. The models struggle with forecast pressure this far out. Why do we talk about the pressure you ask? Well, the lower the pressure the more powerful the storm is. Many of the forecast models have been showing land fall pressures anywhere from 925mb to 945mb, this would be unprecedented, not impossible, but certainly historic. And I'm not at this time buying that. My thinking (for now) is that the pressures will be more in the 950-960mb range. Still an extremely powerful storm regardless which should be taken seriously. The latest 12z ECMWF model is showing Sandy taking a hard northwest turn after 96 hours and coming ashore near Washington, DC. My thinking is the turn may be a bit more gradual than this but anywhere from DC to New England is still in play. Extra balloon soundings have been launched starting last night and this extra data is being ingested into the model runs. More data for the models to digest should bring things into focus over the next 24-48 hours. But it is becoming more and more likely that the Mid Atlantic and Northeast US will see direct impacts from Sandy late this weekend and into early next week. In terms of a time frame, it's looking like Monday into Tuesday right now. The models are still diverging a bit in that regard but remember, Sandy is enormous and her reach is far and wide so the weather will most likely begin going downhill here in the Northeast beginning on Sunday as it stands right now. In terms of what locations will see the worst impacts, the jury is still out on that. Remember, we're still about 4 days out so there's still a wide cone of uncertainty. Best estimates right now appear to be converging on the New Jersey, New York City and Long Island area. However, this could change...when it comes to the weather, nothing is ever written in stone. Another thing to remember is that even if Sandy loses her tropical characteristics and becomes extratropical, she still will be packing quite a punch. Her enormous wind field alone could bring widespread damage, flooding and power outages to millions of people from the Mid Atlantic into New England. And big time snow fall could hit areas west of us over western PA and into western NY State. All of this however will ultimately depend on the exact track. To sum up, my feelings on this right now as it stands is we need to prepare for an extended period of high winds, potential power outages and flooding beginning on Sunday and lasting potentially into the mid week period. I won't make any solid predictions in terms of wind speeds, but it is possible we could see winds approaching hurricane force, IF the worst of Sandy tracks into the NYC area. Either way, someone is going to see the worst of Sandy and since it's still sketchy as to what locations will see the worst the best bet right now is to make early preparations in the event your area is hit hard. I'm not one for hype, and I refuse to hype this storm up. A lot of people get pissed and think I'm downplaying things but I just see no need to do that. Could Sandy be an historic storm for us? Yes, absolutely. And, there is the potential for widespread damage over a huge area. But we'll just take things one step at a time. For now, prepare for a major coastal storm, have batteries on hand, water, food, and plan for power outages. As we get closer and things become more in focus, further preparations can begin. I'll have another update tomorrow morning.

Image Below: The latest 5pm track update from the National Hurricane Center. For up to date info refer to the NHC for reliable info.


October 25th, 2012---: Hurricane Sandy made land fall yesterday as a strong Category Two storm on the east coast of Cuba. She's lost a bit of her punch after crossing the island, but not much. Some strengthening could once again take place today as she approaches the Bahamas. The models to a certain extent are still at odds in terms of impact on the eastern US, but it's still looking very likely that the Mid Atlantic, Northeast, and New England will see adverse affects from Sandy late this weekend, and into early next week. What areas will see the worst is still unknown, however, the latest 00z ECMWF model has been the most consistent and is still showing land fall near Cape May, NJ on Monday. The GFS model is showing land fall anywhere from Nova Scotia (the 00z run) to Maine (the 06z run). I'm anxiously awaiting the 12z model suite to come out early this afternoon as those extra balloon soundings taken across the USA today should help bring things a bit more into focus over the next 24 hours or so. Either way, it's still looking likely that a wide area from the Mid Atlantic, all the way to New England will see strong winds and flooding rains late this weekend and into the early part of next week. There is still the possibility however that Sandy could get pulled harmlessly out to sea, while not looking very likely at this time, it is still a possibility. So be careful not to get too wrapped up in all the hype, but at the same time, have a plan in place in case the worst case scenario for your area begins to look more likely. I'll have another full update this afternoon once the 12z model suite is in, and I have a chance to analyze things.

October 24th, 2012---: Well, things got interesting in a hurry here in the northeast. Hurricane Sandy is now (as I type) moving north towards eastern Cuba after directly striking Kingston, Jamaica earlier this afternoon as a Category One storm. A few days back, some of the forecast models (namely the ECMWF and CMC) were showing a very interesting scenario where Sandy interacts with a digging eastern trough which, instead of pushing her harmlessly out to sea, actually pulls her back west causing her to strike somewhere between Virginia and New England. Well, over the last few days more and more of the forecast models are latching onto this possibility and now, the likely hood of this happening is increasing. It's still not written in stone of course, and Sandy could still track harmlessly out to sea, but the chances of that at least for now, are decreasing. With all this said, Sandy is not expected to maintain her tropical characteristics if and when she strikes the Mid Atlantic and Northeast, by that time she is expected to have made the transition to extratropical. However, this does NOT mean she won't still be packing quite a punch. There are even a few indications that this could be an historic event for us here in the Northeast. All will depend on the exact track, and those details are still very sketchy at this point. Again, no need to panic or get too ahead of ourselves here, there is still plenty of time to watch how things progress over the next day or two. In the meantime, have a plan in place in the event we are faced with a potent storm here in the east early next week. The NWS will be launching balloons every six hours beginning tomorrow morning to aid in the forecast. The data collected by those balloons will be ingested into future models runs and this will hopefully shed more light on what Sandy, or her remnants have in store for us here along the east coast. What are my personal thoughts? Well, I think we will most likely see some adverse affects from Sandy here in the NYC Metro since all signs right now are pointing towards a track relatively close to the east coast. This storm is HUGE and the wind field will expand out many hundreds of miles from the center of the storm. So, even if the ultimate track takes here a few hundred miles north or south of us here in NYC, we'll still see strong winds and potential flooding rains. How bad things will get here will ultimately depend on the exact track, so stay tuned!!

Top Image: The latest 12z ECMWF model showing land fall near Cape May, NJ on Monday, October 29th.
Bottom Image: The latest model guidance which includes the GFS ensemble members (the white/gray lines). Note, many of them are taking Sandy into the Northeast US early next week, where as earlier they were calling for an out to sea solution.


October 19th, 2012---: NOAA has issued it's Winter 2012-2013 outlook and it is certainly a challenging forecast to say the least! For us here in the Northeast, we could be looking at more of a typical winter, unlike last winter where we literally didn't see any snow (with the exception of a few inches on January 20th, 2012) and temperatures were WAY above normal for pretty much all of meteorological winter (December, January & February). Personally that's what I am expecting. An average winter with a few good snow storms here and there. Hopefully this comes to fruition since I'm not much of a fan of the cold, but I AM a fan of storms, and that includes winter storms. Snow storms and blizzards to me make the winter interesting. Without them, it's just cold...ugh. One other thing of note is that the NAO (North Atlantic Oscillation) has been in a consistent negative phase since May! When we have a negative NAO this usually spells below average heights along the east coast (ie, frequent troughs of low pressure digging into the east) which is one of the ingredients needed for coastal storms to take shape. Many more factors are at play of course but it is one of the things forecasters look at when it comes to coastal storms. Last winter we had a consistent positive phase of the NAO which lead to above average heights in the east. These above average heights brought record warmth to many states along the east coast and very little, if any snowfall. If we can stay in this negative phase throughout the upcoming winter, then I will expect a few good coastal storms to affect the east. Below is an excerpt from NOAA's official 2012-2013 Winter Outlook

The western half of the continental U.S. and central and northern Alaska could be in for a warmer-than-average winter, while most of Florida might be colder-than-normal December through February, according to NOAA's annual Winter Outlook announced today from the agency's new Center for Weather and Climate Prediction in College Park, Md.

Forecasters with NOAA's Climate Prediction Center say a wavering El Niño, expected to have developed by now, makes this year's winter outlook less certain than previous years.

"This is one of the most challenging outlooks we've produced in recent years because El Niño decided not to show up as expected," said Mike Halpert, deputy director of NOAA's Climate Prediction Center. "In fact, it stalled out last month, leaving neutral conditions in place in the tropical Pacific."

When El Niño is present, warmer ocean water in the equatorial Pacific shifts the patterns of tropical rainfall that in turn influence the strength and position of the jetstream and storms over the Pacific Ocean and United States. This climate pattern gives seasonal forecasters confidence in how the U.S. winter will unfold. An El Niño watch remains in effect because there's still a window for it to emerge.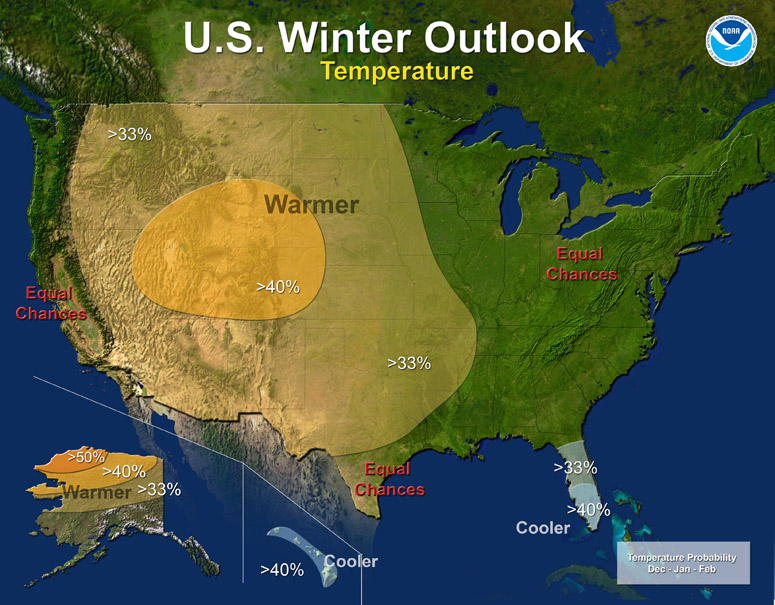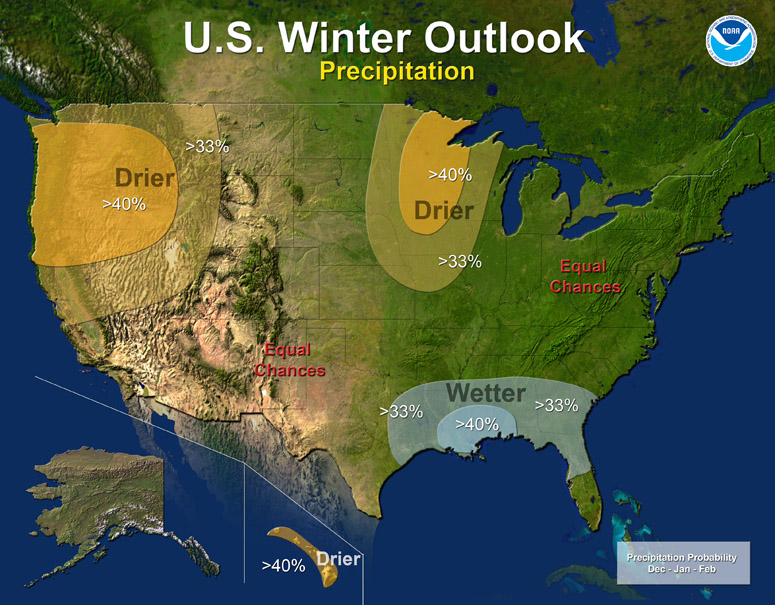 September 17th, 2012---: It looks like another round of potentially severe and tornadic storms will roam the northeast tomorrow! Just 10 days ago parts of the NYC area were hit with two tornadoes, severe thunderstorms and flooding rains, well, it appears as if we'll have another shot at that again tomorrow. A very intense and dynamic storm system will get it's act together and blast through the northeast during the day tomorrow, and into tomorrow night. It's not every day that you see bulk shear in the 50+ knot range, and low level helicities in excess of 200 in this part of the country, but that is what the forecast models have been showing for tomorrow. Basically in a nut shell what this means is that there will be a lot of forcing and a good amount of turning of the winds with height, a key ingredient in the formation of rotating storms. While damaging winds will be the greatest threat from severe weather tomorrow, there is an isolated tornado threat as well, so stay alert if you live anywhere in the NY/NJ/PA area. There is also a High Wind Watch in effect for the NYC Metro tomorrow, so even when storms are not occurring, winds are forecast to be sustained around 20-30mph with gusts in excess of 60mph! These winds could be even stronger in any storms that form, so power outages are a good possibility tomorrow in parts of the area. A very eventful day and evening is on tap for sure, and I will be live streaming from my house here in Central Queens beginning late morning and continuing throughout the day. Head on over to my "Live Streaming" page tomorrow to view the stream!

Image Below: Latest day two convective outlook issued by the Storm Prediction Center in Norman, OK. NYC is right on the eastern edge of the highest 30% hatched risk area for severe weather.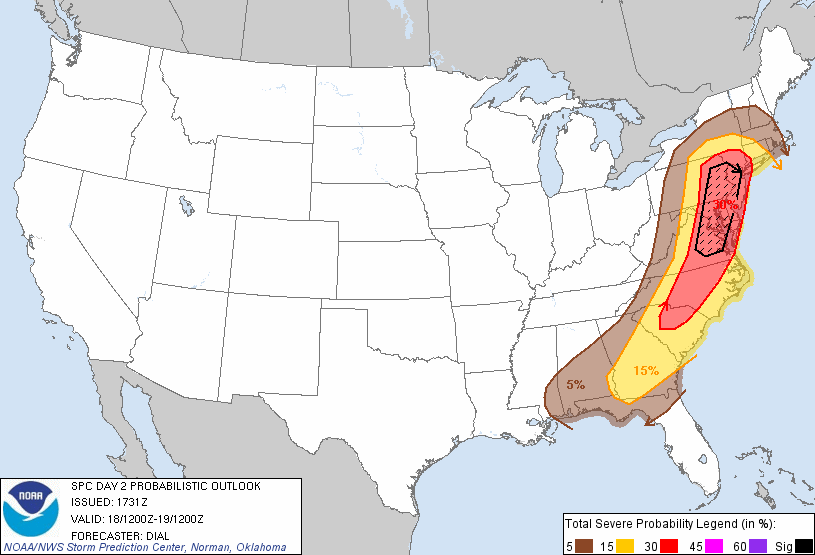 September 9th, 2012---: Yesterday was unreal, and very rare! Two tornadoes touched down in southern Queens in the town of Breezy Point, and in Canarsie, Brooklyn. Pre frontal supercells formed and tracked into my area from the south around 10:30 yesterday morning. Unfortunately though even though these tornadoes were only about 14 miles from where I live, there was just no way I was going to get there in time. On a good day it would have taken me about 35-45 minutes to get to Breezy Point, which was the location of the first tornado, and also the most visible one. Some of the pictures and videos I have seen from yesterdays storms was incredible. It's not everyday a tornado tracks through the NYC Metro, and this one was visible, well, just as long as you happened to be in the right place at the right time that is. As dissapointing as this was I still managed to get on the same storm that spawned these tornadoes and ended up encountering some serious flash flooding here in central Queens not far from my house.

Animation Below: Level II Radar loop of the storm that spawned the Breezy Point and Canarsie tornadoes. The white marker is my exact location at the time the storms moved through. To view the video I shot that day head on over to the Storm Chasing Videos section of my website!


July 27th, 2012---: Another very active day yesterday in many parts of the northeast. The Storm Prediction Center issued a moderate risk for severe weather for the NYC Metro and surrounding areas which is something you don't see very often around here. Storms erupted early in the afternoon in NW PA and western NY and quickly progressed east as the afternoon wore on. Elmira, NY had a confirmed tornado and several people were trapped in their vehicles as a result of falling trees and power lines. The storms made it into the NYC area around 8pm and while they were in a weakened state by this time, they still offered up a lot of lightning, strong (and in some parts of the area) damaging winds, and torrential rains. I headed up to Astoria Park to watch the storms as they approached and the view from the East River was amazing! Video is now posted on my Storm Chasing Videos page so be sure to head over there and check it out! I also ran a timelapse from here at my home in central Queens and that video is also posted.

Images Below from top to bottom: Satellite shot showing storms erupting in western NY and PA in the early afternoon, SPC damaging winds forecast probabilities for July 26th, a 45% risk area is not something you see too often here! And the bottom image shows the SPC storm reports for yesterday. Over 300 wind damage reports!!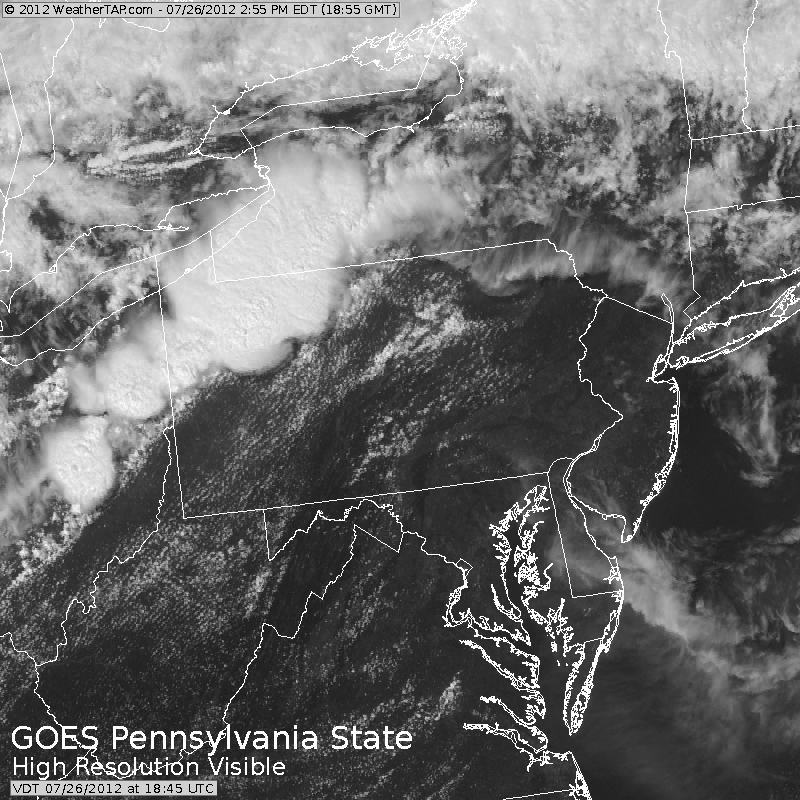 July 19th, 2012---: This summer isn't shaping up too bad in the thunderstorm department! Another round of intense thunderstorms blew through NYC yesterday as a strong cold front made it's way down from the Lower Hudson Valley. Temperatures topped out around 101 here at my place in Queens, but what really made it feel ultra oppressive was the high humidity that went along with that 101 degrees. Dewpoints averaged in the mid to upper 70s! You knew something had to break, and break it did! Around 5pm intense storms moved through with hail up to nickel size being reported in several areas, including midtown Manhattan! Nothing like that here in Queens but what we did get were strong damaging winds and tons of lightning! We'll see a break from all the heat and humidity these next few days but it looks like we could be back to around the 90 degree mark by Sunday or Monday. Not even July 20th and we've already had 4 heat waves. WOW.

Images Below: Close lightning strike captured at Juniper Valley Park in Middle Village, NY on July 18th, and damage done to a Mercedes due to a fallen tree right across the street from my house.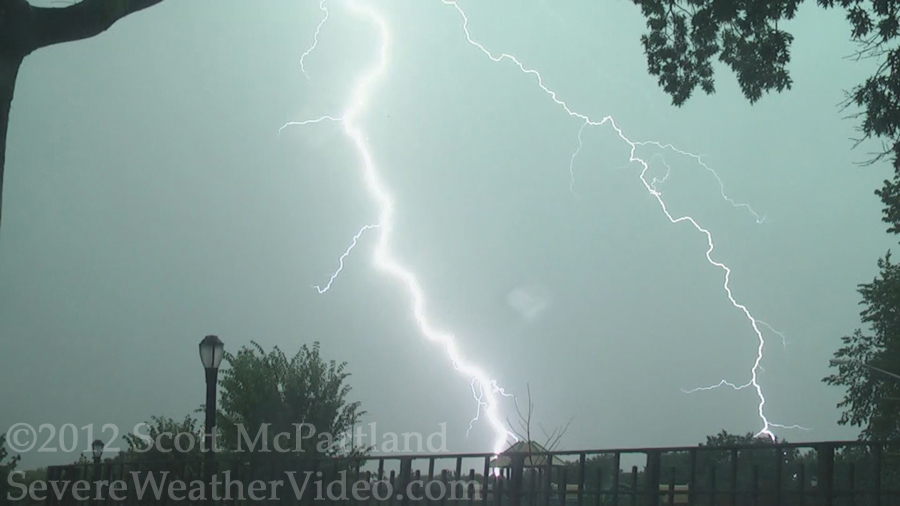 July 6th, 2012---: WOW has it been hot lately here in NYC! Actually, as hot as it has been here, it's been downright oppressive in other parts of the country. Chicago broke a record with three consecutive days in a row of 100+ degree heat today. And that extreme heat is heading our way for tomorrow. The forecast highs for tomorrow in and around the NYC Metro are around 101, with high humidity. I plan on heading into Manhattan to document the extreme heat and I'll have to be sure to bring plenty of water with me so I don't end up becoming a casualty of the heat! I think today marks our 5th day in a row of 90+ temps, and this will all peak tomorrow. With the extreme heat will also come a chance of thunderstorms tomorrow afternoon and evening. A cold front is set to move through the area and I'll be on the lookout for any severe weather that may pop up! Updates will be posted on my Twitter feed throughout the day! Last I checked over 3000 record highs have been recorded this month alone! And it's only July 6th! We should see a break from all this heat early next week when temperatures, at least in the northeast will return to near normal (mid 80s). Something tells me there will be more oppressive heat to come before Summer 2012 is over and done with.

Image Below: Forecast heat index for the NY/NJ Tri-State area tomorrow afternoon. Yep, that's in the 105-108 range for NYC! Stay cool out there and take it slow.


June 26th, 2012---: The past week has been very eventful here in NYC with multiple rounds of thunderstorms! We're off to a good start for sure. We were hit with a round of severe thunderstorms on Friday, June 22nd and were hit again yesterday (June 25th) with not one, but three rounds of storms! I have posted three new videos from these latest round of storms on my "Storm Chasing Videos" page, so be sure to head on over there and check them out! Our next chance of storms looks to be on Friday when we heat back up once again. Temps in the 90s are forecast for Friday through Sunday with high humidity. And with the heat and humidity will come more instability for storms to feed off of should they form. There's some pretty strong flow aloft forecast so I'm hopeful! I'll be updating more here over the coming days, but for more frequent updates be sure to follow me on Twitter.

Image Below: Radar animation showing the 3 rounds of storms that affected the NYC Metro and Long Island yesterday. The first round hit around 8am, followed by the second round at 5pm, and the third at 6:30


June 19th, 2012---: Been a while since an update here. I was out on the road for a few weeks in May into early June storm chasing and this year's trip was yet another successful one! Please refer to my "Storm Chase Blog" and my "Storm Chasing Videos" page for the latest videos. So now I'm back here in NYC catching up on work, and looking forward to the summer and the thunderstorms the season will hopefully bring! Speaking of summer, it officially begins tomorrow evening and it is coming in with a bang! High heat and humidity will blast into the northeast tonight and will stick with us through Friday. High temperatures tomorrow are forecast to top off in the mid to upper 90s for Metro NYC and NJ, with more of the same for Thursday. Low temperatures tomorrow night (Wed) will only get down to around 80 degrees in NYC so air conditioners will be running full blast for sure. All this will be thanks to a ridge of high pressure setting up off the east coast which will pump hot and humid air into the northeast. By Friday however, a cold front will slowly sweep through from west to east bringing an end to the high high for the weekend when temperatures will drop back to seasonable levels. With the passage of the cold front I am hoping for some thunderstorms. And while there is the chance of storms for the NYC Metro, it doesn't appear right now to be a widespread threat. Upper forcing is lagging behind the cold front so while we will have some pretty decent instability around on Friday, there isn't much of a trigger to get things going. I'm confident however that storms will form along the cold front, but they may be more isolated in nature so not everyone will see them. I'm hoping we do though and if any storms affect the NYC area, I'll be live streaming them from the old homestead so be sure to follow me on Twitter for more frequent updates during this first heatwave of the summer season. While Friday offers up the best chance of storms for NYC, I'm still thinking that we could see a few around both Wednesday and Thursday as well, but for the those days I'm expecting any storms that do materialize to stay mainly north and west of the NYC Metro. Still though, keep an eye out regardless. With high heat and humidity there is always the chance of a pop up pulse severe thunderstorm. Regarding the medium/long range forecast, persistent troughing in the east appears likely to continue which means no more heat waves on the horizon for at least the next week or so.

Image Below: Forecast high temperatures for Wednesday, June 20th, 2012.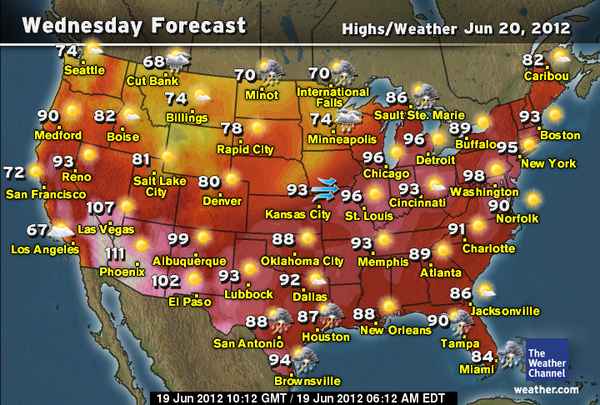 May 5th, 2012---: Big storms moved southeast through the NYC metro yesterday morning almost catching me off guard! I knew there was a chance of storms during the overnight period, but wasn't expecting them to be very intense. About 6am I awoke to the sound of distant thunder and before I knew it, the pre-dawn sky was lighting up! I grabbed my GoPro Hero camera and quickly mounted it on the outside of my 2nd floor living room window. Over the next 20 minutes I managed to capture a few bolts and some loud thunder. Not the most severe storm we've experienced here by any means, but a great way to start the day for sure! More storms were forecast for later in the day, but they never materialized. To check out the video of yesterday mornings storms, head on over to my "Storm Chasing Videos" page!

Image Below: The link of storms right as they were over Queens County and Nassau County yesterday morning.


April 20th, 2012---: Been a bit quiet on this side of the blog as most of my posts have been on my storm chasing blog, however I felt there was some things to mention so here we go! First off, the past 3 months have been WAY above average in the temperature department, and WAY below average in the precipitation department. We ended up just shy of the all time warmest March ever on record, and the trees in NYC, which normally begin blooming in early April, began budding in mid March. Completely insane! Now that we're in late April, the colors are just exploding everywhere here and I love it. But, we really do need the rain and rain is what we are going to get late this weekend and into early next week. A late season nor'easter will make it's way up the coast and will bring some much needed rain to the area. Up to 4 inches in some areas is forecast! This will also cause some flooding concerns since we will be getting a lot of run off due to the very dry soil. Below is the latest 12z Euro showing this late season nor'easter just off shore Monday morning. If this were the middle of winter, we'd be looking at a heck of a snow event! Something that eluded us this past winter.
March 1st, 2012---: Big time severe weather threat for many states east of the Mississippi tomorrow! Unfortnately due to family and work I cannot chase this one but wow, we're already getting off to a heck of a start to the spring storm season. Definitely be on alert tomorrow if you live in the risk area, and please keep that NOAA weather radio in alert mode! Take this seriously, and be sure to give the heads up to family and friends that live in the risk area. If you do not have a NOAA radio, that's ok, in that event stay tuned to your local news outlets and radio. They'll keep you on top of the situation. It's all about being prepared. The severe threat even extends into western PA and western NY so this threat covers a vast area. Check out the image below...45% risk area for many states like Ohio, Indiana, Kentucky and Tennessee. This risk area outlined below is for the overall severe weather threat, and does not just focus on tornadoes. It essentially states that the chances of seeing severe weather within 25 miles of any given point within the purple shaded area is 45%. That's very high. If you live in the red shaded area, your chances of seeing severe weather is 30%, and so on. All modes of severe weather are forecast tomorrow. Large hail, damaging winds, lightning, and yes...tornadoes as well.
February 20th, 2012---: Here we are getting towards the end of February now and still, no snow at all! And, it's looking like we're not going to see any for the foreseeable future. If anything, this week is expected to be way above normal, and we could see 60 degree temperatures come Wednesday. Colder weather could be on tap for next weekend, but we're still a few days away from that so details are still sketchy.
February 9th, 2012---: It sure has been quiet here in the NYC area this winter. Hardly any snow at all has fallen but it's beginning to look more and more likely now that we could see at least a few inches of snow overnight tomorrow into Saturday morning. Models have trended a bit stronger with this upcoming coastal storm, and as it stands right now, we could see upwards of 3-4 inches. We'll see what future model runs have to say about this. Image below: Latest snow fall totals forecast for the period Friday night to Saturday night.
January 31st, 2012---: As we close out January we once again skated through another month of winter here in NYC with minimal snow. Only 4 inches recorded here in the city! Actually, that's all we have received this entire winter! December was snow less, and January only saw one minor snow event. What a difference a year makes. This time last year we were fixing for another major snow and ice event here in the city, and we had already recorded over 50 inches of snow for the season so far. Not this year. Still though, we have all of February to go and some of our biggest snow events have occurred in February so there's still time. Right now, I am not seeing any major events on the horizon so it's very likely that we'll get through at least the first week of the month without any snow. What will come after that is anyone's guess right now. Today you would have thought it was early April here in the city. Temperatures here at my place in Queens reached 63 degrees! What is going on! lol
January 20th, 2012---: Our first significant winter storm of the season is less than 18 hours away. While initial forecasts seemed to point towards a more wet, than snowy scenario, the various forecast models have converged on a mainly snow event now, even for locations near the coast like NYC and Long Island. Areas north and west of us here in the city will receive more snow from this quick hitting storm, but even the NYC area could see upwards of 6 inches in spots. Because of this the National Weather Service has issued a Winter Storm Warning for parts of northern New Jersey and the Lower Hudson Valley of NY, and a Winter Weather Advisory for the NYC Metro, Long Island, and parts of Connecticut. Snow should begin to fall here in the city after midnight tonight and continue through about mid day. There is still the likely hood that the snow will mix with sleet and rain here at the coast as warmer air surges in from the south, but as it stands right now, this may happen after the majority of the snow has already fallen. So, to sum up, plan for a plowable snow here in NYC and on Long Island. For those of you living north and west of NYC, you all could see upwards of 7 inches from this storm so travel will be a big difficult if you are out and about early tomorrow morning. This is a quick hitting storm once again, so things will wind down by tomorrow afternoon. Stay tuned to your local news outlets for the latest on this storm. I will be live streaming this snow event right here from my place in Queens, NY beginning tomorrow morning so be sure to check back then and click on the "Live Streaming" link on the navigation bar at the top of this page!

Image Below: The latest snow fall totals forecast for the NYC/NJ Metro, Long Island, Lower Hudson Valley and southern Connecticut.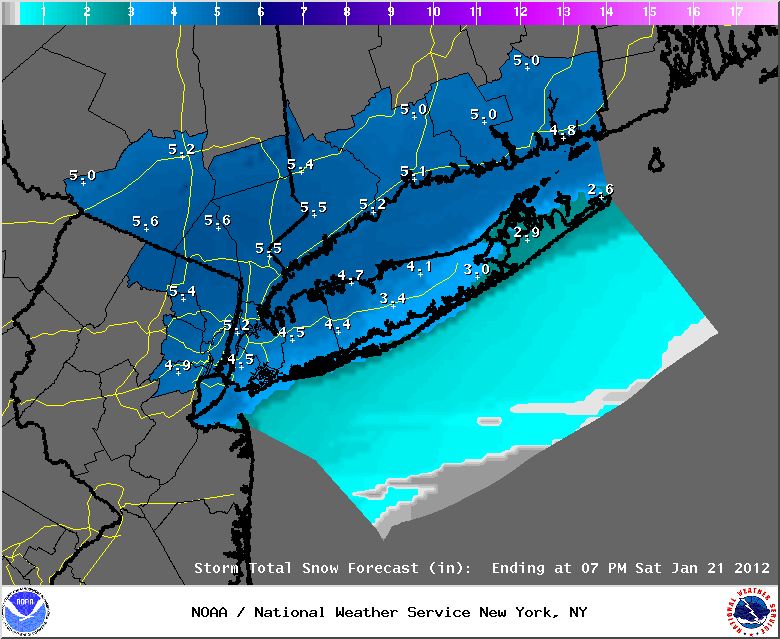 January 19th, 2012---: FINALLY! Our first shot at snow fall this winter here in NYC. Well, only about 1/2 inch is expected in NYC but still, I'll take it. While many have been happy that we have had a snow less winter thus far, I am not happy. Just plain cold is boring, the winter seems to drag on that much longer when it's just cold. The snow at least in my opinion makes things interesting. Either way, whether you love it, or hate it, it's on the way for tonight! And another more significant system will be right on it's heels. Saturday is looking like a nasty day here in the NYC Metro. Everyone should start off with snow, even here at the coast, but as warm air surges north all coastal areas are expected to change over to sleet, and then just plain rain by mid day Saturday. I'll be keeping an eye on things of course just in case the forecast changes but that's how things are looking right now.

Image Below: Regional radar showing the light snow advancing east through PA towards the Tri-State area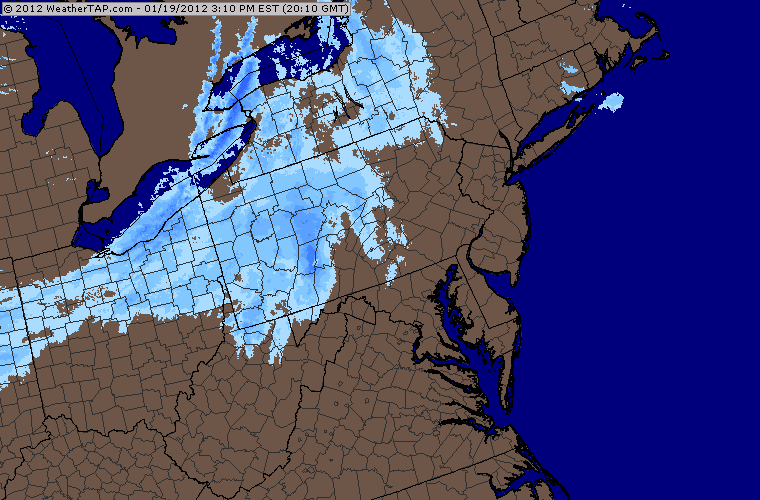 January 10th, 2012---: Here we are almost in mid January and still no significant snow events have been seen here this winter so far! By this time last year we were already preparing for our second major snow storm, this year all has been quiet since our late October snow storm. A perfect example of how wildly things can swing from one extreme to another. With that said we are looking at a significant storm to affect the northeast overnight Wednesday into Thursday, but for those of us along the coast, it's looking like an all rain event, with snow to our north and west. Still plenty of time for things to change and by no means does the past month or so reflect what the rest of the winter will be like. It can go either way, but I am beginning to see signs that a pattern change may be taking shape. The NAO (North Atlantic Oscillation) has been trending downward the past week or so, and this usually translates to more troughs/lower heights along the east coast. The NAO is forecast to go neutral, or even slightly negative as we get into the later part of January, and if this verifies we could be looking at more typical January temperatures and more storminess compared to what we have been seeing. It's just one of the tools used to predict pattern changes and by no means is any of this written in stone. But, as of right now a trend towards more typical winter weather is looking a bit more likely. Keep in mind, we still have the rest of January, and all of February to go still. Some of our biggest snow events have been during that time frame. I'll be keeping tabs for sure!

Top Image: The current NAO chart

Middle Image: Current snow fall totals forecast ending Thursday evening for the NY/NJ and CT. Note little to no snow accumulations along the coastal regions, but areas to our north and west could see a few inches overnight Wednesday into Thursday morning.

Bottom Image: Latest rain fall totals forecast for NY/NJ and CT ending Thursday evening. Looks to be a good soaker for our region.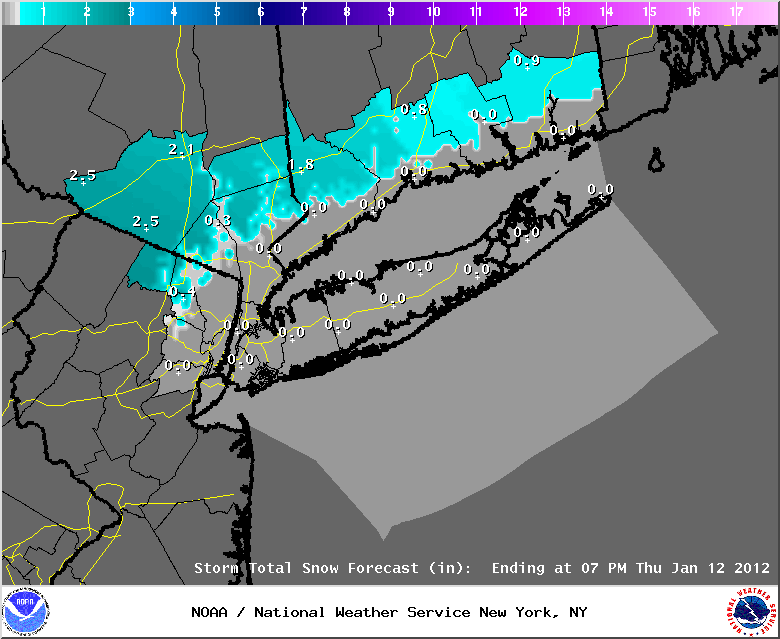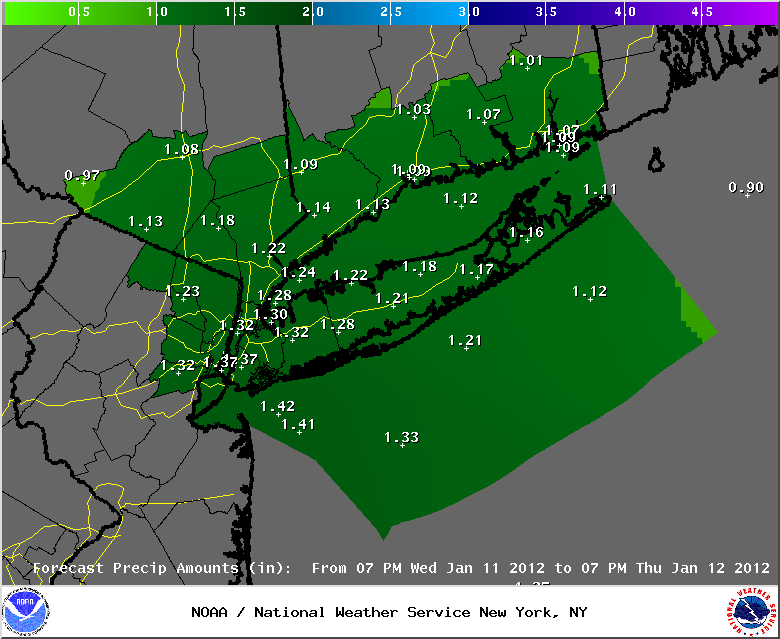 January 1st, 2012---: Yet another year is in the record books! Happy New Year everyone! Here are some 2011 facts. NYC's Central Park had the 2nd wettest year on record with 72.81 inches of rain recorded. 1983 still ranks as number one with 80.56 inches of rain. This was is question however and the data from that year was reviewed as it appears that some of the equipment used by the NWS may have been malfunctioning that year. After a careful analysis, the final judgement was that the readings were accurate, and 1983 still holds the number one spot. In other news, December 2011 saw no snow fall what so ever here in the NYC Metro. What a difference a year makes as December 2010 saw over 20 inches of snow! All is still quiet here in the new year and as of right now, I don't see any big snow storms on the horizon. What is just around the corner however is a big time chill down. Temperatures will really plummet tomorrow night and by Wednesday morning we will be waking up to temperatures in the teens here in the city! With single digits in the normally colder spots north and west of the city. High temperatures both Tuesday and Wednesday will most likely remain below freezing, so it's going to really feel like winter here shortly! The bitter cold will last until about Thursday when another warm up will commence. The pattern that we have been in is not conducive for long term chill, and storm systems strengthening and riding up the east coast. Will this change as we get further into January, time will tell.