Share this page!
Custom Search
Storm Chase Blog 2004
Click here to select another year
March 1st, 2004---: Today we saw temps in the low 60's here in New York City so I decided it was time to start preparing my Nissan Xterra for this years chase trip. I installed a Uniden CB radio along with a Tripp-Lite power inverter. I attached a 6 plug Belkin power strip to the power inverter so I am able to charge my camera batteries, run my laptop and charge my cellphone right from the truck. Many chasers do the same thing so I know I'm not doing anything new and exciting but now that I finally own my own truck it's great fun setting all this stuff up! I tested everything out and it all works which is a major plus. I went with the 375 watt power inverter so I have to be careful not to have too many things going at once but I will only be running one or two things at a time so I should be all right. Next on my list of things to get is a Jotto Desk for my laptop. I should have that by late in the month and will post more pics when I get that going.
March 1st, 2004---: Today we saw temps in the low 60's here in New York City so I decided it was time to start preparing my Nissan Xterra for this years chase trip. I installed a Uniden CB radio along with a Tripp-Lite power inverter. I attached a 6 plug Belkin power strip to the power inverter so I am able to charge my camera batteries, run my laptop and charge my cellphone right from the truck. Many chasers do the same thing so I know I'm not doing anything new and exciting but now that I finally own my own truck it's great fun setting all this stuff up! I tested everything out and it all works which is a major plus. I went with the 375 watt power inverter so I have to be careful not to have too many things going at once but I will only be running one or two things at a time so I should be all right. Next on my list of things to get is a Jotto Desk for my laptop. I should have that by late in the month and will post more pics when I get that going.
March 22nd, 2004---: With the cold weather here in NYC over the next few days I won't be doing anything with my Xterra today, but temps by the weekend are expected to warm so I'm hoping to get some work done then. I have my Jotto Desk on order as well as some wire mesh that I am going to use to fabricate some hail guards for the truck. I should have everthing over the next week and then I can get started. The hail guards will be the hardest to fabricate but if we happen to get into some big hail out in the midwest in May, I don't want to lose my glass. I will be fabricating a screen for the windshield, the side windows (except the passenger and drivers side windows) and the back window. Thankfully, some of my friends will be helping me with this project. Pictures will be posted as soon as we get started.
March 30th, 2004---: I've just installed a Jotto Desk in my Xterra and my next project is fabricating hail guards. I should have all my supplies by midweek and then I can get started. One month and counting until our chase trip!!!
April 2nd, 2004---: I'm in the process of fabricating some hail guards for my Xterra. A hail guard for my windshield is a bit too difficult to design (and more expensive since I'd have to get thicker wire mesh) so I'm going without one. All the other windows, as well as the headlights and tail lights will be covered so I guess that will have to do. At least most of the glass will be protected.
April 5th, 2004---: Well, it sure doesn't feel like spring here in NYC. Temps were in the 40's today with strong gusty winds. The rest of the week doesn't look much warmer either..WHERE IS SPRING!!!!!??? Anyway, I've completed the hail guards for my headlights.
April 27th, 2004---: Our annual storm chasing trip is just 3 days away! Granted the first week out there doesn't look that good right now, but hopefully things will start to look up. I'll be picking up my friends Brian and Pete Friday evening and then we hit the road bound for St. Louis. I am taking the first shift and will drive all night. After that Brian or Pete will take over and I'll try and catch up on some sleep in the back seat. We'll be meeting up with Mark Robinson in St. Louis Saturday evening. Mark will be riding with some of his friends and from there we'll figure out where to go. We'll probably head down towards Oklahoma City at some point on Sunday and meet up with some of the other chasers (Dave Lewison, Jim Leonard, etc.) Ron Gravelle and Jack Kertzie will be meeting up with us later on in the week. I'll be posting updates from the road so check back early in the week.
May 2nd, 2004---: Well we're here in Salina, Ks. and there's not much going on right now. We've hooked up with some other chasers and right now we're just doing the sightseeing thing until things pick back up...still got a long way to go. The models are looking better and better as far as next week is concerned and I have the feeling that things will start turning around in about a week. I'll update again in a day or two. Tomorrow we're going to check out the world's largest ball of twine (hey, it's what you do on the down days!).
May 5th, 2004---: We're here in Des Moines, Iowa setting up for some potential storm action tomorrow. We stayed in Concordia, Ks. last night and did the 7 hour drive to Des Moines today. Thing look pretty good for tomorrow and better for Friday so hopefully the dry spell out here is coming to an end. Check back for more updates!
May 7th, 2004---: Well after a week of nothing but sunny skies and bust days because of the cap, things are finally starting to look up for the coming week. Tomorrow Pete, Brian and I have to start heading back down to Oklahoma City since Brian has to catch a flight out early on Sunday morning. We're currently in Blaire, Nebraska and there is the slight chance of some storms later on tonight (all though I'm not holding my breath). As far as next week is concerned, I think it will go back to a more active pattern and hopefully we'll see some good storms. Either way, we're having a blast! Many more updates to follow.
May 12th, 2004---: WOW, is all I have to say about today. We filmed four tornadoes around Attica, Ks. today. One crossed the road about a half mile behind us and destroyed a house...thank god no one was there at the time. Tomorrow is looking to be another active day. I'll post a full chase account in the next day or so.
May 15th, 2004---: Ok, well this is the first time that I've had time to write up a chase account of what happened on May 12th so here it goes. The day started in Colby, Kansas where Dave Lewison, Chris Kridler, Peter Ventre, Mark Robinson, Dave Sills, Sarah Scriver and myself started pulling up weather data for that day. We felt pretty confident that storms would fire in south central Kansas later that day but we didn't expect a significant tornado threat at all. Shear was marginal and to be honest, we weren't really that excited at all. Our initial target was Dodge City, Ks. so we headed down highway 81 and stopped in the town of Scott City to get some more weather data. We managed to find a wi fi hotspot at a local gas station which was great! After checking data we felt that we needed to head towards the town of Meade, Ks. which was west of Medicine Lodge. Upon arriving in Meade we stopped again at a local gas station where many other chasers we gathering and pulled up some more weather data. I have to be honest, I had it in my head that it was going to be another bust day (we had so many of them over the trip). At around 5pm we noticed towers going up to our east, these towers were in their infancy stage but were looking really good so we jumped in our cars and headed east on highway 160 towards Medicine Lodge. Ron Gravelle and Jack Kertzie we also chasing that day in the area and I received several calls from that that the area around Medicine Lodge was looking better and better so we continued on highway 160. At this time the towers were looking really good and a supercell was definitely forming to our east. We rolled video as the storms were developing and as we got closer we started hearing reports that more storms were going up just to the south. Upon arriving in the Medicine Lodge area we pulled off the road and started shooting a developing wall cloud to our north. It wasn't long after that we started hearing reports coming over the radio that there was a tornado on the ground, I looked around but couldn't see it at first...and then as I turned to look east, there it was!!! It was a nice elephant trunk but the contrast was pretty bad, we started rolling video and at this point I was really excited!!! Mark Robinson, Dave Sills and Sarah Scriver had hung back a bit to view the tornado from a scenic pulloff on Highway 160. After that tornado dissapated, we figured ok, that's pretty much it so let's shoot some lightning video...I had no idea that this was only the beginning. We headed down 160 through Medicine Lodge and towards the town of Attica where upon entering the town we heard the tornado sirens sounding. As we got to the east side of town we saw rapid rotation just to our south and pulled off the highway about a quarter mile outside of Attica.
Dust started spinning up on the ground and we jumped out of our cars and started rolling video. Baseball sized hail was falling in the area (got some nice dents on my Xterra)so we had to be careful but at this point we knew a large tornado was forming just to our south about an 8th of a mile away. It was a bit too close and we were all a bit nervous but we felt confident that we could get out of the way in time since the tornado wasn't moving that fast at the time. As the tornado intensified we realized that it was heading towards us so we jumped back in our cars and drove about another quarter of a mile up highway 160 and pulled over again. Now the tornado was about an 8th of a mile wide and heading north towards highway 160 about a quarter of a mile behind us. Dave Lewison and Chris Kridler were in front of Pete and I and we all jumped out of our cars and started shooting video again. Dave and I set up our tripods as fast as possible and as I zoomed in I could see the tornado was about to cross highway 160..I didn't see the house there at first but as the shingles started to rip off I now saw that there was a house directly in the path of the tornado and were were all horrified. All we could think of was that there was a family in there in grave danger and that's when the tornado completely ripped the house apart. It was the most disturbing thing I have ever seen in my life and we got on our radios and called in the report asap. Dave Lewison called his nowcaster Jason, and Jason called the Harper County police and informed them that a house was just hit by the tornado on the east side of town. Many other storm spotters were calling in reports as well and I really believe that if it wasn't for all of them, Attica wouldn't of had sufficient warning. Thankfully as it turns out, it was a home under construction and there was no one there at the time...that was a hugh relief for all of us.
It didn't end there though, there was another tornado forming to the east so we headed up 160 another few miles and that's when we noticed the third tornado forming off to our south. Keep in mind, at this time large hail was falling here and there and were trying our best to get out of the area as fast as possible but 160 only went east so we had no choice but to head further down the road, heading back towards the west wouldn't of been a good idea since we would of been decimated by very large hail. We all pulled off and shot video of the third tornado for a while which was beautiful!! It was over open land too which was great! As we pulled back onto 160 to try once again to get out of the path of this storm we had the scare of our lives.
Another tornado was forming right on highway 160 in front of us...now we thought we were in real trouble. I have to admit, Pete and I got pretty scared and I know Dave and Chris felt the same way but thankfully the satellite vorticy moved south into the field and we nailed the gas and after dodging more large hail we finally got out of the path and set up our cameras to shoot some amazing lightning. All in all we had an amazing chase day, that's for sure. We didn't intentionally put ourselves in the path but unfortunately the road options weren't that great but we did manage to get out safely. Dave and Chris deserve the credit for that, without them Pete and I would of been super confused on how to get out of there since I was fiddling with two cameras and Pete was focusing on the driving, I should of been paying more attention to navagation. Thanks Chris and Dave! And thanks to Mark Robinson, Dave Sills and Sarah Scriver. We had a blast with all of you and can't wait to meet up again. And to end it all, any chase like this that ends with no one injured or killed is a very good day.
May 21st, 2004---: I received an email today from someone that lives in Attica, Ks. He informed me that there were two people in fact in the house at the time it was hit by the tornado. We were told while we were there that the house was unoccupied, but it's looking like this in not the case. Thankfully they weren't injured, they had taken shelter in the basement.
August 10th, 2004---: Tropical Storm Charley is gaining strength in the Atlantic and may affect the Gulf Coast early next week. Dave Lewison and I are getting set in the event we have to head out for the long drive down there. As it stands right now the storm is forecast to become a hurricane and possibly enter the gulf as a strong cat 2 or possibly a cat 3. Below is a satellite pic of Charlie taken late this evening.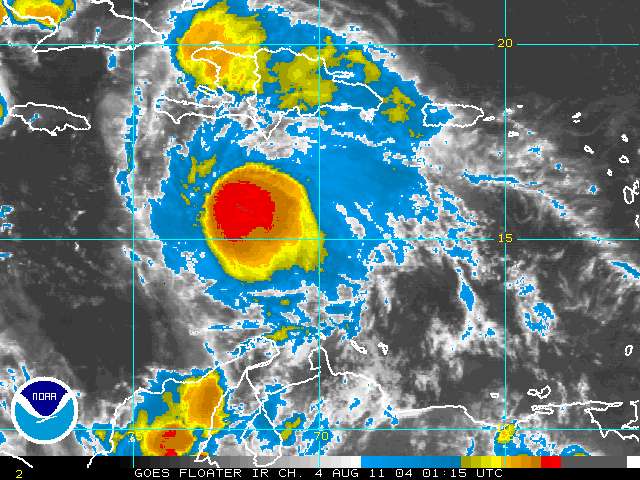 August 11th, 2004---: Hurricane Charley is currently heading towards the Florida Keys. Dave Lewison and I decided against making the long trip down to Florida due to the fact that Charley was moving at a high rate of speed for the past few days, and we just couldn't make it down there in time. Oh well, there's always next time, right? Charley has maximum sustained winds of 75 MPH, but some strengthening is forecast over the next 24 hours.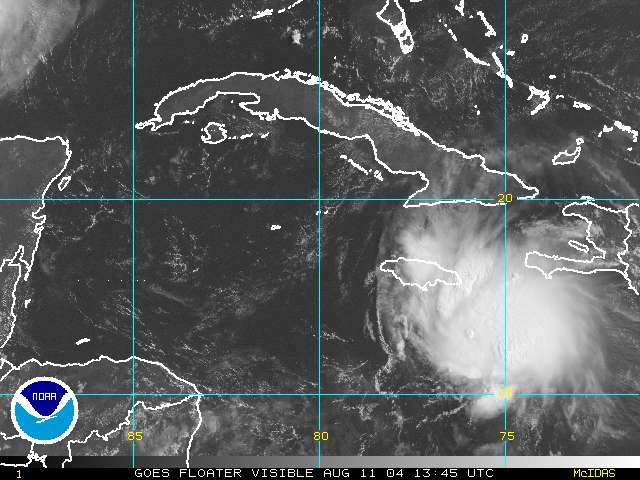 August 12th, 2004---: Hurricane Charley is gaining even more strength (winds are up to 90MPH) and is now heading towards the west coast of Florida, possibly making landfall around the Tampa area. I'm upset I have to miss this one, but when you have a long drive like that, you need to get on the road as soon as possible. In our case, we just couldn't get it together in time. Jim Edds, Jim Leonard and Chris Kridler will all be chasing Charley since they all live in Florida and didn't have long to drive to get into position. Good luck to all of them! Below is a satellite shot of Charley taken around mid day. Note the eye beginning to form!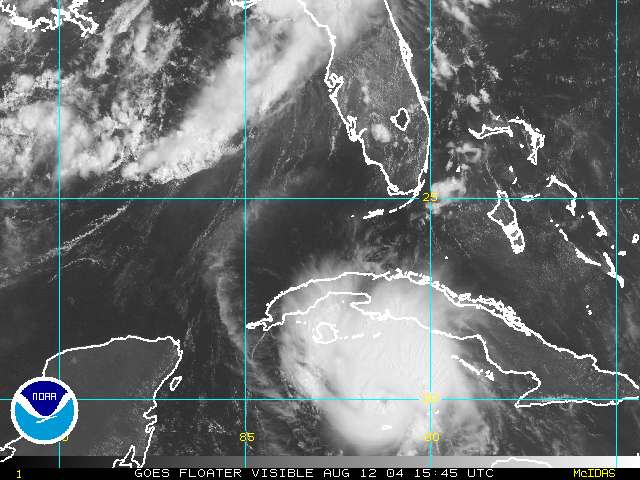 August 14th, 2004---: Well, the stories that I've been hearing from people that were in the Punta Gorda area yesterday are flat out scary! I was nowcasting for Jim Edds, and as he was pulling into the Punta Gorda area was when things started to go downhill rapidly. I didn't hear from him for about another two hours. When we spoke again, he told me that he sustained major damage to his car, broken glass was everywhere and he barely made it back home to the Florida Keys last night. He told me how everything just went crazy and roofs were flying everywhere. Thankfully all the chasers that were in the area made it out all right, that's the important thing. Unfortunately, there are reports coming out of several people that were killed in a mobile home park in that same town. The storm took a turn to the right and slammed right into Charlotte Harbor giving residents there no time to get out. Granted evacuations were ordered, but a lot of people in that area had never experienced a major hurricane, and also thought that it was going to head more north towards the Tampa area. Below is a radar loop of Charley as he begins to make a right turn towards Charlotte Harbor. To view video clips from Jim Edds and his chase partner Mark Rackley visit Extreme Storms
August 29th, 2004---: Dave Lewison and I met today in Manhattan and took a trip to B&H Photo so Dave could pick up some supplies for our possible Hurricane Frances chase this week. Right now Frances is a Cat 4 storm and the current forecast could bring Frances to the east coast somewhere between Florida and the Carolina's by next weekend. I've been making some preparations as well and we'll be ready to leave mid week if need be. There is still a lot of uncertainty on where Frances could make landfall, but right now it looks like Florida....that of course could change. Below is a satellite photo of Frances taken this afternoon. More updates tomorrow!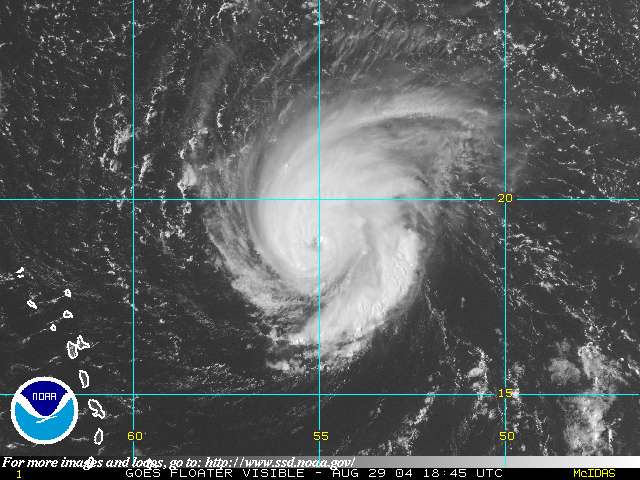 August 30th, 2004---: Frances is still heading westward over the Atlantic and slowly approaching the northern Leeward Islands. Frances will most likely miss the islands to the north, but some of the outer bands will likely affect that region later today and tonight. Dave Lewison and I are gathering supplies for the chase. Today I picked up some canned food, bottled water and some other essentials. George Kourounis and Mark Robinson will also be joing us for the chase, and we'll be meeting up with Jim Edds as well. The track is still very uncertain, so we'll just have to keep a close eye on the storm over the next few days. Right now we're planning on leaving either Wednesday evening or Thursday. Below is a satellite shot of Frances taken this afternoon.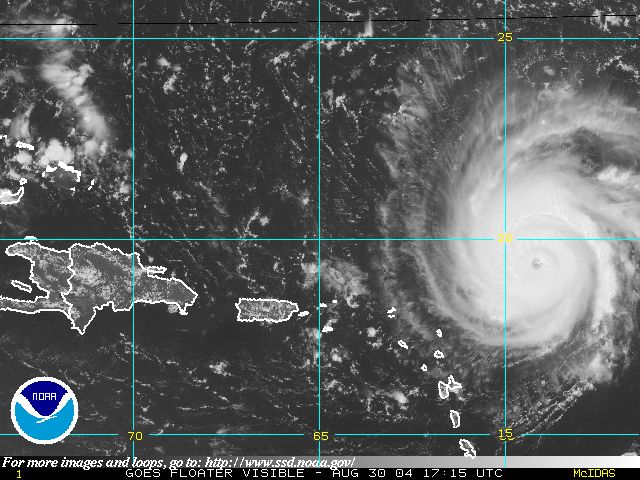 September 8th, 2004---: Holy cow, so many things happened during our trip down to Florida to chase Hurricane Frances I don't even know where to start. This is a very detailed account so get ready for a good long read! Ok, here we go.....The trip started on September 1st when Dave Lewison made the drive down from Upstate NY and met me at my house here in Queens, NY. We headed out and drove right down I-95 and met up with George Kourounis and Mark Robinson just south of Washington, DC. By the time we got there it was now about 1:30 in the morning. By the next morning we had made it to Benson, NC where we stopped for gas and some breakfast. Right after getting some gas as we were pulling out of the gas station this other GMC truck was coming into the gas station. Dave and I noticed that he wasn't paying attention to where he was driving as his head was turned, he was looking at George's truck and we layed on the horn for a good 3 seconds to warn him that he was heading straight for us...he never turned around. Next thing I knew he slammed right into the front of my truck and that's when I flipped out!
Thankfully I had a hugh brush guard on the front of my truck, most of the impact was absorbed by that, but I still has some considerable cosmetic damage. His truck however was messed up really bad. We had to dismantle the brush guard and store it in my back seat since it was pressed up against my hood now. After dealing with the police and insurance, Dave and I decided to continue on since there was no engine damage. A big thank you to George, Mark and Dave for helping me with everything, I would of really been screwed without them. Anyway, we continued heading down I-95 and finally made it to the Florida border during the late afternoon and stopped again to shoot some video of the massive traffic heading north on 95. I have never seen so many cars!!!! At around 10pm we pulled into Juno Beach, Fl. where we met up with Jim Edds and Mark Rackley. By this point all of us had been up for well over 35 hours and we were dead on our feet so we checked some data and hit the beds.
The next morning we headed over to the beach to shoot some heavy surf video. We had to be out of the area by noon since there was a mandatory evacuation in effect and decided to make a quick stop at a local grocery store to pick up some last minute supplies. After picking up our supplies we drove a bit further north to Ft. Pierce where we were lucky enough to find available rooms at the Crossroads Inn. Once we were all checked in, we all went out and shot some pre Frances video. Most of the stores and homes in the area were already boarded up and at this point very few gas stations were open so we made sure both our vehicles were totally filled up (this still wasn't enough we'd later find out).
The next morning is when things started picking up and we headed over to the barrier islands to get some surge video. By the time we got there the winds were already tropical storm force and we got some great video down by the marina of boats being tossed about in the water, palm trees bending in the wind, and tons of debris on the roads. Frances was really taking her time coming in, at this point the storm was just about stationary so this gave us time to go to many locations to shoot video including the town of Stuart which was a bit south of Ft. Pierce. While on US1 heading towards Stuart, we noticed a Buick/GMC sign that was dangling right over a bunch of new cars and hung out for a while to see what would happen. It didn't take long for the large sign to snap off it's post and fall right on one of the new cars. After that, we pressed on to gather more video. Upon arriving in Stuart we witnessed many trees and power lines down and stopped to get some pics, realizing at this point that Frances wasn't even here yet!
After many hours of getting soaking wet, we decided to head back to the hotel to dry off a bit and eat some dinner (we made sure to bring enough food with us so we wouldn't go hungry). We all agreed that it was best to stay at the hotel for the rest of the night since we were all down to a half tank of gas and it would be getting dark soon. This is where things started getting bad.
Scott Blair has stopped by our hotel and told us that there was one gas station open on the turnpike about 8 miles south of our location so Dave and Mark went to track this gas station down while George and I waited at the hotel. When Scott told us that the gas station was on the turnpike, we assumed he meant I-95...this was wrong and Dave and Mark drove around for quite a while trying to find a gas station that wasn't there. Scott had meant the Florida Turnpike (being from NYC, when we hear the word turnpike we think of the Jersey Turnpike). It was a stupid misunderstanding that almost got Dave and Mark in big trouble. While on their way back to the hotel Frances decided to start moving again and Dave and Mark were now driving right into the western eyewall. Driving condition went downhill super fast and George and I were really worried back at the hotel, constantly calling them to make sure they were all right. At this point it was now dark and we could see power transformers exploding in the distance. Around 8pm Dave and Mark finally made it back to the hotel, shaken up but unharmed.
Frances seemed to be intensifying right as she was making landfall, still moving at a snails pace. Now we were in the hurricane force winds big time!! We couldn't see anything at all since all the power was out but you could hear things breaking all around. We went up to a corridor on the second floor that gave us great shelter from the hurricane and spent the next few hours shooting video of power transformers exploding. There were several gusts that we experienced that must of topped the 100 MPH mark...it was amazing!!!! Finally at around 2am we decided to get some sleep since the eyewall was now moving over us. Since Frances was moving so slow, the eye lasted for many hours and we didn't experience the eastern eyewall until the next morning!
We all got up at around 7am on Monday, September 6th and at this point things were still relatively calm outside, but that didn't last very long. At around 7:30am the eastern eyewall moved in and once again we had our fill of hurricane force winds to deal with. We shot video for the next few hours and finally at around noon, decided to head on out to get some damage video and then head home. Once again, we ran into more problems.
We both had about a half of tank of gas left so we figured that we would be able to get far enough north to find a gas station open, we couldn't of been more wrong. We drove, and drove, and drove and finally as we were approaching Daytona Beach we realized that it was hopeless and stopped at a really nasty hotel called the Host Inn to hopefully find a room since at this point we were down to fumes. Thankfully they did have rooms available, but we feared for our lives staying at this place (and the hurricane had nothing to do with our fears, let me put it that way). While getting some things out of the truck, Mark was propositioned by a hooker..lol! That was one of the lighter moments of that evening at the Host Inn.
Anyway, we started calling around to see if there were any gas stations in the area that were open and had gas left and thought we had found one in St. Augustine. I had spoke to someone on the phone who said that they did have gas, so we figured that was our only hope. George and Mark had more gas than I did so they opted to do the 40 mile drive to St. Augustine (keep in mind, at this point the weather conditions were still horrible outside). If they were able to get gas there, then they would fill up the reserve tanks and bring them back for us to use. Then we would all head back north and fill up. About 30 minutes after George and Mark left we called again just to confirm that they still had gas. It turns out that the idiot that I spoke to thought I was one of their neighbors asking if they still had gas in their stove!!! What else could go wrong!!!! We immediately called George and Mark and told them to turn around and head back to the hotel. At this point George and Mark were as low on gas as we were so we were all stuck there for the night. We ate the rest of the food that we brought with us and then went to bed. To charge our phones and laptops, Dave rigged a spare car battery that I had brought just in case. It looked like something right out of McGuyver.
The next morning things finally started calming down weatherwise. We figured our best bet would be to drive into the heart of Daytona Beach and see what the gas situation was (we were also so low on gas that we could only make it a few miles before we would run out completely). While packing up the cars Mark noticed that George's truck had a flat...here we go again! But this wasn't too much of a set back since George had a full size spare. Once that was taken care of we hit the road and stopped at a Hess station right by I-95 and asked the lady what the situation was. She said to us that they did have gas, but no power. We decided that the only thing we could do was get our spots right next to the pumps and wait. And wait is what we did! We sat there for about 5 hours before power was restored and we were finally able to gas up and get the hell out of Daytona! That part of our trip was strangely fun though. We got to meet all kinds of people and even got to eat at a restaurant next door, finally....a decent meal!
From there it was a 23 hour drive back to NYC for Dave and I, and an even longer drive for George and Mark who were going back to Toronto!. What a chase! I slept like a rock last night and I'm sure it will take all of us a good week to fully recover from this experience. One thing we learned from this whole experience is MAKE SURE TO BRING PLENTY OF EXTRA GAS!
September 12th, 2004---: Hurricane Ivan is currently passing the Cayman Islands and possibly has the panhandle of Florida in it's sights. Florida has definitely had enough with Ivan being the third hurricane within the last 30 days to threaten that area. I have to sit this one out, don't have the money right now to afford another chase. Even though Ivan is currently a strong cat 4, borderline cat 5...the thinking right now is that Ivan will weaken a bit before making landfall somewhere along the gulf coast.
September 15th, 2004---: Hurricane Ivan is heading right for the Mobile/New Orleans area at this time and he looks nasty!! Ivan will make landfall tonight, and there are several chasers in the area. Jim Edds being one of them, who I just spoke to.
September 17th, 2004---: The Remnants of Hurricane Ivan are slowly moving into the northeast. A flood watch is in effect for our area and the rains should begin moving into the area this evening. Periods of heavy rain will hit the area overnight and then all the rain should taper off during the afternoon tomorrow. A video clip will be posted tomorrow.
September 23rd, 2004---: It's been non stop this year, and Florida is once again under the gun for a direct strike from another hurricane. Hurricane Jeanne started moving westward today and is set to strike the Florida east coast within the next few days. The potential landfall looks to be very close to where Frances made landfall just a few weeks back. Right now, Jeanne is a cat 2 hurricane, but there is the potential for Jeanne to strengthen into a major hurricane before landfall. In a normal year, I usually have one shot at chasing a hurricane, this year however I would of had my pick..all though if I would of chased all of them I would most certainly be broke by now. As far as our weather here in NYC, it's been warm and sunny...just the way I like it. If this pattern could hold throughout the winter that would be great!
September 25th, 2004---: Hurricane Jeanne is now a cat 3 storm and heading right for the east coast of Florida. Four land falling hurricanes in the last 45 days, WOW....you don't see that very often. Several chasers will be out chasing this one as well, I will not be one of them (no money left in the chasing fund for this year). Landfall will most likely be in the predawn hours of Sunday, and there is the possibility of more strengthening.
December 21st, 2004---: I've done some revamping to PSPhoto. Instead of lumping my NYC weather observations together with my storm chase accounts, I've now separated them into two different pages. This page will be updated on a regular basis starting in February 2005 when I begin to prepare for the 2005 chase season. I will be posting modifications done to my chase vehicle, as well as various plans for the upcoming season.
privacy policy