Share this page!
Custom Search
Storm Chase Blog 2009
Click here to select another year
March 22nd, 2009---: After a VERY long winter Spring is finally here! We were greeted on the first day of spring with some snow flakes, but nothing accumulated. So, once again our annual storm chasing trip in just a few weeks away, but first we will kick off the spring with a small storm chaser get together at our good friend Jim Leonard's house in the Florida Keys! Next Friday, Cecelia, Dave and I will fly down to Ft Lauderdale where we'll rent a car and drive to the Keys for a few days of fun, sun & storm chaser videos! But before all that happens, first we have to begin work on our new driver and passenger side hail guards for my Xterra! The ones we have already are still perfectly functional, but up until now, we never had any protection for the actual driver and passenger windows. The main reason is that we couldn't figure out a way to have a retractable design so they wouldn't have to be in the "deployed" position all the time. Dave (the master engineer) has figured this out! Today I'll be driving up to Larchmont, NY where I'll meet Dave and we'll begin the work. I'll post some pics/video upon my return! It should take about 3 trips to get everything completed, so by mid April we should be good to go.
March 25th, 2009---: The first stage of our driver and passenger side hail guards went great on Sunday! I met Dave up at his folks house in Larchmont, NY (about 30 minutes north of me) and we got to work. While having lunch, we also came up with a plan to protect the rear tail lights as well! So all in all, it was a very productive day. A four minute clip of the fabrication process can be viewed by clicking the "latest video uploads" icon on the left side of the screen.
April 1st, 2009---: April is here and that means that our annual storm chase trip is only a few short weeks away! Dave, Cecelia and I have just returned from Jim Leonard's chaser BBQ in Islamorada, FL and a blast was had by all who attended! It was great to get away for a few days and the weather was perfect. Thanks to Jim for another great time. Chasers who were in attendance were Dave Lewison and myself, Chris Collura, Jeff Gammons, Tim Millar, Michael Laca, Chris Kridler, Bill Hark, Jack Beven, Max Hagen & Cheryl Chang. I have just posted some pics of the shin dig on my "new photos" page. Check em' out!
April 5th, 2009---: Yesterday I finally received all the parts needed for my new dash mount! The camera I will have mounted in my Xterra this year will be the Canon HV20. I used to use the VX2000/2100 but as of last season, I've upgraded to HDV. Another huge bonus is that the HV20 is MUCH smaller, therefore much easier to mount in the truck. I am using a Ram Mount set up, and have picked up a seperate ball head mount and quick release plate from B&H Photo. The mount has a super strong suction cup that will attach directly to the windshield. This set up is incredibly easy to set up, and take down at a moments notice. Next Saturday the 11th, Dave and I will be getting together at his parents house once again to continue work on our new driver and passenger side hail guards.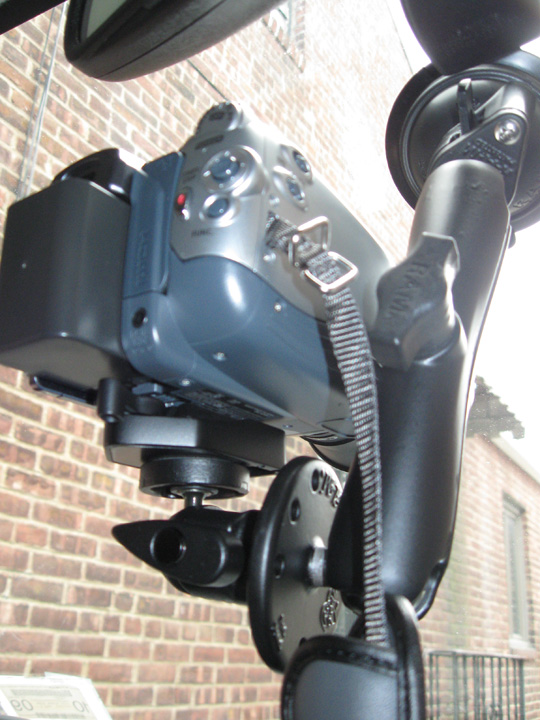 April 13th, 2009---: Dave and I have completed stage two of our driver/passenger side hail guards! We met again this past Saturday in Larchmont, NY at Dave's parents house and got right to work. Unfortunately, the weather did not cooperate and it rained pretty much the entire day! But, thankfully we were able to do the majority of the work in the basement so even though it was miserable outside, we stayed nice and warm which was awesome. The rain quit right around 4pm and the timing couldn't have been more perfect. Just in time to get in some test fittings, etc...and overall, the day was very productive. We still have some more work to do and will get started on stage three the weekend of the 25th/26th. I have posted a 4 1/2 minute video clip showing our progress. You may have noticed I revamped the entire website, new logo, updated navigation panel, new background, etc. One thing I wanted to do was keep all new video I post in one central location so it's easy to find. So from here on out, all my 2009 video clips will be in the "latest video uploads" section. Just click the link located on the navigation panel to the left.
April 22nd, 2009---: Tis the time of year again where the stress builds as to when exactly to pull the trigger on our chase trip. But, it won't be for this weekend's set up, while Saturday and Sunday could certainly get interesting, it's not enough to get us to go out this early. We have to play our cards very carefully since we only have a certain amount of time that we can actually chase. It totals about three weeks a year, so needless to say, we want to choose as wisely as we can.
What I do have an eye on is what the ECMWF forecast model (bettern known as the Euro) is showing for the following weekend. As of now, it's showing what could be a large, slow moving trough diving down into 4 corners region..this *could* spell an extended severe weather threat, but with this still being 240 hours out, anything could happen. Things could change in a heartbeat so we'll just have to wait and see what the coming runs show. On another note, I'll be heading up to Dave's place in Wappingers Falls, NY this Saturday to finish up work on our new hail guards! (see our "latest video uploads" section for the video). We'll also be mounting the windshield hail guard to my Xterra. Should be a fun day, and for once, the weather seems like it'll cooperate with sunny skies and temps in the low 80s! I'll post more video/pics by Sunday so be sure to check back
April 25th, 2009---: I've just returned from Westchester County, NY where I met up with Dave again for phase three of the construction of our driver/passenger side hail guards. We got a lot done today. Just a few tweaks here and there and that's it! We took them for a test drive on the highway today and all went great. We also mounted the windshield hail guard on my Xterra, and hooked up the weather station, needles to say...it was a full day of work. Pictures and video will be posted on Monday so be sure to check back!
April 27th, 2009---: Storm Chase 2009 preps continue! I've just posted some new photos from our latest get together up at Dave's parents house in Larchmont, NY this past weekend. We continued on with our driver/passenger side hail guard construction, and also mounted our windshield hail guard. All went great! Put your cursor over the "Photo Gallery" link to the left and then click on the "new photos" section. And, to view a 7 minute video clip showing the latest phase of construction, as well as us mounting our windshield hail guard, visit our "latest video uploads" section.
May 1st, 2009---: Things are picking up out there in tornado alley! The past week has offered up some nice photogenic tornadoes in Texas and in Kansas back on the 29th. These set up's however were tough to forsee in advance and for folks like Dave and I (who live 1500 miles from tornado alley) need to see a more formidable set up before pulling the trigger on our trip. The next 7 days certainly have some chase potential, but it's mainly in the form of shortwave troughs, what we're waiting for is a nice western trough scenario, preferably a slow mover to boot where we can get several days in a row of chase prospects. I know....picky picky picky. Yes, this is true to some extent, but we want to choose wisely and in the end I think it will pay off. Right now the latest run of the GFS is hinting at a western trough diving in around May 9th. This has only been on one run so far so it is FAR from written in stone. But, we'll keep tabs on things over the coming days. In other news, Dave has beefed up the hardware for our new driver/passenger side hail guards! They are much more sturdy now. More updates to come so check back!
May 5th, 2009---: This is the first time in several years that I'm still home as of May 5th. But, that's ok as patience this year I feel will be rewarded. However, what has been extremely frustrating to chasers is the fact that the forecast models we use to keep tabs on the upcoming pattern have been in disarray. One series of runs look good for next week, and then the next series of runs looks bad. And today, the drama continues!! This morning all looked quiet for next week once again, but like has been the case for several days now, once the 12z runs came in this afternoon, that once again changed and now it looks good! Needless to say, many of us are pulling our hair out, lol. But, that's the weather for you, we have take things day by day. Even though right now as I type things look good once again, I won't get my hopes up as this has happened many times before. Once I see some consistency from run to run, THEN I'll get excited! Check back tomorrow for more updates. As of now, preparations are continuing in the event Dave and I need to leave for the alley this weekend. Oh, and this year you can track us live while we're chasing! On days that we'll be chasing I'll activate the "Live Chase Tracker" link on the left side navigation control. When you see it flashing red, that means we'll be chasing that day. If it's not flashing, that means no chase is planned for that particular day.
May 7th, 2009---: Well the confusion continues today! Dave and I have decided to stay put, for now, due to the model uncertainty regarding next weeks set up. Well, in actuality it's not so much of an issue of uncertainty like we had a few days back when the models were flip flopping back and fourth between a good severe weather set up, and a bad one. Now, they seemed to have locked on and are, for the most part in agreement that next week looks rather quiet. Tomorrow does hold some chase prospects in Oklahoma, and it could be good! But, these quick one day events while they can be rewarding, are just too much of a risk for Dave and I to take this early in May. We do have to drive 1500 miles to just get there afterall. But, come back and ask me in two weeks and if by then we're still in this marginal set up scenario, I'll give you a different answer, lol. Hopefully over the coming days we'll see a change to a more active pattern, but until then....we'll take it day by day. At some point this month however we will pull the trigger on the trip, but with this still being early May, we figured it best to just remain patient and see if a better overall set up comes along. More updates to come!!
May 11th, 2009---: Here we are on May 11th and we're still waiting to pull the trigger on our annual storm chasing trip to the plains! Ughhh, yes the waiting and the stress continues. Up until now, things just have not been that conducive for severe weather out on the plains, so Dave and I have been holding off in hopes that the pattern will become more active towards the middle/latter part of the month. There are *some* signs that this may be happening at this time. Many of the ensemble members are forecasting a western trough late this week, and possibly into this weekend. They also show some more potential activity during the last week in May, but all that is pure fantasy land for the time being. Right now all we can go on is what the various forecast models are saying for this upcoming week, and with the way they have been performing lately, even forecasting this week accurately will be a challange. What we do know is that at some point we'll be out there, hopefully sooner than later. Some of the models are also currently forecasting what we call a "Death Ridge". A death ridge is when a large area of high pressure (fair weather) dominates the plains states, thus crushing any chances of severe weather. As has been the case the past few weeks, we'll just have to continue taking things one day at a time.
May 14th, 2009---: I've been holding off my excitement about the long range forecast since I didn't want to get my hopes up too early. And technically, it's still WAY too early to get excited but, I am seeing encouraging signs concerning the last week of May. For several days now (and many consecutive runs) the long range ensembles (GFS/Canadian) have been showing a western trough taking shape in about 8-10 days (5/22-5/25). Things until then are looking pretty bleak with a plunging cold front sweeping it's way all the way to the Gulf Of Mexico and thus, wiping out any and all moisture with it. It'll take several days for things to recover, but we're keeping our fingers crossed that timing wise, it'll happen by the time things begin to ramp back up.

Now, with that said there are no guarentees obviously, this is long range forecasting afterall, and when looking long range many things can, and most certainly will change. But, when looking out 8-10 days, we don't look for specifics, just the overall pattern, and right now it's still looking encouraging. So, it's possible that our annual storm chasing trip will finally begin sometime next week! There certainly were storms yesterday in Missouri and Illinois, along with Oklahoma and Kansas. But, with things looking bleak for the next week or so, we decided to pass in the hopes of a better overall set up. It's all gambling but when you're limited on time, gambling is what you have to do. We're hopeful it will pay off.
May 16th, 2009---: As if things weren't stressful enough already, the dreaded "Death Ridge" is now settling in and this will effectively shut down any and all chase prospects for the better part of a week, perhaps longer! While Dave and I are glad we aren't sitting out there in the plains burning through time and money, I gotta be honest.....this year has been extremely frustrating! And, to make matters worse, there's now doubt as to if the forecast western trough for the last week in May will even be able to make it's way in. Ughhh, so there is the possibility right now that the rest of May will be void of any good chase prospects. This is not to say however that there won't be any storms at all over the next week to ten days. Many times you can find something to chase, even in a pattern like this. But, those prospects are few and far between, and for Dave and I we would be better to just sit tight. We can chase at any point in June as well so all hope is not lost by a long shot. But, it's hard to remain optimistic all the time. Once in a while I find a little bit of pessimism sneaking in, lol. However, there have been MANY great June chases in years past, and there's no reason to believe that this can't be the case this year as well. Unfortunately, there are no guarantees, so as been the case the last few weeks, the waiting continues.... Right now, all chase prospects will be minimal at least until next weekend. I'll update again in a few days, hopefully we'll have better news by then!
May 19th, 2009---: Well, if you've been following along with my blog the past few weeks you know how much of an emotional roller coaster it has been. We've been teased with good looking set up's on the horizon, just to have our hopes dashed as the models flip flopped time and time again. Things are not looking any better today either. I would say that it's a good bet that the rest of the month will be pretty dismal as far as chasing goes. Nothing at all is looking good at the moment, at least until late next week, and even then it's still looking pretty bad. We're still hopeful that things will pick back up in June, but there are no guarantees so Dave and I started putting together a contingency plan in the event we never get out to the alley this year. It would be very depressing to say the least, and the first time in 10 years that I didn't get to go on my chase trip, but.....we have to face that possibility.

Right now this is the plan. If by the second week of June the medium/long range outlook is still dismal, we'll head down to South Florida and will chase/document the seabreeze thunderstorms along the east coast and central coast. And while late June isn't exactly the heart of waterspout season down there, it still can happen so we'll also target those as well. For the waterspouts however, we'd mostly be targeting the Florida Keys. We'll also have a pilot on hand as well. Our friend Tim Millar is an accomplished pilot and has offered to fly a rented Cesna for us! Flying around storms and spouts in Florida, yeah......I can see a barf bag in my future, lol. Well, again, hopefully this contingency plan will not have to be implemented, but if we can't chase storms out on the plains this year, we'll chase em' in Florida instead! While the Florida storms aren't exactly tornado producers for the most part, they still offer up hail, high winds, and TONS of lightning. At this point, that sounds good to me. More updates by weeks end! Hopefully things will start looking up by then.
May 22nd, 2009---: It was a year ago today that the devastating Windsor, CO tornado took place. Tomorrow, will be the year anniversary of the Quinter, KS tornado. WOW, what a difference a year makes! As of now, things still look pretty bleak for the remainder of May, however...there may be some chase prospects come this weekend in Texas. At this point, chasers out on the plains will take whatever they can get. I truly feel horrible for the Vortex 2 armada, they have had nothing to do for quite a while now and I'm hoping that their lucks turns for the better soon.

As far as the long range forecast is concerned, there is still hope for June, at least in my eyes. This horrible blocking pattern we've been in as of late is showing no signs of breaking down in the short term, however, there are some signs that a change may come at the beginning of June. Fingers are definitely crossed! A few of the features that have been stuck in place for over two weeks now (namely the Gulf Of Alaska Low) are showing some hints by the models of moving on out in a week to ten days. Now, this is all speculation at this point, by no means written in stone. But, at this point we'll take any signs of hope that we can get. The well respected Ed Berry will be updating his blog this weekend as well, and I'm eagerly anticipating his thoughts! Hope to have some good news by the end of the weekend.
May 26th, 2009---: Dare I say it? Well, with the risk of jinxing everything, the models and their ensembles are showing a ray of hope come June. It's still too early to say this with any real confidence, but as of now things could start getting active again next week. It seems that Mother Nature took an extended break in May, and an unprecedented one at that! If I'm not mistaken, this has been the quietest May in terms of severe weather in decades! Many chasers were left scratching their heads out on the plains, and the Vortex 2 project has been suffering as well. But, this may change in the next 7-10 days. The GFS has been consistently showing a pattern change with a trough finally working into the west come the 2nd or 3rd of June. This would bring southwest flow back to the plains which up until now, has been non existent. For those of you with limited knowledge of the ingredients needed for severe weather/tornadoes, ideally you'd like to see southwest flow at the 500mb level, you can still have tornadoes without it, but the best tornado/severe weather days usually feature SW 500mb flow. There certainly are many other factors that need to be in place, but this would definitely be a start. Dave and I are hopeful that this isn't just another tease by the models and that we'll continue to see this trend on future runs. With the way this season has been going so far, anything can happen. Stay tuned as more updates will follow tomorrow!
May 30th, 2009---: It seems almost too good to be true but the models have been hinting at a ramp up in severe weather come late next week and into the weekend. The operational runs and their ensembles have been consistent for several days now and our hopes are climbing. However, we've had our hopes dashed many times already this season so I'll continue to remain cautiously optimistic. It was when we saw the ECMWF model (which is considered by many to be the best at medium-long range forecasting) coming on board with this scenario that we started getting a bit excited. Basically all our available model guidance right now is looking on board, so we'll see. The following quote is from the NWS out of Dodge City, KS. "....DEVELOPMENT OF A MEAN UPPER LEVEL TROUGH OVER THE WESTERN UNITED STATES DURING WEEK TWO IS CONSISTENT WITH THE GWO AND LIKELY WILL OCCUR AS ENHANCED TROPICAL THUNDERSTORM ACTIVITY SPREADS EASTWARD. A VERY ACTIVE PERIOD OF SEVERE WEATHER IN THE CENTRAL PLAINS IS LIKELY IN MID JUNE."
June 1st, 2009---: The models are coming into alignment and the news so far is good! An active period of severe weather is becoming more and more likely beginning this Friday! Right now Dave and I are planning on a Wednesday afternoon departure for a tentative target of western Kansas on Friday. The target for Friday I'm sure will change between now and then and we'll adjust as necessary. We've certainly been patient this year and May ended up being one of the slowest on record in terms of severe weather. Definitely the slowest in many decades. What will June hold? We're about to find out. I'll post another update tomorrow and will be updating from the road. Remember, if you're interested you can track us live as we chase by clicking on the "Live Chase Tracker" link on the left. On days that we'll be chasing, it will be flashing red and white.
June 2nd, 2009---: We're a go! Our chase trip will begin tomorrow! The models are coming into good agreement regarding the evolution of a trough in the west, and as of right now things look to get interesting late week. I will be meeting up with Dave Lewison tomorrow mid afternoon in Larchmont, NY where we'll attach our hail guards, grab a quick bite, and then hit the road! We hope to make it as far as Washington, PA tomorrow night (which is in the western part of the state) and then do the bulk of the driving on Thursday. We have a lot of road to cover but if all works out, we'll arrive in Kansas sometime around mid day Friday. I'll post another update tomorrow and will be frequently updating from the road so be sure to check back!
June 3rd, 2009---: The big day has arrived! Our 2009 storm chase trip has finally begun. But first, I must finish packing all my gear before I meet up with Dave at his parents place in Larchmont, NY this afternoon. I'll be heading out of here around 3pm for the hour drive up there. We'll attach a few of the hail guards, and then will hit the road! We're hoping to make it as far as Washington, PA by midnight. Washington is in the western part of the state, due south of Pittsburg almost. Tomorrow we'll be doing the bulk of the driving as we need to cover a LOT of ground. More updates to follow!
June 4th, 2009---: Well we made it to Kansas! Today Dave and I drove over 850 miles from Western PA to Topeka, KS. We're holding up for the night and will leave here tomorrow morning heading west on I-70. Tentative target for tomorrow is McCook, NE. Starting tomorrow around noon time you can track us live on the "Live Chase Tracker" page.
June 6th, 2009---: Targeted some nice storms in western Nebraska yesterday but missed the tornado that The Weather Channel was airing. Just couldn't make it in time due to the long drive from Topeka, KS that morning. All in all though it was a nice chase day with beautiful structure, some hail and lightning. Pictures will be posted when I have some down time. Today's target will most likely be SE Nebraska. You can track us after 4pm eastern!
June 8th, 2009---: Yesterday we chased some amazing storms from extreme northeastern Kansas, into NW Missouri. While no tornadoes were reported with this storm, we did see some amazing structure, got into some large hail, and were in the perfect position to view a tornado if one would have formed. Yesterday's chase proved extremely difficult due to a less than desirable road network. We spent a good two hours trying to position ourselves properly (along with about 500 other chasers, lol) and finally managed to do it right around sundown. At this point the storm really looked like it was going to produce a tornado as the circulation was tightening up almost right over our heads! I shot some great video of this rapidly rotating wall cloud as it was at it's most intense stage, but it just couldn't tighten up enough to produce. Oh well, we have 10 days left so I'm not worried. Besides, I would definitely consider yesterday a successful chase. Yesterday we chased with Bill Hark from Virginia, Cloud 9 Tours, Mark Robinson and George Kourounis who are both Canadian chasers. Today we *may* target Oklahoma if it looks good enough, still deciding that as I type. Check back tomorrow for more updates! And, don't forget that you can track us through our "Live Chase Tracker" link.
June 10th, 2009---: Nothing much to report this morning after the moderate risk bust chase yesterday. We all had high hopes with a 15% hatched tornado threat, but it was not meant to be. We tentatively thinking about chasing in northern Oklahoma today, but may opt to reposition ourselves for storms in northeast Colorado tomorrow.
June 11th, 2009---: What a surprise yesterday was. As we were repositioning ourselves for a Colorado upslope play today, we decided to detour to SW Kansas just in case storms fired over there, well....they did! We got on a storm near Sublette, KS and were blasted with 80+ MPH downburst winds, small hail, blinding rains which forced us to stop on the side of the road, and even a nice funnel cloud that reached more than half way to the ground! All in all a great chase day. Today we're starting the day in Colby, KS and we'll most likely be playing in Colorado today for the upslope play. More updates tomorrow!
June 12th, 2009---: Yesterday was an awesome chase day in SE Colorado! We got on a pair of supercells near Pueblo, CO and they offered up just about everything a great storm can, with the exception of putting down a tornado. But, it was still an amazing chase day none the less. We were treated to a golf ball hail barrage in the town of Las Animas, CO, and then encountered even bigger hail on the highway. This hail barrage lasted about 30 minutes and we shot tons of great video throughout all of it! This will definitely make my 2009 highlights DVD for sure! Trees were getting shredded everywhere, and the structure on the storms were incredible! There were still a bit high based however, and we think this may have been the reason why they didn't produce any tornadoes. Today looks like a possible down day, so if that's the case, we'll get an oil change on my truck (we've already driven it over 4200 miles!) and we'll do some sightseeing. More active weather is on the menu over the coming days so be sure to check back for more updates! Photos and video will be posted upon my return towards the end of the month
June 13th, 2009---: What a LOOOONG day!! We started the day in Colorado Springs, CO thinking our initial target was solid, well....we were wrong! About 10:30 last night Dave informed me that the target was changing and as it turned out, we had to haul out of there this morning at like 9am and drive over 400 miles to the Texas Panhandle! But, we made it in time and got on a great storm southeast of Amarillo. Dave and I punched through the core and entered the Bear's Cage where atomized rain was whipping past us at a high rate of speed, needless to say, things got a little hairy! Thankfully we made it through all right and as soon as we did, there was a huge wall cloud just to our west. At this point we were near Silverton, TX and we informed the local Fire Department that Silverton needed to be warned. A few minutes later, the tornado sirens went off in town. As we were shooting video, a brief spin up occured right under the wall cloud, this was witnessed by several other chasers as well. Throughout all of this we were dogging baseball size hail too! We blasted east down the 86 through Silverton where we met up with Cloud 9 Tours once again. As this was going on, George, Mark and Jack were getting trashed in the hail core, mind you this was George's plan all along since he was shooting another episode of his TV show Angry Planet. Dave and I however wanted to stay east of the worst of it and after shooting some more amazing video (to be posted when I get home) the storm dissapated, and we headed to Childress where we had a nice dinner. Dave and I are now in Shamrock, TX and will be chasing most likely in SE Colorado tomorrow!
June 14th, 2009---: Tornado!!! Dave and I intercepted an amazing supercell thunderstorm today near Ulysses, KS. We witnessed a beautiful Elephant trunk tornado that lasted about 3 minutes before becoming wrapped in rain. Tons of great video and still pictures were taken, and I'll be sure to post them upon my return at the end of the month. We photographed this tornado on Route 160, which was the same road we photographed the Attica, KS tornado back in 2004. What's even funnier is that I was wearing the same shirt I had on during that chase 5 years ago, it was my lucky "Ball Of Twine" shirt, lol. We'll be chasing again tomorrow!
June 15th, 2009---: Today was another moderate risk bust for us and many other chasers as well as we were mostly congregated in the SW Kansas area. If however you were lucky enough to be playing around SE Kansas around Wichita, you were treated to a storm that produced several tornadoes! But, we did get some amazing footage none the less. The storms we were on gusted out with incredible force just west of Pratt, KS producing hurricane force gusts and some amazing gustnadoes which were all captured on video!
June 18th, 2009---: Yesterday was incredible!!! Got on an amazing supercell near Beatrice, NE and then drove the 100+ miles to Grand Island, NE where we captured an incredible tornado west of the town of Aurora, NE! Tons of great footage was shot and I'll be posting tons and tons of pictures upon my return. Today is our last chase day and then we begin the long drive back to NY tomorrow morning.
June 20th, 2009---: We're finally home in NY! Gonna sleep for like a week after this one, lol. Dave and I were pretty much non stop almost every day of our 16 day chase trip, and what a trip it was! This was without a doubt my best chase trip ever! Pictures and video will be posted later this week so check back. Right now though, I need to sleep.
June 23rd, 2009---: Still settling in after spending a few weeks on the road. Got lots to do this week, but I wanted to get some photos & video up on the site as fast as possible! Jump over to our "Latest Video Uploads" section for a 4 minute video clip of the Aurora, NE Tornado from June 17th. And also make sure to visit our Photo Gallery as I've posted many new photos under the "New Photos" section. I'll definitely be putting out a highlights DVD this year so be sure to check back for info regarding that over the coming months! I'll have one out by October.
June 26th, 2009---: Still working hard and going through all the video I shot while on the road, but I took some time away from that, and posted some new video on the site! Visit our "latest video uploads" section to view video of the awesome hail storm we got into back on June 11th in Colorado. This video (and tons more) will be featured in it's entirety on my 2009 highlights DVD due out by late October.
June 29th, 2009---: Still in the process of going through all the video I shot over the past few weeks, and picking out the parts that will ultimately become my "Chase 2009 Highlights" DVD! The DVD will not only show the storms themselves, but will also feature our get together at Jim Leonard's house in the Florida Keys this past March, as well as our chase preps, down days, and general whackyness that is our group. In other news....I have also put together a full length, timecoded Quicktime screener of my storm highlights which are now available for licensing. The screener can be found on my "Stock Footage List" page.
July 9th, 2009---: I've just posted more photos from my June 2009 chase! Just click on the Photo Gallery link to the left, and then click on the "new photos" text. The rest of this month should be quiet, but it won't be long before my attention is turned towards the Atlantic as the hurricane season should begin to ramp up over the next few weeks! Next week, Cecelia and I will be taking a 5 day vacation to Myrtle Beach, SC where we plan to relax, swim and eat! However, I will have my camera with me as you never know when a good storm might pop up!
July 15th, 2009---: Cecelia and I will be heading to Myrtle Beach, SC this coming Friday for 5 days of relaxing on the beach, and of course.....some storm photography! The forecast calls for thunderstorms pretty much every day that we'll be there so I'm hopeful that I'll be able to rack up more great storm video over the course of the trip! Some of my best lightning video was captured in Myrtle Beach back in the summer of 2002, so I'm keeping my fingers crossed that I'll get a repeat of that.
July 24th, 2009---: Now that August is almost upon us, it's time to start watching the tropics! The pattern that we've been in for the last few months (ridge in the west, trough in the east) caused a tropical disturbance to ride right up the east coast yesterday, bringing us bouts of heavy rain to my area. While this system wasn't tropical, it is a sign that if the pattern holds for the rest of the summer, we could see a New England hurricane. However, I'm not holding my breath as the chances of that happening are still rather remote. But, it is possible. What's more likely is that within the next month we'll see our first named storm! Nothing is brewing out in the Atlantic right now, but I'll be keeping a watchful eye over the coming weeks! More to follow when things start picking up.
August 12th, 2009---: The tropics are beginning to heat up! We now have Tropical Depression #2 out in the far eastern Atlantic, but what's garnering more attention is the tropical wave behind TD2! This wave is fresh off the coast of Africa and many of the models are forecasting this wave to become a storm within a week. What's more interesting is that all of the models take this "potential" system towards the USA. Stay tuned as things will most likely start getting interesting soon!!
August 20th, 2009---: Ok, things are starting to get interesting now. At first it seemed as if Hurricane Bill was going to pass harmlessly out to sea, but now it's becoming more likely that he *may* move closer to the NE coastline than earlier expected. Nothing is written in stone yet, but it's possible that the Cape Cod, MA area may get brushed with some gusty winds, but more likely....high waves! Dave and I are contemplating a possible trip there this Saturday! The timing right now would bring the worst of the storm into that area around day break on Sunday, I have to be back in Queens, NY Sunday afternoon so needless to say, this trip has the potential to be a doozy! More updates to follow tomorrow!
August 21st, 2009---: Well, it was a nice thought while it lasted. Hurricane Bill now looks as if he will pass too far off shore to make a Cape Cod trip worth it. Several of our good chaser friends are making the long trek up to Nova Scotia, Canada..but Dave and I just don't think it's worth it. That's a good 1000 mile drive from here, and with Bill accelerating and weakening by the time he reaches that area, we'd rather just hold off and wait to see what else comes down the pipe this hurricane season. I will however be taking a trip to Rockaway Beach tomorrow as 20+ foot waves are forecast there!
August 26th, 2009---: Less than a week has passed since Hurricane Bill passed us by and hit Nova Scotia, and already we're watching a new system in the tropics! Tropical Storm Danny was named this morning and he *could* affect parts of the northeast this weekend. Still a lot of uncertainty right now, but this bears watching for sure! More updates later today or tomorrow!
September 1st, 2009---: Nothing much came of Tropical Storm Danny. He remained very weak and was not worth going after. Actually, there wasn't much to go after to begin with, lol. But, after a few days of watching invest 94L in the Atlantic, the NHC has now upgraded this system to Tropical Storm Erika. There is still a lot of uncertainty regarding the future track of Erika, so we'll just have to watch and wait. She'll have many bullets to dodge (high shear forecast, upper level low's, etc). Stay tuned!
September 4th, 2009---: Tropical Storm Erika has fizzled in the Atlantic with not much hope of regeneration. And the rest of the tropics are rather quiet for now. El Nino and shear are the main negative factors at this time and it's uncertain what the future of the season holds. Technically, we are only a week from the height of the hurricane season, but...there's still plenty of time for something to materialize. We still have a good 6 weeks left to the season I'd say. Will continue to monitor.....In other news, I have begun editing my 2009 Chase Highlights DVD! It's scheduled for release in mid October. This will be my best highlights DVD to date! Lots of great footage was captured this year.
September 14th, 2009---: I've been hard at work the past week with editing my new 2009 Storm Chase Highlights DVD! And, as it stands...it's looking like it's going to be a 2 DVD set! More bang for your buck. I quickly realized as the editing process wore on, that there was no way I was going to fit everything on one disc without seriously compromising video quality. I should have everything wrapped up by week's end at which point I'll send everything off to the printers for duplication. And in weather news.....the tropics have been very quiet with no signs of anything chaseable during the next two weeks.
September 30th, 2009---: My 2009 Storm Chase Highlights DVD is completed and it's off to the printers for duplication! I will have them in hand and ready for shipping on October 14th! Pre-orders being taken now. See my home page for details. I'm really happy with the way it came out, definitely the best highlights DVD that I've done to date. Ok, enough of me hyping up my DVD, lol. On to storm chasing news......well, there really isn't any news to speak of! The Atlantic hurricane season has been void of any land falling systems. Here we are in late September, and still nothing brewing out there in the Atlantic. There's still some time left to the season, but my hopes are fading fast.
October 14th, 2009---: I've finally received my new 2009 Storm Chase Highlights DVDs back from the printers today, and they are now officially available! This 2 DVD set documents our best chases from the 2009 season, and I have to say, I feel that this highlights set is my best one yet! It's jam packed with tons of storm footage, spanning multiple days during this past June. Click on the "Storm Chase DVDs" tab on the left for full details and ordering info. In other chaser news, the 2009 hurricane season was a dud! It's looking like we'll all have to wait until 2010 for our next shot at intercepting a hurricane. However, the western Pacific remains active and chaser Jim Edds is stationed on Guam for the next few months awaiting development.
October 20th, 2009---: Here we are in late October and there could be something brewing in the tropical Atlantic over the coming days. Nothing I think that will be of much consequence, at least to the USA, but there is an area of thunderstorms near Central America that *could* form into something tropical over the coming days. Regardless, this area of storms will be slowly moving north in the coming days and I'll be keeping a close eye on things, just in case it develops into something more! However, I won't be holding my breath. With this being late October, my attention is being turned towards the winter season, and the upcoming snow events!
October 22nd, 2009---: I've all but given up hope on the 2009 Atlantic hurricane season, however I am still keeping one eye on an area of disturbed weather in the southwest Carribean that continues to bear watching. It's nothing major at all, and the National Hurricane Center is only giving this area a 30% or less chance of developing, still though, this is the area that is most prone to development this time of year. I will continue to watch, but won't get my hopes up. Below is an image of the area of interest in the southwest Carribean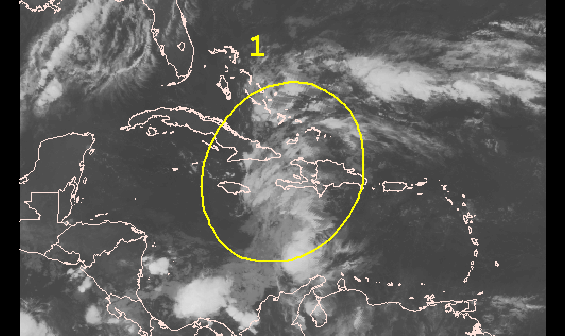 In other news, I will be meeting up with my chase partner Dave Lewison, and fellow chaser Bill Hark this weekend in Manhattan for the big Photo Expo at the Javitz Center! We'll have to battle the rain and wind, but I'm sure it will be fun regardless. Dave and I are also planning a trip to Canada this winter to document the intense snow squalls that are very common during the winter months there! Stay tuned...

November 1st, 2009---: Well the time has come to put this blog to rest until either a snow squall chase with Dave in Canada this coming winter, or until next Spring when we once again start gearing up for our storm chase adventures on the plains! Until then, please head over to my NYC Weather Blog (the link is located on the navagation control panel on the left) as that will be the place where I'll be posting regular updates throughout the fall and winter on my activities around my home base of New York City! If you do not see the navagation control panel on the left, click on the link at the top of this page to be re directed to our home page.

November 5th, 2009---: No less than 4 days after I put this blog to rest for the winter, and what is this we have brewing in the tropical Atlantic??? A tropical storm developing? LOL....what a surprise I have to say. I didn't think anything would become of the area of disturbed weather in the southern Caribbean sea, but this morning TD11 was born, and it's already on the verge of becoming Tropical Storm Ida. I'm certainly not going to hold my breath or anything, as the likely hood of Ida becoming a formidable storm threatening the US Gulf coast is a long shot at best. However, anything is possible so anyone living along the Gulf Coast states needs to keep a watchful eye on TD11/Ida over the coming days. She could move west and re-emerge over the Pacific, or she could head north towards the Cayman Islands and Gulf Coast. Way too early to tell right now.....more to come! Below is an image of TD11 taken at 12:45pm this afternoon


November 6th, 2009---: So much for TD11! TD11 went from a tropical depression yesterday morning, to Tropical Storm Ida during the afternoon and evening, and now she has been upgraded to Hurricane Ida! Ida is currently about to make land fall in Nicaragua, and then the forecast track gets tricky. The most likely scenario right now has the storm weakening back to a depression, due to land interaction, but Ida should re-emerge back over the open waters of the Caribbean at which time she could regain tropical storm, or even hurricane strength. A cold front sweeping across the US is forecast to affect the track for Ida by possibly pulling her northeastward, and towards the vicinity of Florida. All of this is still speculation though, for up to date forecasts on Ida, please refer to the National Hurricane Center Website As far as my plans? I will be keeping a close eye on Ida and will not rule out a possible intercept if Ida decides to really ramp up once again over the Carribean. Time will tell, but more updates will follow so be sure to check back! Below is a shot of Hurricane Ida taken at 7:15am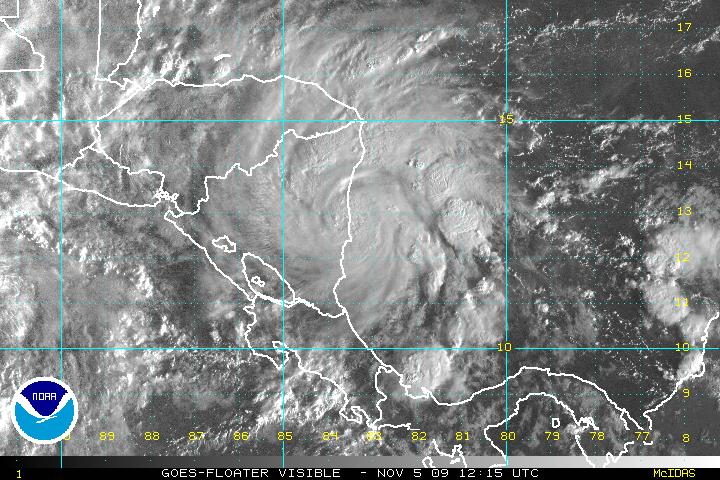 November 6th, 2009---: Hurricane Ida has weakened substantially over the last 24 hours due to land interaction with Nicaragua. Ida is now a tropical depression and is barely hanging on But, she is poised to head back out over open waters in a few hours and some strengthening is forecast. However, the official forecast doesn't have her getting back to hurricane strength. This time of year, wind shear is everywhere, and a huge trough swinging through the mid west is sure to bring extremly hostile conditions to the Gulf Of Mexico, which is where Ida is forecast to be in a few days. However, I'll still keep a close eye on her as anything is possible. Another update will follow over the weekend! below is an image of tropical depression Ida taken just a short while ago


November 7th, 2009---: As expected, Ida started to re-strengthen last night and is now back to Tropical Storm status as of this morning! And judging by the recent visible satellite image (posted below), she's doing quite well at the moment. Nice central dense overcast noted, but this will not last long however. Wind shear is increasing along Ida's path, and it won't be long before she's battling shear in excess of 50mph! This will undoubtedly rip Ida apart, and she will get caught up in the westerlies and that'll be the end of her. But, there is still the potential for some more strengthening before this takes place, and Ida could become a hurricane once again, even if it's only for a short amount of time. Ida could bring heavy rains to the Florida peninsula in the coming days, before sweeping by and heading out to sea. It's looking like I won't be going for an intercept on this one though, Ida will be speeding by at a high rate of speed, and she'll be quite weak when she does move over Florida. Not worth the expense of traveling all the way down there I'm afraid. Regardless though, I will post another update either later today or tomorrow! It's not over yet, and if anything....I'm happy that I have something to track in the Atlantic, it's about time! lol


November 8th, 2009---: Ida is back to Hurricane strength this morning and not looking too bad right now, the key word is....right now. There is a massive amount of wind shear right in Ida's path, and she will begin to feel the effects of this shear over the next day or two. As of now however, Ida is in an area of relatively low shear and could become a Category 2 storm later today! If this were a few months earlier, we'd most certainly have a monster looming in the Gulf. Hurricane Watches have been issued for the Gulf Coast around the New Orleans area, and Mississippi coastline. Ida is forecast to come very close to the same area that Katrina hit back in 2005, however...this is NOT, nor will it be anywhere near the strength of Hurricane Katrina so no worries there. The official forecast track has Ida nearing the Gulf Coast early morning Tuesday, possibly moving onshore around the Mississippi area, and then turning east and moving over the southeast US. By this time, Ida is expected to have lost all of her tropical characteristics, but could still be a prolific rain maker. This storm should still be taken very seriously, and anyone living along the Gulf Coast, or southeast US should keep tabs on the latest forecasts from the National Hurricane Center website, as well as your local NWS. Below is the visible satellite image taken of Ida at 10:15am ET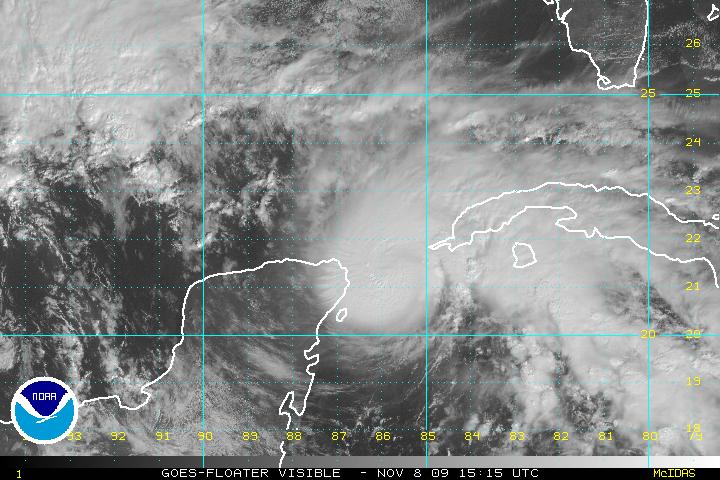 November 9th, 2009---: It's looking like I made the right decision in not going to intercept Hurricane Ida. She's falling apart rather quickly now as dry air and shear are ripping her apart. Ida will come ashore this evening around the Pensacola, FL area, and then will quickly make her exit into the Atlantic as an extra tropical system. Once she is gone, it will most likely be the end to the 2009 hurricane season. This blog will be retired until mid winter, when Dave and I are planning a snow squall chase in Toronto, Canada with our good friends Mark Robinson and George Kourounis! This will be something that neither of us have even done. I mean sure, I've documented many snow storms around the NYC area, but the snow events up near Lake Ontario are much more brutal with deadly wind chills, and in some cases, snow depths measured in yards, not feet! It's sure to be an adventure, and right now we're planning on doing this in January. So, I'll say so long until then! Until further notice, please refer to my "NYC Weather Blog" for the latest news from around these parts. I will be updating that blog several times a week throughout the fall and winter. Below is a recent image of Ida making a bee line towards the Gulf Coast this morning.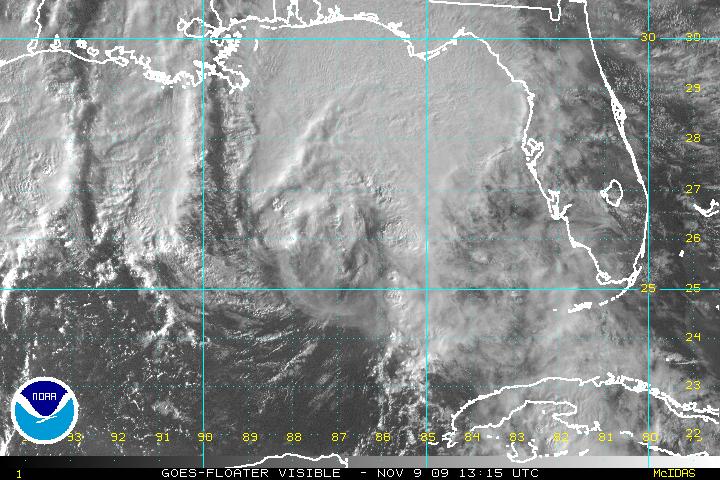 privacy policy