Share this page!
Custom Search
Storm Chase Blog 2010
Click here to jump to my latest entry!
Or, click here to select another year
March 10th, 2010---: FINALLY!!! After a 4 month hiatus, I have resurrected my storm chase blog as we are now nearing the 2010 storm chase season! Actually, it has already begun with a bang! Many chasers intercepted and documented a powerful and long lived tornado back on March 8th near the town of Hammon, OK. Thankfully there were no serious injuries reported, but several homes were heavily damaged. My good friend Charles Edwards of Cloud 9 Tours was one of the chasers that intercepted this tornado, and he was even directly involved in searching a home that was destroyed by the storm. His video can be seen at Cloud 9 Videos

In other news, Dave Lewison and I, along with our girlfriends will be kicking off the 2010 chase season by heading to the Florida Keys in a little over a week to attend Jim Leonard's annual chaser BBQ! Following that trip, Dave and I will get down to work on preparing my Nissan Xterra for this years chase! We'll be installing a new laptop desk, tweaking the roof cam, and make any necessary repairs to our hail guards..more updates to come soon!

March 17th, 2010---: Happy St. Patrick's Day! And more importantly to me anyway, Happy Spring!! Well, not just yet but Spring is only 3 days away. What's even better is that we'll be kicking off the Spring storm season in the Florida Keys at Jim Leonard's house! His annual chaser BBQ is this weekend, and Dave and I will be attending, along with my girlfriend Cecelia, and Dave's girlfriend Stephanie. A blast will be had for sure! We fly out of JFK this Friday morning, and will return on Monday evening. Pictures from the BBQ will be posted upon my return. And video from the BBQ will be uploaded to my YouTube Channel, so be sure to check back! Once we return from the Keys, Dave and I will get to work on getting our new laptop stand in place. It's a bit of a pain (no pun intended) to wrench your back turning around to view the laptop where it's currently been located. We're hoping that we can have more of a traditional laptop desk mounted in my Xterra, similar to what many chasers have these days. The only problem is they do not make a base plate for my vehicle. They have them for the 2005 Xtera, but not the 2004....figures. Which is why for this to work Dave and I will have to modify the one that I've purchased (which is for the 05' model). I'll let everyone know how it all goes. Fingers crossed!

March 24th, 2010---: The trip down the Florida Keys for the annual chaser BBQ at Jim Leonard's place went off without a hitch! A great time was had by all who attended, and to cap things off, we even had a line of severe thunderstorms roll through Islamorada on Sunday evening! What a great way to end a great weekend. This certainly got us amp'd up for the upcoming chase season. Pictures are posted in my Photo Gallery in the "new photos" section. To view video from the BBQ, as well as the severe storms that rolled through the following evening, visit my "latest video uploads" section! Next up...Dave and I will be getting together on Saturday, April 3rd to begin our chase preps. Some work has to be done on the hail guards, and we also need to begin getting our laptop desk set up in my Xterra. It won't be long now before we hit the road for Chase 2010!!

March 29th, 2010---: Dave and I will be heading up to Albany, NY this coming Saturday, April 3rd to start work on fabricating a base for our laptop desk. The ones they sell in the stores just don't cut it. Basically, they do not make a laptop desk base for the 2004 Xterra. No worries though, with Dave and our friend Marc on the job (both of them being engineers) we'll be able to fabricate something no doubt this weekend! Basically all we need to fabricate is a base that will attach to the seat rails on the passenger side, the rest of the assembly we can purchase from Ram Mount. Be sure to check back after the weekend as I'll be posting video of the fabrication process! It won't be long now until Dave and I are hitting the road for storm chase 2010! Perhaps as little as 4 or 5 weeks from now. Below is a picture of the seat rails/bolts in my Nissan Xterra that our laptop base will be attached to.


April 6th, 2010---: The trip to Albany, NY went great this past Saturday and we accomplished our goal of fabricating the base for our new laptop desk! Actually, as it turns out, we were able to use the pre-made base that I purchased a month ago. That base was made for the 2005 or 2006 Xterra, but not the 2004 which is what I own. Figures right? lol. But, after some grinding, welding and hammering by our good friend Marc, it's now installed!! Next up...order the rest of the parts we need to complete the laptop desk. And that's exactly what I will be doing later today. Our next get together will be the weekend of the 24th. During that get together Dave and I will be installing the windshield hail guard, as well as putting together and testing our new laptop desk. Photos will be posted!! In the meantime, if you'd like to see a 6 minute video of "Phase One" of our chase vehicle preparations, filmed up in Albany, NY this past weekend, click on the "latest video uploads" tab to the left to be redirected to the video page!

April 16th, 2010---: Today I wired up the new Wilson cell phone amplifier in my Xterra. This cell phone amplifier should help us stay connected while in some of the more rural areas out on the plains this chase season. Many times we'd lose our data stream due to weak signals and hopefully, this new cell amp will minimize those times. And, right as I was finishing that project up, the Fed Ex guy showed up with the rest of the parts we needed for our new laptop desk!! I've put those on the side and we'll install that when Dave and I get together for Chase Preps (Phase Two) in about a week. It won't be long now until we hit the road for Chase 2010! Speaking of....this weekend will feature a preview of sorts when Dave and I meet up with fellow Canadian storm chaser George Kourounis in Manhattan. George is coming to town to do an interview with the History Channel and will have Sunday free. So we'll be getting together to hang out for a bit, talk shop, and have a few laughs. Really looking forward to it!

April 29th, 2010---: Our 2010 storm chase preps have been completed and now the waiting game begins. We're good to go anytime from next weekend onward so from here on out, Dave and I will be keeping daily tabs on the models. For the time being, next week looks relatively quiet, with the exception of some possible big storms today, and a very widespread severe weather threat tomorrow. After that however, things look to quiet down for about a week. How long with the lull last is anyone's guess, but we'll be watching for sure. Video of the final installment of our chase 2010 preps is now up on my YouTube channel, and I have also posted the video on my "latest video uploads" page, so be sure to check it out! Prior to completing our vehicle preps this past Saturday, Dave and I were interviewed by NBC for an upcoming show about storms to be aired on The Weather Channel later this spring. The interviews went great and after those were completed, it was off to Westchester County, NY where we finished up the vehicle preps. Needless to say, it was a very busy day!

May 6th, 2010---: All right! If things keep panning out it appears that our 2010 storm chase trip will begin tomorrow evening! Dave and I will make the final decision tomorrow morning, yeah I know....talk about waiting until the last minute. Right now it appears that this coming Sunday and Monday things could start picking up big time out on the plains! Actually, on paper, Monday looks like a full blown tornado outbreak. However, nothing is written in stone of course. Ok, so we know there will probably be a few interesting days of chasing early next week, but what about after that. Well there in lies the stressful part of things. There's no way to really know what will happen 9 or 10 days out, but it appears that the models are hinting at another trough moving into the west which could bring more chase opportunities towards the following weekend. Since we only have a limited amount of time on the road every year, Dave and I try our best to choose carefully which set ups to go after. The decision is never easy, and we don't always get it right either. Right now though things look good enough to pull the trigger on the trip, but hopefully this early week set up doesn't end up being a one shot deal. The drive will be long, we'd need to be in western Kansas or possibly the TX Panhandle by Sunday! Yeah, that's a lot of real estate to cover. If all goes to plan we'll meet up at Dave's parents house tomorrow evening and will head to Washington, PA where we'll stop for the night. More to come once things become clearer!

May 7th, 2010---: Storm Chase 2010 is here! Lots to do before I leave here at 3pm so a quick update for now. I'll be heading up to Larchmont, NY in Westchester County to meet up with Dave Lewison at his parents house. From there, we'll pack up the truck and head westbound through Pennsylvania where we'll stop for the night about 15 miles from the West Virginia border in the town of Washington, PA. Tomorrow.....the long haul! We'll try to make it to Topeka, KS by nighfall.

May 9th, 2010---: What a long day yesterday was! Dave and I made it all the way to Washington, PA the first night which was a good 400 mile drive, and then yesterday we had the really long haul of about 800 miles from Washington, PA to Springfield, MO! We met up with our friend Mark Robinson in Illinois and now we're gearing up for what could be an active day tomorrow. Today will be a travel day to get into position for storms tomorrow. There's isn't much of a rush today which is nice so we'll head out of our hotel in about an hour or so and will slowly head westbound towards north/central Oklahoma or south/central Kansas. More updates to come!

May 11th, 2010---: TORNADO! Actually, we witnessed and documented two short lived tornadoes yesterday afternoon west of the town of Medford, OK. SPC had a high risk out for tornadoes and severe weather in general yesterday and it certainly verified. We stayed in Blackwell, OK the night before and we couldn't have picked a better location. Storms went up just to our west and the first storm we intercepted near the town of Nash quickly produced a tornado. The first tornado was a slender elepahnt trunk which touched down for about two minutes. Once it lifted we knew that we had to reposition due to the extremly fast storm motions yesterday. Storms were moving around 55 mph!! We adjusted our location and could see what was now a wedge in the making taking shape right behind our vehicles! We jumped out and the first thing I saw was this amazing Merry-Go-Round meso rotating practically right above us, a awe inspiring sight indeed. I shot about 30 seconds of video but missed the part earlier where several subvorticies were touching down behind us. So of the others with me did get this on video. It was insane!! We continued down the road and attempted another intercept, but the storm was moving too fast for us to catch it. We opted for a more southern storm but that storm proved too hard to intercept as well. Overall though a successful day of chasing! We're here in Norman, OK currently which was hit by a strong tornado yesterday evening. Unfortunately I am hearing reports of a few fatalities and many injuries. This is something we never like to hear. Today we will be chasing in Oklahoma again it appears. More updates to follow, and video/pictures will be posted as soon as possible! You can keep tabs on us today by clicking on my "live tracking" link to the left.

May 13th, 2010---:Currently in Elk City, OK. Well the past two days overall haven't been too eventful, but we did manage to get on some nice storms in Northwest Oklahoma yesterday. The storms that we were on didn't produce any tornadoes, but we did manage to film a nice lightning display at the end of the day so all was not lost. Tomorrow is looking to be a down day which is fine by us. I unfortunatley blew a tire while on a dirt road yesterday and we had to put the spare on there. Can't chase without a spare so we'll have to find a place in Elk City tomorrow to purchase a new tire. After we're done with that we may relocate to Amarillo, TX to set up for some possible storms on Friday! Fingers crossed that verifies.

May 16th, 2010---:At first it appeared as if Dave and I were going to head home early, but wow how things can change quickly here in Tornado Alley. Now things are looking quite good for this coming Tuesday and Wednesday in the Texas Panhandle, so yes....we've decided to stick around. Actually, we'll most likely be sticking around for about another 9 days! Several of the reliable models are bringing in another trough come this weekend and we don't want to miss it!! Fingers crossed that this trough materializes. More on that to come tomorrow. Now on to today! We initially thought today was going to be a travel day to Oklahoma City where we'd just relax and prepare for Tuesday and Wednesday's chase. Boy were we wrong!! A storm went up just northwest of OKC and we intercepted this cell near the town of Forest Park. We got nailed with an 11 minute golf ball hail barrage and it definitely ranks up there with some of the best hail footage I've ever captured on video! I'll post video upon my return to NYC in about 10 days. Tomorrow is a down day so we'll do laundry, and I'll also get an oil change for my Xterra. We've driven about 3500 miles since my last one so I'm due.

May 17th, 2010---:We had a much needed down day today and took advantage of it by getting some laundry done, getting an oil change for my Xterra (along with new wiper blades) and we even took in a movie! Iron Man 2! Tomorrow we'll be back in chase mode and will most likely be heading to the west/northwest TX Panhandle. Intense supercells are possible there tomorrow afternoon and evening, this assuming that overnight convection doesn't screw up the works! Fingers crossed!

May 19th, 2010---:The past two days have been great! Yesterday we chased an amazing tornadic supercell near Dalhart/Dumas, TX and we witnessed and documented a beautiful tornado. It was a few miles away, but that's ok....it was incredible none the less! Then today we witnessed two tornadoes near Stillwater, OK. The first tornado was about 5 miles away but we could see the debris swirl on the ground, and the second tornado touched down as we approached the town on Stillwater. We pulled off the road right as it was forming about 1/2 mile away. The funnel never fully condensed all the way to the ground, but a debris swirl was very evident at the surface, and I shot great video of it. After that, we were treated to some amazing storm structure and a few close calls with very large hail!! The road network didn't really cooperate with us today and we found ourselves in some pretty hairy situations. Most notable was when we had to make a quick decision on whether to take an east road which would most likely turn to dirt (but would get us out of the direct path of the approaching core faster), or shoot south and punch through the hook. We chose the hook since getting stuck on a muddy dirt road would have been very bad to say the least.Problem was, the storm wrapped back up as we were punching through the hook and the next thing I knew, we were slamming on the brakes and pulling off the road due to intense RFD screaming across the road! Actually, there's was some talk tonight that the outer circulation of a tornado passed right in front of us, but this wasn't confirmed. A house just off the road from where we pulled off started losing it's shingles and a piece of their overhang. It was a scary moment for us but thankfully we got out of there all right. Not sure if we'll be chasing tomorrow just yet. It may be a down day.

May 22nd, 2010---:We had our first true blue sky bust in NE Colorado yesterday...got nothing but a slight sunburn, lol. It happens at least once or twice on any given storm chase trip and yesterday was our day. Today there is the chance of storms in northern Nebraksa and southern South Dakota so we'll be heading there today. Right now we're in Ogallala, NE packing up our gear and getting ready for yet another chase. Chase 2010 is coming to a close and we'll be parting ways with Mark Robinson this afternoon. Mark had a great group of chasers with him this year and we'll definitely miss their company big time. A ton of fun was had over the last two weeks!! Dave and I will be chasing tomorrow and Monday, and after Monday's chase is completed we'll start heading back to NYC. Hopefully we'll witness more amazing storms before our trip comes to a close!

May 25th, 2010---:Well my 2010 storm chasing trip is coming to a close. After 18 days on the road, we'll be taking the final jaunt back to NYC from our current location of Indianapolis. We drove over 900 miles yesterday and have a good 13 hour drive ahead of us today so it'll be a long one. Unfortunatley we missed out on some very photogenic tornadoes yesterday in South Dakota again, but with our time constraints....we had to be back. It stinks, but that's life for you. And there will be other storm chases and more tornadoes to see so all will be good. Plus, this trip was a success despite missing some big ones yesterday. I saw 5 tornadoes total, tons of amazing storms, incredible storm structure, large hail, and a few great lightning displays. Photos and videos will be posted upon my return to NYC. Just need a few days to get settled and then I'll get em' up on my website, and my YouTube Channel! Be sure to check back next week!

June 1st, 2010---: Our 2010 storm chase trip ended last week and we ended up seeing a lot of great storms this year once again. We did miss a few big tornadoes in South Dakota, but hey..you can't win them all, and we'll have another crack at it next year. Be sure to check out my "latest video uploads" section for some of my recent videos! I'll also be posting them on my YouTube channel so be sure to subscribe to that as well! Now my thoughts will turn to this hurricane season! It starts today!

June 10th, 2010---: All is quiet on the chasing front for me at least, but storms are still plentiful out on the plains. Wish I could be there to chase but unless there is a windfall of cash, or I win the lottery..chasing every good set up won't be in the cards. Next season however Dave and I are anticipating chasing for 3 plus weeks so that's definitely something to look forward to! I do however have the upcoming hurricane season to look forward too, and this season I will be on just about every land falling hurricane! I'll assess each event as they come along, but if the latest NWS/NOAA forecasts even come close to verifying, the 2010 hurricane season will be a doozy! Time will tell, but as of right now we still have several weeks until things should start heating up.

June 21st, 2010---: While gearing up for the upcoming hurricane season, I took some time and finally posted some photos to my New Photos page of my May 2010 storm chase trip to the plains! Put your cursor over the "Photo Gallery" link on the left side navigation bar and then choose "new photos" to be taken to the page.

June 23rd, 2010---: It's only late June but here we are watching an area of storms down in the Caribbean which has been designated invest 93L! An invest is the stage before an area of storms is categorized a tropical depression. Even though it's early in the season, conditions are favorable ahead of 93L, and a tropical depression could form over the next few days. Some of the forecast models take 93L towards the Gulf Of Mexico this weekend. Below is a picture of 93L taken just a short while ago. Still very disorganized for the time being, but I'll be keeping a close eye.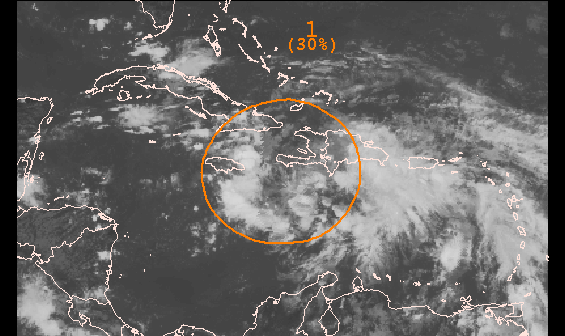 June 26th, 2010---: Hurricane Alex forms in the western Caribbean sea! The first named storm of the 2010 hurricane season has formed and right now, the track has him staying at tropical storm strength as he moves over the Yucatan Peninsula in a day or so. After that, Alex is forecast to head towards the TX/Mexico border. Not anticipating an intercept at this time, but will monitor the situation for sure! In news closer to home, I may be out chasing this coming Monday in either Connecticut, or possibly closer to home (NYC/Long Island). As it stands right now, it could be another interesting day severe weather wise! Still too early for an exact target but will fine tune over the next 48 hours. If I chase, I will be live streaming so be sure to check back for updates!

June 30th, 2010---: Hurricane Alex, the first June hurricane in the Atlantic since the 2005 hurricane season is getting better organized this morning, and will make land fall south of the Texas border in northeast Mexico later tonight. Alex took a long time to get his act together, but he's finally attained hurricane status and is sure to bring strong winds and torrential flooding rains to rural Mexico later this evening and tonight. I've decided against going after Alex for several reasons. But the main reasons are that he's not that strong, and wouldn't be worth the 2000 mile journey to intercept. Plus, I'm not a big fan of chasing in rural Mexico, lol. This is just the start to what could be a very active hurricane season in the Atlantic. I'll be keeping a close eye on things over the coming months and this page will be updated often so be sure to check back.


July 6th, 2010---: The tropical Atlantic remains active and we have another area of interest which has been designated Invest 96L. The Hurricane Center has given 96L a 30% chance of developing into a tropical cyclone, and it's track is very close to the path that Alex took just a week ago! Most of the reliable computer models don't develop 96L into a formidable storm, but it bears watching regardless. Below is a satellite shot of 96L taken earlier this afternoon.


July 9th, 2010---: It's only early July and we've already seen two systems take shape in the Atlantic! The first storm back in late June/early July was Hurricane Alex, and Tropical Depression Two took shape yesterday just prior to making land fall in extreme south Texas. A sign of things to come? Well, it's possible but we'll just have to wait and see. Right now I have a storm photography trip planned for the end of the month. I'll be traveling down to Ft Lauderdale for a week in the hopes of adding to my lightning archives. South Florida offers up some amazing lightning displays and hopefully nature won't disappoint while I'm there! I will have to postpone however if a hurricane threatens, but I'll cross that bridge if and when I come to it.

July 23rd, 2010---: Tropical Storm Bonnie made land fall earlier today in Miami/Dade County but there wasn't much fan fare associated with Bonnie when she came ashore. Bonnie was barely a tropical storm and wasn't worth the expense to go after. Not to mention the fact that I would have had to cancel our vacation to Ft Lauderdale which is scheduled for this upcoming Wednesday. Ironically enough, if Bonnie would have waited a week, Cecelia and I would have been there for land fall, or what there was of it. This could be a sign of things to come however as there is some correlation between tracks of July/early August storms, and storms later in the heart of the season. It's not uncommon to have several storms follow similar tracks so things could get interesting as we get further into this hurricane season.

July 28th, 2010---: Cecelia and I will be vacationing in the Fort Lauderdale area over the next week and while the chance for storms doesn't look all that great, I will be on the lookout regardless and plan to document, and possibly live stream any storms we experience! We picked a quiet time in the tropics to take this vacation, good timing on our part. I have the feeling the quiet times won't last much longer.

August 4th, 2010---: I've just returned from a successful trip to South Florida where I not only got in some R&R with my girlfriend Ceceila, but also came home with some great storm video! Just getting back up to speed here but I've uploaded my latest videos to my YouTube Channel, as well as here on my website in the "Latest Video Uploads" page. Check em' out!

August 15th, 2010---: The tropics are beginning to heat up and by this time next week we could be tracking several storms in the Atlantic! Nothing has formed yet, but all of the reliable models are, and have been forecasting development off the coast of Africa. There are several waves still over mainland Africa that are already showing a nice spin to them so I think things will start getting interesting soon. It's still way too early to tell whether any of these potential storms will ultimately make land fall in the US, first we have to see if they actually form first...but if the models hold true, and there are several storms roaming the tropical Atlantic next week, then things will have to be monitored closely for sure! Stay tuned...

August 23rd, 2010---: The tropics seem to finally be heating up and only time will tell if we'll end up having a "hyper-active" season as predicted. My gut is telling me that no, it won't be an insane season, but there is still plenty of time to see some big storms out there, and things have finally started to heat up. Tropical Storm Danielle has formed in the central/eastern Atlantic and as of this morning, is looking really good! Danielle for the time being isn't a threat to any land areas, with the exception of maybe Bermuda down the road but there's plenty of time to watch her. All of the model guidance is taking Danielle out to sea in a few days due to a weakness in the ridge of high pressure located over the Atlantic. But, the models are also forecasting a strong ridge of high pressure to begin building in next week and this could mean that if anything forms behind Danielle, it could be steered much farther to the west. Speaking of, there is an area of interest just off the west African coast that needs to be monitored. Regardless of track, Danielle is forecast to become a formidable hurricane in a few days, and it will be nice to finally have something to track! Check back soon as I'll be posting more updates as the week goes on. Below is a satellite image of Danielle taking just a short while ago, looking good!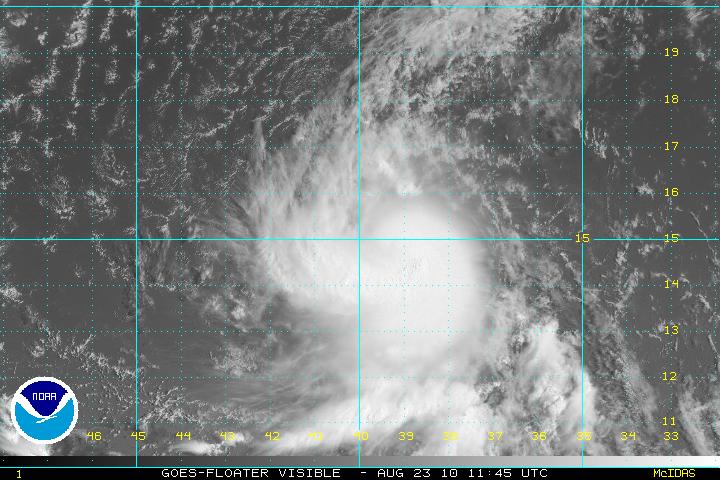 August 29th, 2010---: Things are certainly getting interesting in the tropics. Just over a week ago nothing much was going on and now we have two hurricanes roaming the Atlantic, and one possible depression forming. WOW, just goes to show you how fast things can change this time of year. So, after digesting the models for the past few days it appears that for the first time in a very long time, the northeast US is looking at a very real threat from Hurricane Earl. Earl has just been upgraded to hurricane status as of 11am this morning and will brush the northern Leeward Islands over the next day or so. After that, the forecast track has Earl bending towards the northwest, and eventually to the north around the western edge of a ridge of high pressure in the Atlantic. On this path, it is very possible that Earl could ride just off shore up the east coast and eventually *could* make land fall either in my area, or perhaps northeast of here around the Cape Cod area. It's still way too early to begin speculating on all of this but the signs are there there we need to keep a watchful eye over the coming week. After Earl, some of the models are suggesting that what could turn out to be Fiona may pose a threat to the SE coast of the US. Needless to say, it's going to be a very busy week ahead for me! More updates to follow! Below is the current official track forecast from the National Hurricane Center for Hurricane Earl.


August 31st, 2010---: Hurricane Earl is now a dangerous Category Four storm and after giving the northern Lesser Antilles a whack yesterday, along with Puerto Rico, he's moved on off to the northwest at a forward speed of about 14 mph. The track forecast for Earl is tricky since any slight deviation means big consequences to folks from the mid Atlantic into the northeast. Right now at least it appears that the center of Earl will remain off shore, but it does appear that he'll get pretty close to the outer banks of North Carolina, as well as Cape Cod, MA and perhaps even eastern Long Island. I'll be keeping a watchful eye on things over the next day or two and an intercept either on Long Island, or Cape Cod is a strong possibility. Below is the latest NHC track for Hurricane Earl as of 11am this morning. More updates to come!!


September 2nd, 2010---: Hurricane Earl is beginning to lose some of his punch late this afternoon as he approaches the outer banks of North Carolina, but Dave and I are hoping he sustains enough of it to give the Cape Cod area some interesting weather tomorrow night! The plan that's in place right now is for me to depart NYC at 5:30am tomorrow at which point I'll head up to Dave's place in Wappingers Falls, NY. Once there I'll pick up Dave and Stephanie and we'll head out to the Cape. All in all is about a 6 hour drive, and we could very well come home empty handed if Earl decides to shift further east, or weaken substantially before getting there. But, we figured it's worth the risk and we're going to roll the dice on this one. This is the first hurricane to really threaten the east coast of the US since Hurricane Bob in August of 1991. I was just 19 years old at the time, and it could be another 19 or more years before it happens again. So, we'll go for it and will get what we get! More updates will follow once I'm home on Sunday. You can always get more up to date info on my Facebook page if you're interested! The link to it is on the main page.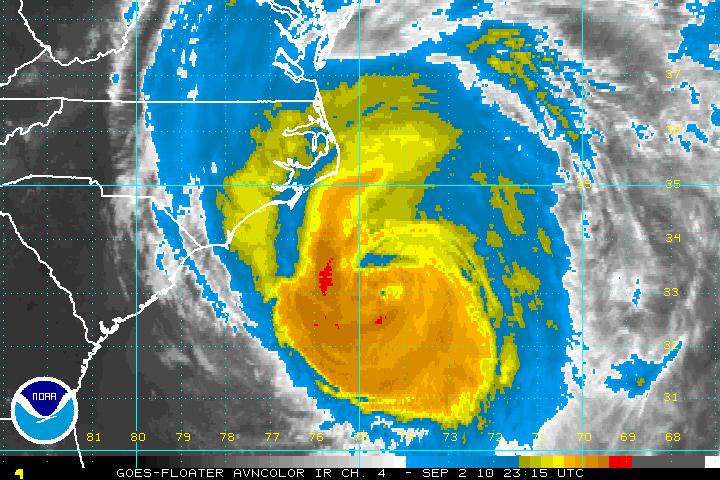 September 6th, 2010---: Dave Lewison and I intercepted Hurricane Earl on Cape Cod this past Friday, and while Earl didn't exactly pack a punch by the time he got up this way, he did still put on a good show for us regardless. Too bad though it was literally in the middle of the night by the time he got to us! Still though, prior to the sun going down we did get to see some rough surf and strong winds as the outer bands of Earl made their way onshore. I've posted a three minute highlights video on my YouTube Channel, which can also be found here on the website under the "Latest Video Uploads" tab. Check it out!!

September 18th, 2010---: In the 25 years that I have been documenting storms out of my neighborhood here in Queens, NY I have never witnessed, nor documented a storm like this! On the evening of September 16th a line of storms slammed into Queens and Brooklyn and completely tore up my neighborhood of Middle Village and Rego Park. Cecelia and I were finishing up dinner when I started hearing thunder in the distance. Nothing out of the ordinary there. So, I didn't think much of it and I sat by my window and watched as the storm approached. What struck me though was about 5 minutes before it hit, the power started flickering...this peaked my interest enough that I now consider grabbing my camera and heading onto the porch. In all fairness, I have to give the credit to my girlfriend Cecelia for saying "hey, let's go out and watch this". So, I grabbed my video camera and we set up on our porch. Literally about a minute later was when all hell broke loose! The storm hit with a ferocity that I have never seen here before. And the damage was incredible! We'll be cleaning up for weeks for sure, and I'm still in the process of documenting the after math. I have posted a six minute video showing the storm as it hit, followed by the immediate aftermath! You can view the video on my YouTube channel (the link is on the main page) or you can click on the "latest video uploads" button to the left to view.

September 19th, 2010---: Got a few still photos up in the "New Photos" section of my photo gallery. Check them out! Also, I will be doing an interview tomorrow with the Queens Chronicle newspaper about my personal experience with the storm. If you haven't checked out the video that I've posted yet, you can visit my YouTube Channel (the link is on my main page), or you can bounce over to the "Latest Video Uploads" section right here to view the 6 minute clip. The clean up process continues today, but at least the weather is beautiful. Pretty much a classic early fall day here.

October 3rd, 2010---: It's getting to that time again when I have to lay this blog to rest until next spring when we once again start gearing up for storm chase 2011! Until that time, I will be updating my NYC Weather Blog on a regular basis, so check in there for the latest. However, there is still some time left to this hurricane season, so if something pops up....I will resurrect this page, if not...then we'll see you in the spring!

October 21st, 2010---: Well, barely three weeks into my fall and winter hiatus and I'm back with what could be a late season chase! Tropical Storm Richard has formed in the Caribbean this morning, and while it's a long shot, Richard does pose a threat to the US next week. Several of the reliable models are forecasting Richard to strengthen and then turn into a weakness in the ridge of high pressure that will be positioned over the Gulf and Southeast states. The key to all of this however will be how strong the ridge of high pressure is come next week. If the ridge is very strong, then Richard will most likely bury himself into the Yucatan. But, if the ridge is weaker, than he could take a very Wilma 2005 type track and hit the SW coast of Florida. Lots can and will still happen but it's time to dust off the gear just in case it all comes together! More updates to follow!


October 25th, 2010---: Oh well. Richard fizzled over Central America and with that comes what most likely is the end of the season as far as chasing is concerned. Thus begins the long wait until spring 2011. I'll be back in a few months, unless something unexpected pops up in the meantime! And in the meantime, my NYC weather blog will be updated on a regular basis so be sure to check in there.


privacy policy