Share this page!
Custom Search
Storm Chase Blog 2011
Click here to select another year
October 27th, 2011---: Hurricane Rina is rapidly becoming less and less organized this morning and is now forecast to make land fall near Cancun as a tropical storm, and not a hurricane. Just 36 hours ago the official forecast called for Rina to approach the Yucatan coast as a major Category Three storm, just goes to show you how fast things can change. Needless to say I will not be planning an intercept and as it stands right now, this very well could be the end of the hurricane season in terms of any US land fall threats. But, never say never. There is still 4 weeks or so left to the official hurricane season so anything can happen. But if all remains quiet, then please refer to my NYC Weather Blog for continued updates throughout the winter!

October 25th, 2011---: Keeping one eye on Hurricane Rina which is forecast to hit as a major hurricane near the resort towns of Cancun and Cozumel, Mexico this Thursday! I did consider going for this, but after weighing the costs vs the risks, I've decided against it. Best of luck to all my chaser friends who did decide to take the plunge! My main deciding factors against an intercept are the forecast track, and the expense to get down there quickly. The forecast track as it stands right now has Rina hugging the coast of the Yucatan. Any shift to the right and the worst effects will be off shore. Some of the models are also weakening the system and bringing her in way south of the resort towns along the NE coast. I just wouldn't feel comfortable venturing south into some of the more rural locations of the Mexican coast. So, instead I will be keeping a close eye on the future track and will be ready if and when she decides to make a bee line for south Florida. Some of the forecast models do show Rina curving towards the northeast in a few days towards south Florida. But, by this time Rina would most likely be in a much weakened state, if that's the case, an intercept might not be worth it. Much can happen over the next few days so more updates will follow! I'll start prepping my gear in the event things begin to pan out. Image Below: Hurricane Rina intensifying over the warm waters of the Caribbean


September 14th, 2011---: All is relatively quiet in the tropics right now, but there are still several more weeks to go before the season begins to wind down. I feel confident that more tropical systems will form out in the Atlantic and in the Caribbean before all is said and done. I will be keeping tabs and will update once things start ramping up again.

September 5th, 2011---: The tropics are still very active as we approach the height of hurricane season. The statistical peak is September 10th, and this year it appears that we will be going into that peak with at least one storm on the map. The remnants of Tropical Storm Lee are causing major flooding in parts of the south, and these tropical rains will spread northward and affect parts of my neck of the woods. Right now it appears that the worst of the rains will stay west of the NY/NJ area, perhaps centering over parts of central Pennsylvania. This would be very good news for our area as we just can't handle any more heavy rains. This is not to say that we won't see any flooding issues over the course of this week, the forecast does call for anywhere between 1 and 2 inches of rain for the NYC/NJ area, so we could still see some flooding issues in parts of the area. But right now at least, it does not appear that we will see the 4 or 5 inch amounts in my area. Hopefully this will not change. Stay tuned to your local news for the latest information. Bottom line, expect unsettled weather for much of the upcoming work week here in the NYC Metro.

In other news, my attention has turned to both Hurricane Katia, which is now a Category Three storm in the Atlantic, and newly designated invest 95L which is gathering organization out in the eastern Atlantic. While Hurricane Katia poses little threat (right now) to the eastern US, the same may not be true to 95L, assuming she gets her act together. If she becomes a named system, she would be Maria. It's still way too early to tell even if Maria did form, if she would pose a threat to the US 10 days out or so. But, you know I will be keeping tabs on her so many more updates will come. Stay tuned! Top Image: Category Three Hurricane Katia churning her way northwestward in the Atlantic north of Puerto Rico. Bottom Image: Invest 95L out in the eastern Atlantic.


August 25th, 2011---: All blogging regarding Hurricane Irene has been shifted over to my NYC Weather Blog since she is forecast to affect my area this weekend. Please refer to that page for updates.

August 24th, 2011---: Hurricane Irene is still churning out there in the Atlantic and is forecast to affect the Bahama Islands today, tonight and tomorrow before she makes her turn northward up the east coast of the US. At first it appeared very likely that Dave and I would be intercepting Irene down in the Carolina's, this has changed over the course of the last few days as Irene's track continued to shift towards the east. Now it appears that she will only scrape the outer banks of North Carolina, and then will head up the coast and pass over the eastern part of Long Island, and possibly Rhode Island/Cape Cod. This is a glowing example as to the uncertainty of tropical cyclone tracks. Even with all our computers and forecasting equipment, mother nature is still very good at out smarting us. With all that said, there is no guarantee that these eastward trends will continue, but if they do, the possibility exists that Irene will not make land fall anywhere in the US and will follow a path very similar to Hurricane Earl last September. She *could* pull a full re-curve and head out to sea. But, and I need to stress this, that is NOT in the forecast right now so do not plan for that happening. But yes, it is a possibility. Again, I'm not here to hype anything up, just giving it to you as I see it, and as the forecast right now dictates it. As it stands right now, Irene is forecast to brush the outer banks of North Carolina and could very well bring hurricane conditions to that area at some point on Saturday. As far as intercepting her there, I'll pass. Never was a fan of riding out hurricanes on the barrier islands of NC. The potential for getting trapped there is high, and the risk of losing my vehicle to storm surge is also high. After passing the outer banks, Irene is forecast to begin curving more towards the NNE, and should pass very close to the tip of eastern Long Island, and perhaps pass over parts of Rhode Island, Connecticut and Massachusetts. By this time Irene will be weakening as she encounters the cooler waters up this way. However, she could still be packing quite a punch by this point so do not discount her. Personally at this point I would expect her to be in the Category One stage (winds around 75-90mph). For now, if you live anywhere in the NYC/Long Island/CT/RI or MA area, plan for weather conditions to begin going down hill on Saturday, with the worst conditions on Sunday. I will have another update tomorrow morning here on my blog, and by then we should at least have a little better idea of what Irene's intentions are for the east coast of the US. In the meantime, if you would like more frequent updates on Irene, be sure to follow me on Twitter as I will be posting updates throughout the day and evening. On a side note, if you live in the NY/NJ area, there is also a threat for severe thunderstorms tomorrow afternoon. Don't want to brush over that threat either. Again, to sum up....the potential does exist for tropical storm and/or hurricane conditions in the NYC/NJ/LI/CT/RI and MA areas this coming Sunday. Begin making tentative preparations, but by no means panic. We'll take things as they come. We are still several days out so there is time to prepare in the event Irene does set her sights on our area.

Top Image: The latest 5am track for Hurricane Irene from the National Hurricane Center. Remember not to focus on the dashed line, or the dot! Hurricanes are not a point on a map and are hundreds of miles wide. The effects of this storm will be felt far from that center dot. Don't be fooled. Bottom Image: The latest visible satellite image of Hurricane Irene as she sets her sights on the Bahamas.


August 22nd, 2011---: Hurricane Irene is the first hurricane of the 2011 Atlantic season, and she is a threat to the United States. Right now as I type the exact track is very uncertain. Basically we're looking at land fall anywhere from south Florida, all the way to the Carolina's. Yeah, lol....not exactly narrowing it down much. But this is not uncommon at all, especially when you are still several days out from land fall. Plus, the angle of approach is making things even more difficult to forecast. Irene will be tracking up from the southeast Bahamas and from that angle, the slightest shift east, and you go from a south Florida land fall, to a Georgia/South Carolina land fall. I'm expecting things to be a little more in focus tomorrow since NOAA is flying their G-IV aircraft this afternoon. This flight will sample the environment around Irene and then that data will be ingested into the forecast models that will run later on tonight. This data is crucial since it will give us a much better idea on how strong the ridge of high pressure is to the north of Irene, and in turn, should give us a little better idea as to track. Still though, uncertainty will remain and anyone living along the east coast of the US needs to stay on top of the latest forecast. One of the forecast models event takes Irene up into the NYC area. So needless to say, the "cone of uncertainty" is HUGE! And nothing is written in stone yet. To keep up to date on the latest forecast for Hurricane Irene, visit the National Hurricane Center. More updates to come, but today I will begin my preparations as it is becoming increasingly likely that I will be heading out on an intercept at some point this week. Be sure to follow me on Twitter as I will be posting frequent updates from the road if the forecast pans out!



July 29th, 2011---: Today was one of those days where the conditions were there for severe thunderstorms, but they were better both north and west of NYC where I live. So, I decided to go for it and actually brave the traffic and tolls and chase today. I knew the set up favored a few tornadic storms, but those would be north of NYC. However, instability really seemed to be lacking up there according to the models. Down south along the Jersey Shore the instability was much better, but the dynamics were not as good as they were in the Lower Hudson Valley. Well, I decided to go for instability and headed down to Belmar, NJ with my girlfriend Cecelia. This was Cecelia's first storm chase by the way! We pulled into Belmar around 2pm and took in the sights. I have to say, Belmar is really really nice. Beautiful homes right along the shore, and the beaches are amazing! So, we caught some rays while we were waiting for storms to materialize. They finally did by mid afternoon both in upstate NY, and over PA. A few storms did in fact become tornado warned in the Lower Hudson Valley, namely one in particular which I'm now hearing did in fact produce an EF1 tornado in Orange County, NY in the town of Goshen. This storm ended up diving down through Westchester County, NY causing intense damage in towns like Ossining.

It was at this point I was concerned that I had made the wrong call in heading south. But, those concerns were quickly dashed when a solid line of storms took shape to my west. Chasing here in the northeast, especially around the NYC/NJ Metro is much different than out in the midwest. Tornadoes are very rare here so I tend to go for more of the sure thing. My goal for this day was to get some good photos and video of intense storms blowing through Belmar, and then off the Jersey shore. That's exactly what I got! The lightning was amazing and I captured several images, along with video of lightning striking the Atlantic Ocean. Some bolts hit a little too close for comfort. I also ran a time-lapse of the storms as they blew through the Belmar area and was very pleased with the results! Our next chance for storms is this coming Monday, August 1st. I'll be keeping tabs on conditions once again and will decide Monday morning whether to stay put here in NYC, or head out once again for another local chase! Be sure to check out my video from Belmar, NJ! It's now up on my Latest Storm Videos page. Image Below: Radar animation of the severe thunderstorms that swept through the NYC area, and off the Jersey Shore on the evening of July 29th, 2011


July 17th, 2011---: The 2011 hurricane season is off to a pretty active start. Today the second named storm of the season was born just east of the Florida Peninsula. Tropical Storm Bret came about pretty rapidly. The area of disturbed weather east of Florida began getting it's act together over the past few days and was upgraded to a tropical depression as of the 5pm update from the National Hurricane Center. Tropical Depression Two was then upgraded to Tropical Storm Bret as of the 8pm update from the NHC! Yep, when things happen in the tropics, they sometimes can happen very rapidly.Tropical Storm Bret however poses little threat to the US mainland at this time. The model consensus is for Bret to meander around a bit and then head off to the northeast, out into the open Atlantic. But, it could be a sign that the tropics are beginning to wake up possibly. And it's lit a fire under me to begin checking my hurricane intercept gear! Keep in mind, we're still about 6 weeks away from the peak of the hurricane season. Still a long ways to go! Below is a visible image of Bret taken shortly before sundown. And the image below that is the latest forecast track for Bret from the National Hurricane Center.


June 26th, 2011---: The past two weeks have been spent editing video for my upcoming highlights DVD, getting together the artwork for the project, and keeping tabs on not just the storm situation here in and around NYC, but also out on the plains. While my chase season on the plains has come to an end, I still of course enjoy watching storm events unfold out there, even if I can't be there in person. Last Monday, June 20th was pretty blockbuster out there with many photogenic tornadoes witnessed and documented by chasers. It's always tough to miss these types of events, but when you live in NYC, 1500 miles from Tornado Alley, you can't just pop on out there last minute to chase. It's all good though since I have been lucky enough to have witnessed many amazing storms during my three week chase vacation this year. We're just now getting into our storm season here in the northeast, so I will be keeping tabs on that, and more so, have been working hard at editing video for my upcoming chase highlights DVD, which will cover both 2010 and 2011. The artwork is pretty much done, and I'm more than halfway through the editing. I'm anticipating having everything ready for the printers in mid July and plan on releasing the DVD right around August 1st! I'm also planning on releasing a Blu-Ray version as well! So yep, things have been busy here the past few weeks since I've returned from my Midwest trip. And then there is the upcoming hurricane season, which is forecast to be another busy one. So I'll be keeping tabs on any potential land falls and will as always, be ready to intercept if one heads towards the USA. The US was very lucky last year, many people think that just because there were no land falls, that it was a quiet year. Actually, 2010 was in the top 5 most active years on record! But, all of the storms that did form stayed out over the open Atlantic waters, so the news outlets didn't really hype it up. This gave many people a false sense of security. It's only a matter of time before the US experiences another major hurricane, so please be prepared if you live in a hurricane prone area. The heart of the season is still about 8 weeks away, but we can expect to see an up tick in activity towards the middle/latter part of July. I'll be keeping tabs!

June 11th, 2011---: This past week was spent capturing video for what will ultimately be my 2010-2011 storm chase highlights DVD! I am in the very early stages of the edit right now, but have already compiled a trailer for my upcoming DVD. I am planning to have the DVD ready to go by August 1st! If you are interested in being notified when the DVD becomes available, all you have to do is shoot me a quick email and I will let you know when it's available!


June 4th, 2011---: My 2011 storm chase trip has been completed, and it was a success. Dave and I witnessed several tornadoes, along with many amazing storms during our almost 3 week trip. As sad as I am to see it come and go, I am glad to be back with family and friends. However, as successful as the trip was, we were all saddened by the devastation that took place in cities like Joplin, MO and the suburbs of Oklahoma City. My thoughts are with all those affected on May 22nd and May 24th. As much as I love storms, I also understand that lives are forever changed by them at times as well. I've posted a bunch of photos to my Photo Gallery under the "New Photos" section, so be sure to check them out. I also have embedded three new videos from my trip on my "Latest Storm Videos" page, so be sure to head on over there as well!

June 1st, 2011---: After a string of down days we were finally treated to some more storms the day before yesterday (May 30th). We chased in north/central Nebraska and while the forecast called for storms to quicky evolve into a squall line, we were hoping for some initial supercells before this transition occured. While we didn't see any tornadoes on this day, we did encounter some very large hail lying on the side of highway 183 south of Bassett, NE which unfortunately trashed a few chasers vehicles, and we were also treated to some great storm structure! That was something that up until now we were lacking on this trip. Another treat for on this day was the amazing lightning show we were treated too while on our way back to Grand Island, NE for the night. We were on the back side of the squall line at this point, and the lightning was incredible! What's more, we were also treated to a mammatus cloud display right at sunset, and that combined with the golden light at the end of the day, and the lightning made for a great end to the day! I've already posted a 2 minute video to my YouTube channel, the link to my channel can be found right on my homepage if you're interested in checking it out! When I return home I will be posting all my recent videos to my "storm videos" page here on my site, but for the time being they can be found on my YouTube channel. There was also some sadness on this day as we had to part with our chase partners Chris Kridler, Bill Hark, and our Canadian friends Brad Rousseau, Dayna Vettese, Heather Reynolds, and Meghan Yeo. We had a blast chasing with all of them the past two weeks and I hope to chase with them all again next season! For Dave and I, our trip is winding down now and we have one more chase day today, before beginning the long trek back to NYC. We're hoping to see some nice storms in NW Kansas or SW Nebraska this afternoon. Fingers crossed we get a nice going home present today! If not though, it was a great trip and I certainly will not go home dissapointed.

May 29th, 2011---: Nothing much to speak of the past two days. Both days held a lot of potential, but due to a very strong cap in place, both days were pretty much blue sky busts. Oh well, it happens. Hoping for more storms today and tomorrow but for today at least, those same capping issues are in place. Fingers crossed!! Holding steady in Salina, KS for now. We have two tentative targers for today, one in NE Kansas, and the other in SE Nebraska.

May 26th, 2011---: Most, if not all of you know by now that the Oklahoma City area was hard hit by tornadoes once again two days ago. Our friend Rocky Rascovich lives in Piedmont, OK and much of his neighborhood was devastated by a large tornado on May 24th. Thankfully both him, and his family are all right. We will be heading up there later this afternoon to survey some of the damage, and speak to his wife who was home at the time the tornado hit. That day for us stared in Ponca City, OK where we targeted the area around Enid, south to Kingfisher. Storms went up a bit early on this day and we ended up targeting the Canton/Longdale storm. Unfortunately we missed the wedge tornado that it first produced due to poor visibility but after blasting up highway 58 near the town of Fairview, we broke through the precip and the wall cloud came into clear view. It was right at this point the storm dropped a beautiful rope tornado out over open country and we captured the entire life cycle. This video is now posted on my YouTube channel so you can head over there (the link can be found on my home page) and check it out! After the tornado lifted, we blasted south to intercept the storms near the OKC metro. This proved very challenging due to the fact that we had to navigate east out ahead of the storms, before heading back south. In the end as we got close, the visibility was so poor we decided to break off the chase and call it a night in Norman, OK. Yesterday (May 25th) we surveyed the damage left in the wake of the Chickasha tornado. The path length according to our rough estimates was about 19 miles long! And we did see signs of EF4 damage there as well. Truly a devastating sight as many homes were completely leveled. We have another down day today so we'll do more damage surveys around the El Rino area, and then tomorrow the storms are forecast to pick back up again so we'll be in chase mode once again! Hopefully from here on out any tornadoes that do form will stay out of populated areas. More updates will be posted in the coming days, but for more timely updates, you can follow me on Twitter if you would like.

May 23rd, 2011---: Not much time to update these past few days as we have been very busy. We captured a beautiful tornado just west of Ada, OK back on the 21st, but didn't see much of anything yesterday while chasing in southern Oklahoma. As I'm sure you all have heard by now, Joplin, MO was devastated by a violent tornado yesterday evening. Dave and I stayed there just 6 days ago while initially driving out to the plains. Truly horrible news out of that town. I've been updating my Twitter feed much more often so if you want to stay up to date as we chase storms on the Great Plains this year, be sure to head on over and follow me! The link to my Twitter page can be found right on my home page. And be sure to also head on over to my YouTube Channel as I've posted video of our Ada, OK tornado intercept.

May 20th, 2011---: Well the last two days have been pretty uneventful but that's how it goes sometimes in storm chasing. We did have high hopes for yesterday, but the storms in Kansas just couldn't really get it together so we called it a day and headed back to Wichita, KS where we grabbed a great dinner at the Texas Roadhouse, and then settled in for the night at the Wichita Inn. We don't really have high hopes for today, but you never know what surprises might be lurking right around the corner. Hopefully good ones!! Either way, we have a long way to go before having to head on home so we're hopeful that the storms will get better from here on out. Don't forget to follow me on Twitter as I update that much more often throughout the day.

May 18th, 2011---: WOW what a drive it's been! We left NYC on the evening on May 16th and drove to New Stanton, PA getting in about midnight. Then yesterday we drove from New Stanton, PA all the way to Joplin, MO. A total of 900 miles! Got a good nights rest and now it's on to western, OK where there is a slight risk for severe weather, and a chance...albeit low chance for tornadoes. Today will be our first official chase of the 2011 season. More updates to come here, and if you want to keep tabs on our chases as they actually happen, be sure to follow me on Twitter! The link can be found on my home page.

May 15th, 2011---: Here we go! After much thought and stress we've pretty much settled on pulling the trigger on our 2011 storm chase trip to the plains! This upcoming week looks interesting with what could be several days of chasing beginning mostly on Wednesday, May 18th, but this set up does have it's issues. Our main concern is moisture return. Right now the Gulf of Mexico is essentially shut down, and probably will remain that way until mid week. We'll have the good flow over the Great Plains, but without moisture, you don't get much in the way of storms. However, we see enough potential to take the plunge and go for it. Another thing that helped in our decision to go for it now was that there are signs in the forecast models that the pattern will remain active into the long range. Nothing is written in stone of course and the bottom line is, chasing is a gamble. We're happy with our decision to hold off until now, but I think it's time. So, we'll be pulling out of NYC tomorrow afternoon and our first stop will be Washington, PA. Washington, PA is about 40 miles or so from the Ohio border and we're hoping to get in tomorrow night around 11pm or midnight the latest. We'll grab some sleep, and then will continue the push westward on Tuesday. More updates by Tuesday evening!! Our adventure begins.

May 12th, 2011---: Ok, ummm....we're ready to leave anytime now, lol. Yes, here we are on May 12th and I'm still sitting here in NYC, waiting to pull the trigger on our 2011 storm chase trip to the plains. This is eerily similar to our 2009 trip in that we sat out the entire month of May, and ended up going out in early June. As you know, April was an historic month for severe weather, where as May has been just the opposite. Here we are almost mid month and all has been quiet on the plains. We did entertain pulling the trigger a few days back when things started looking decent for this week, but after pondering over the models we decided it was just too risky going all the way out there for what looked to be one, maybe two good days of chasing, followed by a complete shut down. Good decision too because yesterday didn't pan out as many chasers had hoped. So, the waiting will continue and we'll play it day by day. The models are currently having a very hard time with the upcoming blocking pattern and have been flip flopping from run to run. However, there are some hints that things *may* get better towards the latter part of next week. We'll be keeping our fingers crossed that this verifies! Aside from forecast model watching, I decided to take advantage of the nice weather here in NYC this afternoon and installed some of the hail guards on my Nissan Xterra. I posted some pictures to my Twitter feed. In other news, it was 7 years ago today that I witnessed the Attica, KS Tornado hit a house, partially destroying it right in front of our eyes. Can't believe it's been 7 years already.

May 6th, 2011---: Well, Dave and I have decided to hold off on pulling the trigger on our 2011 chase vacation for the time being due to a few factors. While there certainly looks to be a few days of potentially good chasing next week, the first two days of this set up (Sunday and Monday) might feature strong capping issues. A CAP is a layer of warm air at about 10,000 feet which can inhibit storms from forming. Tuesday and Wednesday right now look very interesting but after that, a looming Death Ridge looks to effectively shut everything down, possibly for up to a week. A "Death Ridge" is storm chaser slang for a ridge of high pressure centering itself over the Great Plains bringing with it sunny skies, and very few storm prospects. With a 1500 mile drive just to get to Tornado Alley, the prospects of two or perhaps three days of chasing, following by what could be a week of down time is making us reconsider heading out right now. It's times like this that I wish I lived on the plains! We could chase, and then go home when thing calm down. But, when you live and work in NYC, things are a little more tricky. No worries though as I feel confident that we will get out to the plains soon enough. What's great is that by holding off another week, we can chase into June! We'll be monitoring the forecast models day by day and hopefully will be on the road within a week. The image below shows the main reason we're holding off for now, there's your classic "Death Ridge" setting up shop towards next weekend. Hopefully if this does end up verifying, it will break down quickly and we can get out there and do some chasing! It should be noted that everyone has a different opinion of what a constitutes a Death Ridge. For me, it's a shut down of storm activity that lasts up to a week or more. Right now, that's what we're looking at. Hopefully the models will begin to trend towards a shorter duration ridge. More updates this weekend!


May 4th, 2011---: Ok, so here we are in early May and both Dave and I are now freed up and on call to head out to Tornado Alley at any time to begin our annual chase trip. The big question is, when should we pull the trigger. As you all know, April has been an insane month severe weather wise but May has started off rather slow. This is not uncommon since periods of activity are usually followed by a lull in activity. Since we're both limited to 3 weeks on the road, we try to choose wisely as to when to leave but certain factors this year are making this process a difficult one for us. Here's why. Both the GFS and ECMWF models are showing a ramp up in activity next week as a slow moving western trough makes it's way across the country. Simple you would think, right? It's time to go and start our trip this weekend. Well, the problem is that those same forecast models are hinting at a big shut down after next week, a shut down in activity that could last for a week or more. This is what is making our decision more difficult. Normally we prefer if we don't see any signs of a blocking pattern or "Death Ridge" setting up, but with the models strongly hinting at this after next week, we have to take that into consideration. Do we chance it in the hopes of seeing and documenting some great storms next week, rolling the dice that things might turn around for the following week....or do we hold off. I'm sure that in some ways I'm over thinking this and yes, I think that to a certain extent I am. But decisiveness hasn't always been a strong point of mine lol. I'm not looking for any guarantees of course, there are none in the world of weather, but again, when both medium range forecast models that we use signal a shut down like this, we certainly have to incorporate that into our decision process. The good news is that we don't have to make any decisions until Friday so that gives us two more days to ponder over the forecast models. Hopefully things will begin changing in our favor! I'll have another update tomorrow!

April 30th, 2011---: By now most, if not all of you know that the tornado outbreak back on April 27th in the south was the worst tornado outbreak in recorded history. Unfortunately many hundreds are dead in multiple states, with 570 currently missing in Tuscaloosa, AL alone! A truly tragic situation and I am still shocked at the high death toll. The Storm Prediction Center has just updated it's map concerning the April 27th tornado outbreak and it has a staggering 259 tornadoes reported on that day alone! This is truly incredible and not something that has been seen in any of our life times. Truly an historic event with a tragic outcome. Many areas of the south will be recovering from this for many years to come, and some will never recover. Once again my thoughts are with all those affected by the events of that day. And let's not forget, this was a multiple day outbreak of storms and tornadoes, the day before (April 26th) saw over 90 tornadoes reported! And the day before that (April 25th) saw 55 tornadoes reported. So many people affected by so many violent storms over the course of those few days. If anything, this really drives the point home folks that a NOAA Weather Radio is of utmost importance! Every home should have one with fresh batteries in it. They are inexpensive, and can save you and your loved ones lives in the event severe weather threatens, and there is a power outage. Please considering getting one. Image Below: The newly updated map as of April 30th via the Storm Prediction Center showing the extent of this incredible outbreak back on the 27th.


April 28th, 2011---: An historic, and very deadly tornado outbreak occurred yesterday in many states in the south. Preliminary tornado reports are at 160 from yesterday alone! No doubt this number will fluctuate once the weather service offices make their final assessments, but regardless, this was one for the record books. I'm unfortunately hearing of many injuries and deaths from this outbreak and early reports bring the death toll well over one hundred. As horrible as this is, if it weren't for the up to date warnings from both the NWS and storm spotters on the ground, the toll would be much higher. No consolation however for all those people who lost loved ones. My heart goes out to everyone who has been affected by this event. No doubt you've seen the video on TV from the Tuscaloosa, AL area, but my good chaser friend Bill Hark from Richmond, VA even witnessed and documented a tornado yesterday just west of Richmond, literally in his own backyard! To view his incredible video, Click Here. Again, an incredible outbreak of historic proportions.

The preliminary reports for this multi-day outbreak are 215 tornadoes in 10 states, again, these numbers will be adjusted as the NWS completes their surveys of the affected areas. Still though, this certainly rivals, if not surpasses the Super Outbreak of April 1974. What about me you ask? Well, this outbreak fell a bit short of when I am able to head out to the plains to begin my storm chase trip. Due to work obligations both on my end, and on my chase partner Dave Lewison's end, we were unable to chase yesterday. But, we'll be out there soon enough and I will be posting daily reports from the road so be sure to check in. 2011 is well on it's way to going down as one of, if not the most active tornado year on record, and we still technically have the height of the season to get through which is May and June. Stay alert everyone! Ok, some images I wanted to post for everyone below. Check out this regional radar screen shot from yesterday afternoon. Literally every storm on radar has a TVS on it (Tornado Vortex Signature). Notice that hook-like appendage on many of the supercells? That "hook" is the radar signature for a tornado and there was no shortage of those yesterday. This radar screen shot was taken before Tuscaloosa was hit. The storm that hit that area, and Birmingham later was still off to the southwest. The image below that is of the preliminary tornado reports from yesterday via the Storm Prediction Center.


April 24th, 2011---: Holy cow what an April this has been in the severe weather department! We are well on our way, if not already there, to an historic month. Preliminary tornado counts for the year are well in excess of 700, with well over 500 tornadoes reported in April alone. The NWS still has to weed out all the multiple reports, but I have the feeling that when they do, the May 2003 record will be broken. In that month a total of 543 tornadoes were reported, more than any other month on record. April 2011 already has a preliminary count of 559, and the month isn't over yet! Another significant severe weather outbreak is possible tomorrow, mainly centered over Arkansas so this total is sure to rise over the coming days. No one knows what May 2011 will bring, but for now at least, there are no signs that things will slow down. The long range ensembles are showing more troughs making their way into the western US as we begin May. I will be heading out there myself on or after May 6th and will be posting daily updates from the road both here, and on twitter so be sure to follow along! I wish Dave and I could get out there earlier, but with work obligations keeping the both of us here for the next two weeks, we'll just have to be patient. We'll have our chance of getting out there and documenting nature at her most extreme soon enough. However, a very dark side to these storms that none of us want to see are the casualties that all too often come along with them. People's lives are turned upside down by storms and tornadoes and I can only hope that every tornado from here on out is over open country. However, this is not realistic so please, keeps tabs on your local weather this severe weather season and heed all watches and warnings! Image Below: A preliminary running total of the 2011 tornadoes. Look how we were a bit below average for the year up until April 2011. Now that's one heck of a spike in activity!


April 21st, 2011---: Last Sunday I headed up to Poughkeepsie, NY to meet up with Dave Lewison to begin preparations on my Xterra for this years chase trip, and all went great! We got everything done on our "to do" list including a full test of our new HD roof-cam. It's a good thing we tested it out too because we did find out that a few more tweaks were necessary! Better to find out now, than on the road next month. Head over to the "new photos" section of my photo gallery to view a set of pictures I took that day. Ok, so what's next...well, I had to bring my Xterra in for servicing and the bill was mighty hefty to say the least! The most important thing in my opinion when it comes to storm chasing is to have a reliable vehicle, and that means you have to drop money on things from time to time. So, I needed a new rear tire, front brakes and rotors, oil change, air filter, errr..you get the point. All in all I had to drop almost $800 but it was worth it to have the piece on mind when we're on the road this spring. Now we start looking at the long range models in anticipation of what May might bring. We're ready to go anytime from May 5th onward, so unfortunately we are unable to chase anything the first week in May due to work obligations at Dave's job. No worries though, we're ready to go after the 5th and are free'd up the rest of May and June. I'm sure we'll get our shot! Many more updates to come so be sure to check back!

April 16th, 2011---: Storm Chase 2011 is rapidly approaching and tomorrow I will be traveling up to Poughkeepsie, NY to meet up with Dave Lewison to begin preparations on my Nissan Xterra for this years trip. It certainly has been an active month so far severe weather wise, and today is no different. The Storm Prediction Center is calling for a possible tornado outbreak in parts of North Carolina and Virginia. This on the heels of a tornado outbreak across MS and AL yesterday! What will May hold? Only time will tell. Image Below: Our windshield guard is now out of storage and will be installed on my Xterra tomorrow!


April 12th, 2011---: I'll be heading up to Poughkeepsie, NY this Sunday, April 17th to meet up with Dave Lewison so we can begin preparing my Nissan Xterra for this years chase trip! What's on the agenda for the day? Here's our "to do" list below:

-install windshield hail guard
-wire up in-line fuse for my Icom ham radio
-run various wires for (cell phone booster, GPS, WxWorx, etc)
-test mount our new hd roof-cam to the roof of Xterra

That should keep us busy for the majority of the day. It won't be long now until we hit the road and both Dave and I are greatly looking forward to this years chase trip. With luck, we'll be able to spend a full 3 weeks on the road this year! More updates and photos will be posted after our get together this weekend. Image Below: The roof-cam is near completion!


April 8th, 2011---: The control box for our new HD roof-cam is now complete! This box houses all the wiring for our pan/tilt mechanism, as well as the LCD monitor, power, and recording controls. This box will be up front with us and will enable us to have full control of our roof-cam from inside the vehicle. Nice job Dave! A full test will be conducted when Dave and I get together next Sunday, April 17th up by his place in Poughkeepsie, NY. Other things on the agenda for that day include re-attaching the windshield hail guard to my Xterra's roof rails, and installing an in-line fuse for my ham radio. In other news, it looks like another very active severe weather event is about to take shape out on the plains this coming weekend. Yes folks, it's that time of year when things really start picking up out there. Just another few short weeks until we join in on the chase! Image Below: The finished control box designed and built by Dave Lewison.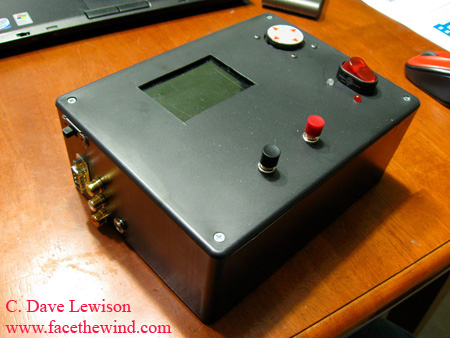 April 6th, 2011---: Dave has been hard at work designing and constructing what will be our new HD roof-cam and from what I've seen of it so far, it's coming together nicely! One thing with Dave, he's very meticulous with how he builds things, and the wiring job he's done here is nothing short of awesome. No "rats nest" of wires going on here, that's my specialty hehe. The reality of this build is/was that several cables had to be used to get all the controls up and working, and this made the entire wiring job very difficult for Dave. But, so far so good and from what he's told me, everything is functioning the way it should. Now let's just keep our fingers crossed that it all works when we head out to Tornado Alley next month! The final piece of the puzzle, the acrylic dome is on it's way via UPS and should be showing up on Dave's doorstep any day now. Looking forward to getting together on the 17th to test everything out! It won't be long now before we hit the road for Chase 2011! Many more updates to come so be sure to check back. Image Below: Check this out! This will be the control box for our new HD roof-cam. The LCD monitor, along with the pan tilt mechanism, recording, and power buttons will be housed inside.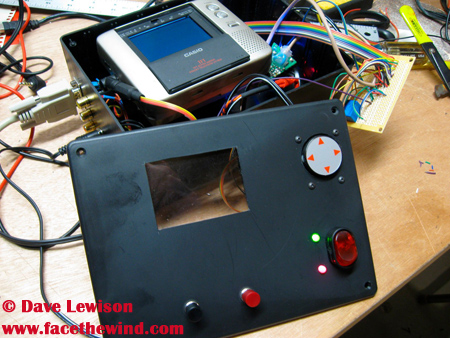 March 29th, 2011---: Dave Lewison has completed our new tornado probe which houses a GoPro Hero HD cam inside of it! If the opportunity arises, and if it's relatively safe to do so, we will place this probe in the path of a tornado this spring and attempt to capture on video what is taking place at ground level as the tornado passes overhead. This has been successfully done before so we're not trying to be pioneers here, just thought it would be pretty cool to have one of our own this chase season. The housing itself has been weighed down with about 40 pounds of weight. Only 40 pounds you say? How could that be enough to keep this probe on the ground when tornadoes can toss 18 wheelers? Well, it all has to do with surface area really, that's simplifying it a bit but essentially the probe is very low profile and does not have a large surface area, and while it may slide around a bit in a tornado, it *should* stay in place. Now on to completing our new HD roof-cam! Pictures soon of that!


March 28th, 2011---: Spring is here and that means one thing to me, storm chase 2011 is not far away! While the calendar says spring, you sure wouldn't know it by our temperatures lately here in the NYC area, but that's all right..soon enough the trees will be blooming and Dave and I will be preparing once again to hit the road in search of the most violent storms on earth. So, that brings me to our storm chase preps which have begun. Right now Dave and I are planning a get together on April 17th up at his place in Poughkeepsie, NY where we'll hammer out everything we need to get done prior to hitting the road in May. So what new things will we have with us on this years chase you ask?? Well, for one we'll have with us a brand new "tornado probe". This probe will not house any instrumentation, but it will house a high definition video camera that we'll hopefully be able to deploy directly in the path of a tornado. Dave did a bang up job constructing this probe and we're looking forward to bringing it out to Tornado Alley with us this year. Dave has also been hard at work constructing a brand new roof-cam for my Nissan Xterra. The old roof-cam that we had in place was standard definition, this new roof-cam will be high definition so the video will be of much higher quality! Constructing this has proved quite challenging but everything should be wired up and ready to go by May 1st, which is our first "on call" date to hit the road. Dave and I wait until we see a good pattern for severe weather setting up out on the plains, so basically we're on call to hit the road anytime from May 1st onward.

Getting back to the new HD roof-cam that is being constructed. Some of the challenges we faced with this project were, how to remote trigger the camera, what kind of housing should we put the camera in, and what kind of pan/tilt mechanism should be used. Well as far as the camera is concerned we agreed on the GoPro Hero HDCam, and regarding the housing we went with a 12 inch acrylic dome (which is currently on order). For the pan/tilt mechanism we agreed on the Bescor motorized pan/tilt head. Keep in mind, ALL of this has to be wired up so that it can be controlled from the inside of my Xterra, many hours of soldering and cutting were involved and as Dave has stated to me several times, lol...this was not for the faint of heart! Thankfully Dave is a skilled engineer, his expertise in this field has been extremely helpful. On my end I have to prepare our hail guards for this years chase and that will include re-felting all the brackets that keep the guards attached to my SUV, and I also need to give our windshield hail guard a new coat of primer and paint. Our work is cut out for us so April will be a busy month for sure! Photos and video of our progress will be posted over the coming weeks so be sure to check back for updates!


privacy policy