Share this page!
Custom Search
Storm Chase Blog 2016
Click here to select another year
October 8th, 2016---: It has been 8 years since I've gone on a real hurricane intercept. Hurricane Gustav back in 2008 was the last one. Since them, I've gone after two tropical systems, but both ended up making land fall right here in the northeast, so I don't count those. Hurricane Matthew battered the Caribbean for several days, and wreaked havoc on Haiti, and the islands of the Bahamas. I did consider for a while heading to Nassau, but opted to instead intercept here in the US. Dave Lewison and I took a flight out of JFK to West Palm Beach on the evening of October 5th. Our good friend Tim Millar picked us up at the airport there, and was gracious enough to let us stay with him. We grabbed some sleep, and then the following morning, plotted our intercept route. Tim has a Jeep Grand Cherokee that is decked out with a state of the art RM Young anemometer on the roof, so we knew we could get accurate readings during the hurricane, which Tim in turns feeds back to the National Hurricane Center when he does his post storm analysis. We first headed to Melbourne, FL where we scoped out a parking garage right next to City Hall. This place was perfect, but there was still the million dollar question of whether Matthew's center of circulation, and in turn, the strongest winds would stay just off shore. As the evening wore on, it became more clear that this would be the case, so we repositioned a little further north to Cape Canaveral. Upon getting there around 3am, the winds were really picking up now! We recorded several gusts in the high 80s, and one 93mph gust. Power flashes lit up the sky on a regular basis, and we documented as much as we could from a few locations around Cape Canaveral, as well as Port Canaveral. When things finally began to wind down at our location, we did entertain following Matthew a little further up the coast, but by this point we all had been awake for about 36 hours, and fatique really began to set in. We decided instead to begin heading back south, to Tim's place. We grabbed some good, filled our gas tanks with the spare gas we brought with us, and headed back to home base. After getting a MUCH needed night's rest, both Dave and I flew back to NYC the following day (Saturday, Oct 8th). All in all it was a whirlwind 72 hour trip, and while Matthew ended up not being as bad as initially forecast (due to the core of the storm remaining just off shore of Florida) it was a powerful storm none the less. One that I will remember, that's for sure. I have a highlights video up on my Storm Chasing Videos page, so be sure to head on over there to check it out.

June 9th, 2016---: I've recently returned from what was, hands down, the most successful storm chasing trip I have ever embarked on, in the almost 20 years that I have been going out to the Plains annually. Normally we see one or two good tornadoes a year on average, this year, we saw 18 of them! Of all shapes and sizes. Several personal records were broken this year, such as most tornado days in a row (5 days), most tornadoes seen in one day (9 of them), and most tornadoes seen on a single chase trip (18 tornadoes). And, we weren't driving all over the country to see them either. There have been chase days in the past where we had to reposition from say for example, Oklahoma, to South Dakota for the following days chase. This year, we stayed in all but 3 states total. Texas, Oklahoma, and Kansas. Kansas was where we saw the majority of the tornadoes on this trip. The active days were May 16th northwest of Dalhart, TX (1 tornado), May 21st near Leoti, KS (4 tornadoes that day), May 22nd near Spearman, TX (2 tornadoes that day, 1 of them was a violent wedge), May 23rd near Turkey, TX (1 nightime wedge tornado), May 24th just to the southwest of Dodge City, KS (9 to 10 tornadoes on this day alone!), and finally, May 25th near Soloman, KS (we caught the end stage of what was a violent wedge tornado that was on the ground for more than 90 minutes!). Aside from the abundance of tornadoes, we also documented countless supercell thunderstorms, amazing storm structure, hailstorms, and incredible lightning. On the night of May 16th near Amarillo, TX, I even documented a phenomenon known as "Red Sprites"! You can Google that for more info if you're interested! Several videos are already up in the Storm Chasing Videos section of this website, so be sure to check those out! More will be added soon.

January 28th, 2016---: SO much has happened in 2016 so far. After a record breaking November and December, it wasn't at least on paper looking like it was going to be an active winter here in the northeast. Something told me though that we could still see a few good snow events regardless as we got further into January, I didn't however think it was going to be a record breaker. But, that's exactly what transpired over the weekend of January 23rd. About a week out, several of the forecast models were showing a significant snow storm for parts of the Mid Atlantic. Washington, DC in particular was looking to get especially hard hit. The models never really wavered on that, but what they were going back and forth on was how far north exactly this storm was going to track, and most importantly, where the precip was going to get cut off. All the models forecast a very sharp gradient where areas on the south side would receive up to 2 feet of snow, and areas just 20 or so miles to the north of there, would receive just a few inches. It was where exactly this gradient was going to set up that was the million dollar question. And as we got closer and closer to the event, the NAM model was showing that NYC would in fact see big time snows out of this.

It was still hard to believe though that the NAM was correct on this, but it was consistent, literally every single run showed upwards of 2+ feet for all of NYC and much of Long Island. But, the reliable GFS and more so, ECMWF were showing much lower snow fall totals for us. In the end, it was the NAM that won out on this storm. Below is an image from the 12z Jan 22nd run of the NAM showing it literally nailing the exact placement of the heavy banding of snow that did in fact impact the NYC Metro that weekend.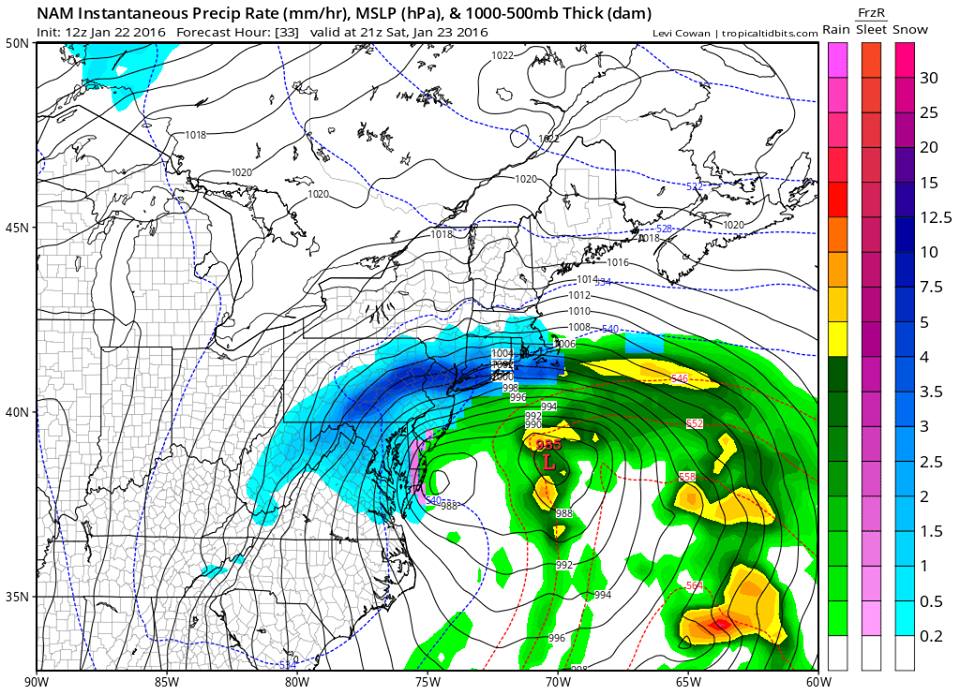 With time, even the ECMWF began inching the jackpot snow totals closer to the NYC Metro. The image below shows the snow fall totals forecast several days out from the event, and you can clearly see here that the big time totals were knocking on NYC's doorstep. But even still, we were only in the 6-12 inch range, with the 2 feet plus totals just to our south over New Jersey. The GFS was similar in it's snow fall forecast at this time frame.




About 24 hours out, on Friday, January 22nd, Dave Lewison, Steve Barabas and I made the decision to head into New Jersey and set up for the event which was forecast for the following morning. Well, this storm had just begun throwing curve balls at us, and the timing of the storm sped up dramatically! By about 12 hours, so we had to get to Jersey and quick! We left my place in Queens, NY around 8pm, and set up for the night at a Holiday Inn Express in Neptune, NJ. We woke up the following morning, Saturday January 23rd to a full on blizzard there. Thankfully we had use of our friend Steve's 2011 Nissan Xterra with a powerful engine (more powerful than my 2004 Xterra)and $1000 Wrangler DuraTrac snow tires! We made it almost to the coast in Manasquan, NJ (our first stop of the day) but had to turn back due to major coastal flooding that was already taking place. From there we headed on over to the Belmar, NJ area, and there we did manage to make it to the coast. The winds were howling big time, but thankfully, the flooding wasn't all that terrible there. Makeshift sand dunes were put into place the day before, and that really did help the area avoid major flooding. After filming in Belmar for about an hour, we then headed a bit inland, to Freehold, NJ. At this point, it was around 1030am, and snow was mixing with sleet and rain there at the coast, so we moved further inland and back into the heavy snow bands. Freehold by the time we got there already had well in excess of a foot of snow on the ground. We documented the blizzard from several locations in that town before deciding to give the coast another try. Further north, there was still heavy snow falling, so we picked our next location of Laurence Harbor, and headed in that direction.

Upon arriving in Laurence Harbor we navigated to the coast again where heavy snow was once again falling. At this point, all three of us had been out in the storm for about six hours and we were getting quite cold lol. We certainly dressed for the occasion, with multiple layers of clothes, thermals, face masks, the works....but even still, when you're out in a raging blizzard for hours on end, it does begin to take it's toll on you. So, we shot video for about 30 minutes and it was then that Dave Lewison noticed the NWS in New York City had once again up'd it's snow fall totals forecast for the city. To a whopping 24-30 inches!!




I new right there that this could be a record breaker for us, so we all collectively made the decision to do our best to get back to the city. But doing this in a raging blizzard was not going to be easy. Thankfully, Steve's Xterra was up to the challenge! We plotted a route up the Jersey Turnpike (I-95) and made our way slowly toward the Lincoln Tunnel. There was literally no one else on the road with us, well, except for a few idiots who decided to take their 2 wheel drive Honda's out in the middle of the storm. We saw several stranded vehicles on our way back up to the city. We made it to the Lincoln Tunnel, and took that into Manhattan where we first set up on Lexington Avenue and 32nd Street on the east side. At that location there wasn't much wind, but there was big time heavy snow that had overtaken the entire city. The NAM model nailed the placement of the mesoscale banding, and wow, at times it was near whiteout conditions, and that was without any wind! We filmed there for a while, but wanted to get back into the full on blizzard conditions if at all possible. To do that, I thought it would be best to drive back over to the west side of Manhattan, so we made our way back over to 10th Avenue, and once arriving there....WOW....the blizzard was raging! Very strong winds and whiteout conditions were almost constant, so we pulled into a gas station (one of the only gas stations in Manhattan by the way) and filmed there for about an hour.

At this point it was getting to around 3pm, and we wanted to make it back to my place in Queens before dark, so we started to make our way crosstown on 36th Street and towards the Midtown Tunnel. We were the only vehicle in the Midtown Tunnel, and thankfully, it was plowed at the toll gate on the Queens side. From there it was just a matter of traversing the Long Island Expressway for a few miles, before finally arriving back at my place around 430pm. We spent the rest of the afternoon and evening filming right in my area on foot, before calling it a night, having a warm meal and a few drinks. All in all this was a true Blizzard "Chase" in that we drove over 100 miles in total, in blizzard conditions. No easy feat, but a very rewarding chase for all three of us. Below is our entire route plotted out on a map (courtesy of Dave Lewison at facethewind.com). If you're interested in checking out my video highlights of the storm, head over to my Storm Chase Videos page for that!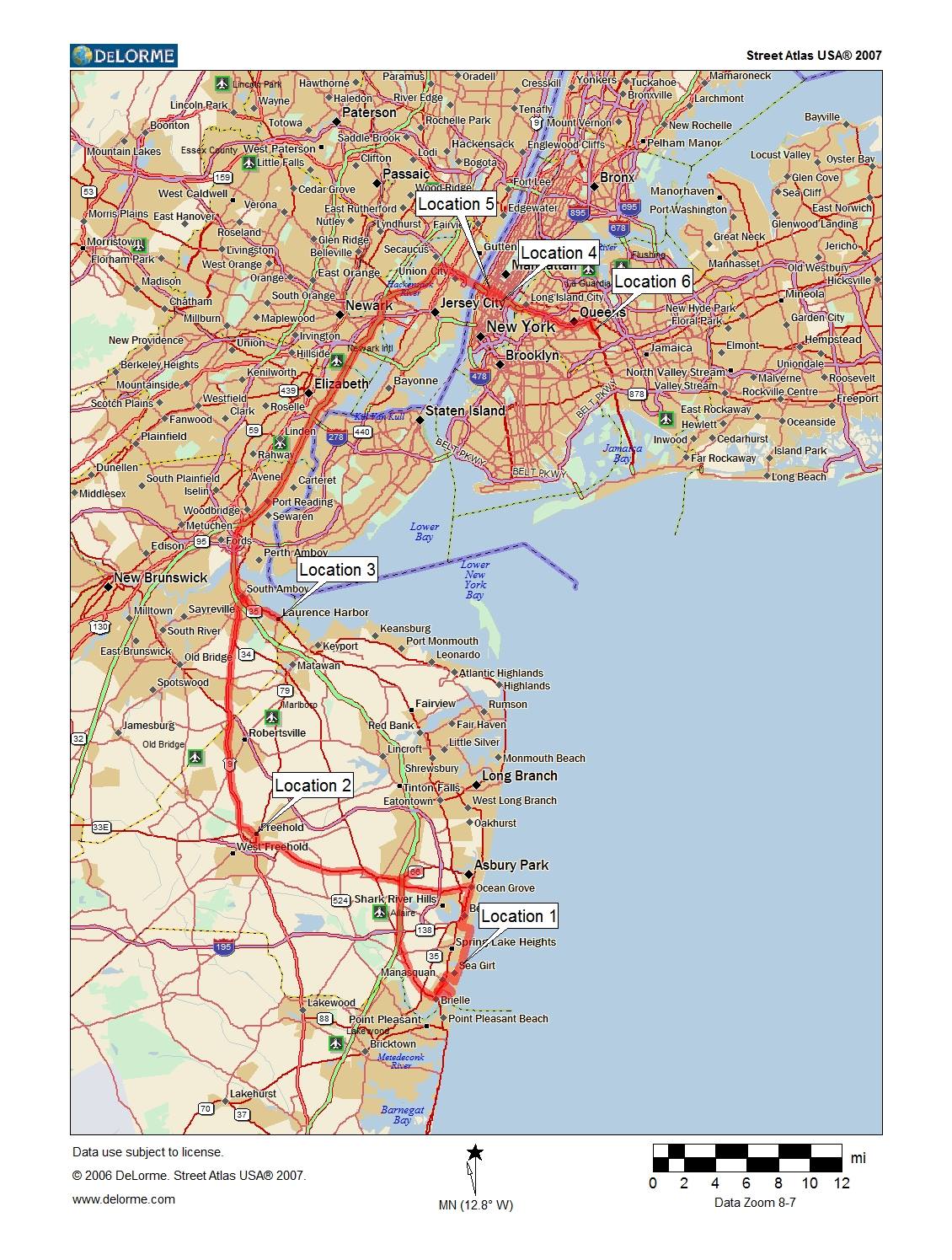 privacy policy